The Number Of New Real Estate Listings In Washington D.C. Has Gone Down Drastically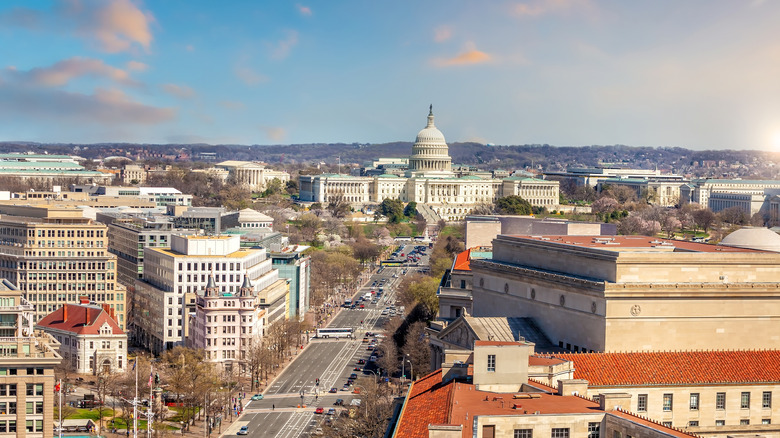 f11photo/Shutterstock
Living in Washington D.C. has more perks than just being in the United States capital. According to U.S. News & World Report, while this urban area can feel expansive, some of those residing in it feel like they have a tight-knit community. Additionally, because of the many restaurants, museums, theater productions, and parks, those who live in Washington, D.C., have lots of opportunities to create memorable experiences. And the public transit system makes it easy to travel from place to place.
However, residing in Washington, D.C., isn't all fun and games. In fact, there can be quite a bit of traffic from tourists. Further, the weather could take some getting used to, as it can feel humid in the summer and cold in the winter. And it can be expensive to buy a home in this area of the United States; the average price is $647,500, per Redfin.
Another reason why you may not want to move to Washington, D.C., right now is that the real estate market is experiencing low inventory. Below, you'll discover more details about this area's decline in new listings.
The drastic decrease
When looking at the month of July for the past five years in the above graph, this year is experiencing record low new listings. In 2018, there were 9,558 new homes on the market; 2019 had similar numbers, at 9,602 new listings. After COVID-19 in 2020, the numbers declined to 8,801, and in 2021, they shot up to 11,390. Now, however, the number of new listings in Washington D.C. has declined even beneath 2020's numbers, to 8,688.
The decline in new listings means that buyers that are desperate to move may have to settle for a home that's not exactly what they wanted, per Rocket. In addition, because there's more competition, houses may also be sold at higher prices. And, residences could be sold faster, which would put extra pressure on buyers. According to Redfin, properties in Washington, D.C., are typically on the market for about a month (32 days on average) before being sold.