Are The Least Expensive Entertainment Centers At IKEA Worth Buying?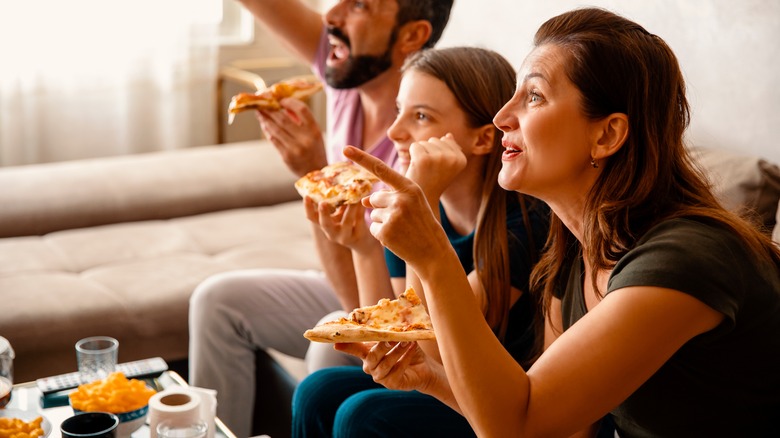 Pearl PhotoPix/Shutterstock
What better way to bring your family closer together than a good old fashion game night or turning your living room into a fun home theater? Regardless of the fun endeavors that you decide to pursue with your family, having a place to display and store your home entertainment items and features comes with a variety of benefits. Beyond helping you easily continue making these long-lasting memories with your family, Boston Closet Co. claims that adding an entertainment center to your home is also a great way to keep your house clean and organized.
Unfortunately, these are not the cheapest furniture pieces to invest in. Luckily, IKEA is packed with plenty of cheap furniture options and is bound to have an entertainment center that will fit both your style and budget. Let's take a closer look at some of the least expensive options IKEA has to offer and examine if they are truly worth purchasing for your home.
The BAGGEBO
According to IKEA, one of the cheapest entertainment centers for sale at their store is the BAGGEBO, which is available for only $25. As seen from its image, this furniture piece consists of a 35 ⅜-inch long television bench with two small storage sections underneath. So, not only will this piece provide your television with a solid foundation, but you will also have space underneath to store a variety of DVDs, games, books, and more.
Out of the fifteen customers that decided to rate this product, the BAGGEBO received an exceptional 4.7 out of 5 stars. Many stated that they love the piece and that it was reasonably sized for the relatively cheap price they paid. The only negative comments this furniture piece was given stated that it was a bit shorter than expected and was rather difficult to assemble. Despite these minor deficiencies, however, it still seems like a worthy option to consider for your home.
The LACK
Another relatively inexpensive IKEA entertainment center option is the LACK – which doesn't come from it lacking the space you want to store some entertainment items. Although this piece costs a rather higher $60, it includes a 63-inch television bench with a size-matching storage shelf underneath, which is much larger than the BAGGEBO. Allowing this piece to match a variety of different home styles and designs, this item can also be purchased in two different colors: white or black.
Lots of customers have reviewed the LACK, giving it a fair 4.3 out of 5 stars. Many state that the product looks and works amazing but was a bit difficult to assemble. One particular comment also mentioned that the television bench was not high enough for the room they decided to place it in. Regardless, many still claim that the LACK entertainment center was worth the money they paid for it, still making it worthy of your consideration.