My Lottery Dream Home Shares How Simple Swaps Can Upgrade A Home
Sometimes all it takes is a little change to make a big difference. This can be especially true when you are talking about home improvements. Although big-time renovations like adding a swimming pool or tennis court may seem like a great idea for your current living situation, it might not be the kind of thing that adds too much value to your home. Such luxurious high-end upgrades like these, as well as expanding the size of your bedrooms and dropping major dollars on huge walk-in closets, may be a type of niche investment that will only attract a certain kind of buyer, according to Investopedia, and could actually hurt the resale of your home.
Luckily David Bromstad, the host of HGTV's "My Lottery Dream Home," is here to advise his clients and viewers alike on what he thinks are the little changes that can be made to make the biggest difference. Beginning his career as the winner of "HGTV Design Star," Bromstad has now helped clients who have just struck it big for over 14 seasons of "My Lottery Dream Home" spend their lottery winnings wisely and invest in the right property. Now let's take a look at what he suggests are the simple swaps you can make to upgrade your home.
Upgrading your sinks can have a dramatic effect on the kitchen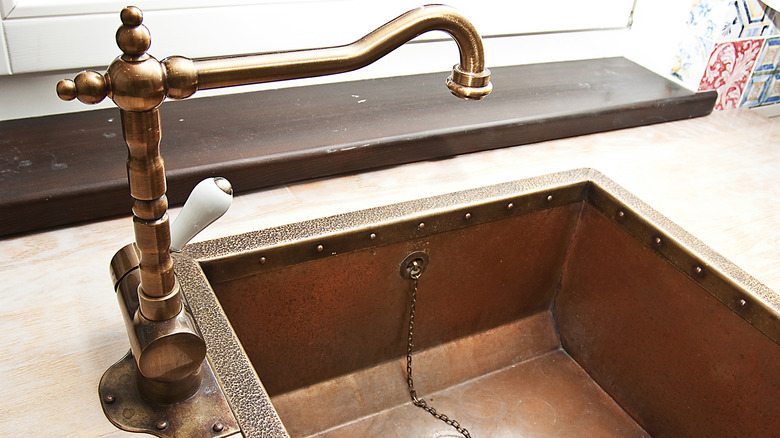 CSD Dmitriy Tikhonenko/Shutterstock
There is no doubt that when it comes to which renovations can have the most impact on the value of your home, the kitchen is one of the most important areas to improve. Aside from the general upkeep of the main parts of your home, like the roof and flooring, having a remodeled and updated kitchen can not only recoup your expenses but actually earn you money if you are thinking of reselling your house, according to HGTV. However, if those types of major renovations are not currently within the wheelhouse of your budget, then David Bromstad suggests that a simple sink upgrade can make all the difference in the meantime.
For example, switching out that boring, scratched, and weathered steel sink and swapping it out for a copper farmhouse sink can help to create a welcoming, warming look in your kitchen. Copper sinks not only have a unique style to them, but because of the nature of the material, it changes slightly over time to add to the homey vibe. They are also antimicrobial, easy to take care of, and incredibly durable, as per Copper Smith. As Bromstad so eloquently put it via Realtor, "Copper is gorgeous, right?"
Swap out unnecessary furniture to enlarge the kitchen storage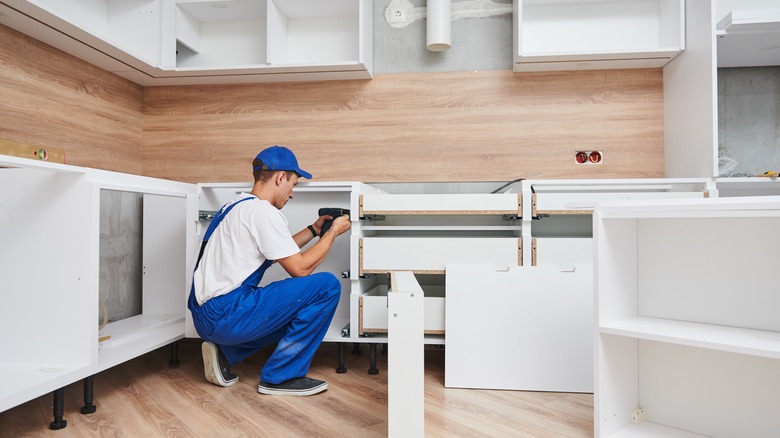 Dmitry Kalinovsky/Shutterstock
Upgrading your sink isn't the only way you can easily make changes in the kitchen. When it comes to the cooking area, storage is a sought-after characteristic that certainly adds not only convenience but also value to your home. Having a place to hide those pots and pans and food items can make your kitchen space feel roomier and less cluttered.
In season 13, episode 6 of "My Lottery Dream Home," entitled "Blended Bliss in New Hampshire," host Dave Bromstad tells a couple looking for a reasonably-priced home that a simple kitchen cabinet improvement can be done to dramatically change the style of the space. When concern over the storage of the space in question pops up, Bromstad says, "These are good cabinets. And if you wanted more room, you could take this hutch out and do floor to ceiling, like a nice pantry here," via Realtor. It just goes to show that when you break your upgrades into smaller changes, they can make a huge impact on the look of your home.