Here's Why Linen Sheets Are So Expensive
When it comes to your bedding, finding good quality sheets is likely at the top of your checklist. After all, humans spend about ⅓ of their lives in bed, so why skimp on fabric that wraps you up for a cozy night's sleep? While it might seem like second nature to splurge a bit on sheets, there might be some price tags you avoid. Linen material can be expensive, and sheet sets can send shoppers running to a different aisle after one look at the cost. 
However, there is a good reason why linen sheets cost more, and it might be the one that gets you considering an upgrade on your bedding. According to Cosmopolitan, linen sheets can withstand the test of time, and their long lifespan is one of many benefits they offer. While the cost is high, over time, the investment will work itself out since you don't have to keep replacing sets that are torn, worn, or faded. The cost for this type of bedding can range anywhere from $100 to $300 or more, especially if they are organic. The price is high for these cozy items, but so is the bar.
They are the best kind of luxury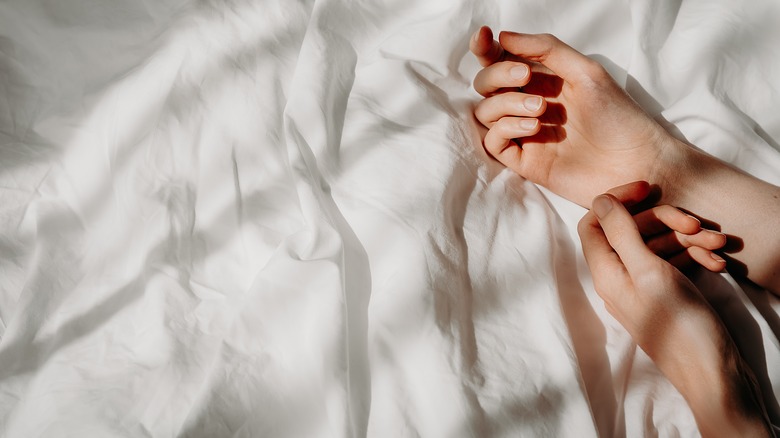 Jannissimo/Shutterstock
If you've been considering treating yourself to a set of linen sheets but haven't been able to get past the cost, the reasoning behind the price might help you make a decision. The biggest draw for linen is how good it feels. The soft and luxurious texture is not only kind to your skin, but it looks elegant. According to Parachute, this fabric is made from flax plant stems. It is created to be breathable and cozy, offering maximum comfort for anyone lying on or under it. While its benefits include the lightweight, buttery texture it is known for, it is also incredibly durable. Peacock Alley notes that it is more dense than cotton and actually becomes softer after every single wash.
For these reasons, many people prefer to invest in linen sheets, knowing the perks continue long after the receipt has disappeared. Because these sheets are breathable, they can help keep you cool in hot climates, which is ideal for anyone who struggles to sleep in the heat. They also add a unique style to your bedroom because linen is known for wrinkling more easily than cotton. However, this isn't necessarily a detriment. The shabby chic look has continued to rule supreme for many, and this bedding is effortlessly cool in more ways than one.
You're paying for more than just sheets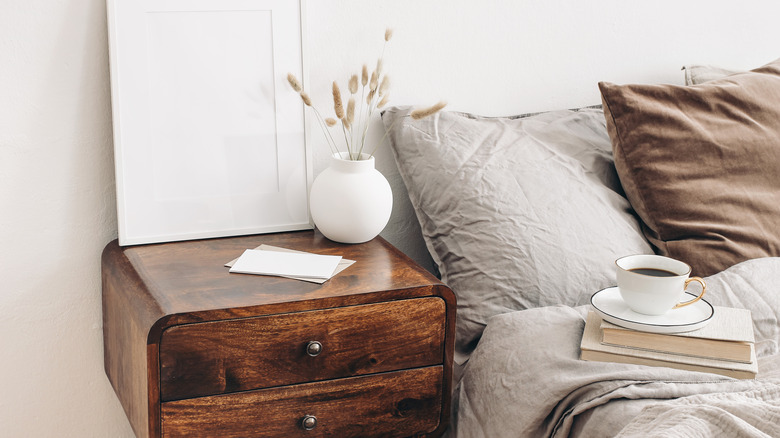 TabitaZn/Shutterstock
While you are paying for the luxury of linen sheets in the cost, there is another reason they are so pricey. The material is rarer than other synthetics or cotton blends and takes time to be harvested, spun, and produced. In fact, Deck Towel discusses how the fibers needed to create linen are found inside flax plant stalks and the process required to remove them and cure them before they can be turned into sheets. This extraction takes much more time than harvesting cotton, meaning you're already looking at a longer operation to get the fibers ready for the loom.
Once they make it to the spinning stage, the machinery has to work more slowly to accommodate the inelastic fibers. These are more prone to snapping or breaking, which can set the entire process back, so everything has to work at a reduced pace. Lastly, flax is less widely grown than other plants that produce fibers, so there isn't as much to harvest in bulk as cotton. All of these reasons contribute to the price of linen sheets, but they also explain what you are paying for. If you are looking for luxury, style, and comfort, you won't find much that rivals this type of bedding. It's okay to treat yourself, especially if the benefits outweigh the cost.