New Real Estate Listings In Charlotte, North Carolina Have Gone Down Drastically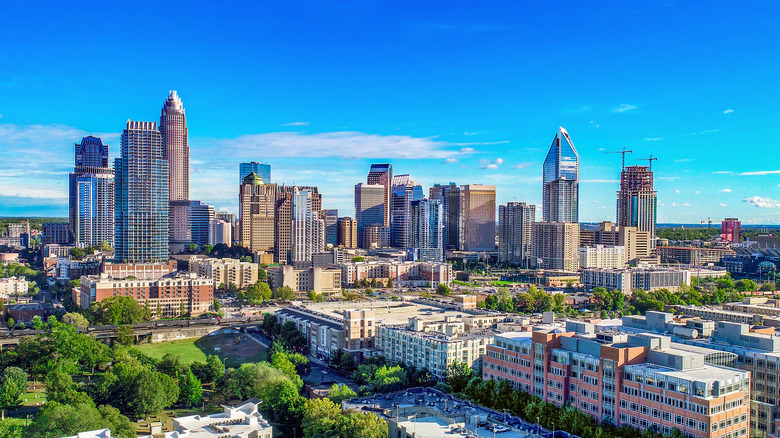 Kevin Ruck/Shutterstock
During the past year or two, the housing market witnessed lucky homeowners who sold their properties for the highest bid to a mass population of buyers. Last year, homes were sold in the U.S. at high values not seen since 2006 (before the 2008 financial crisis), according to Statista. A whopping 6.1 million homes were sold, which is half a million more than the previous year. Many states have benefited from this house market trend, such as Charlotte, North Carolina. Realtor says the home prices in this area have gone up 18.1% year-over-year, with a current home price average of $425,000, and most homeowners have been able to successfully obtain their asking price.
However, although there are plenty of potential buyers out there, recent data from Zillow shows that the number of new real estate listings has dramatically decreased. This is unfortunate for those who would like to move to Charlotte but are now not only battling low inventory but also high costs. We'll be breaking down the data and explaining exactly why this is happening.
Everyone wants to move to Charlotte, North Carolina
Our data shows an almost 1,000 decrease in new home listings for the month of July in Charlotte, North Carolina. However, people from all over the country, such as California, Chicago, New York, New Jersey, and Connecticut, are battling with residents over what little inventory they have. According to Norada Real Estate Investments, this year, the inventory of homes in the Charlotte Metropolitan Area was the lowest it has been in the past 17 years.
Right now, Realtor says Charlotte has a seller's market, meaning there are more potential buyers than homes for sale. As a result, prices are rising as competition for the few homes available continues. The Charlotte Regional Business Alliance says about 84 people moved to the Charlotte area every day, all throughout 2020 and 2021. This helps explain why our data shows an extremely low new real estate listing inventory for the beginning of 2022. Charlotte is currently the seventh fastest-growing metro in the U.S., which helps make sense of the low inventory of homes as people from around the country battle for a piece of the Queen City.