Is The Industrial Aesthetic Going Out Of Style?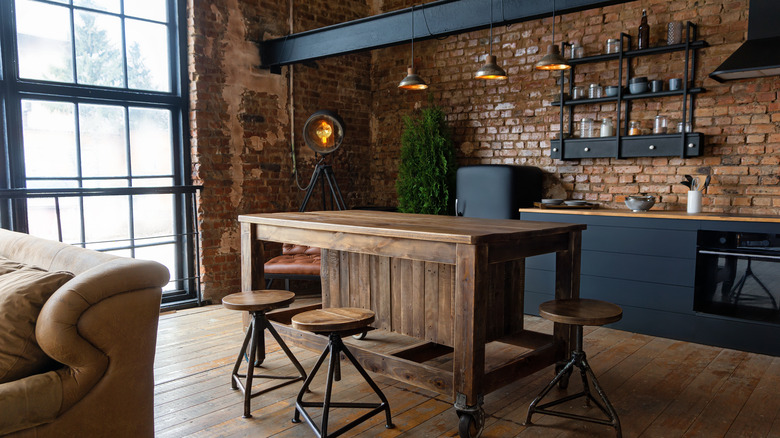 NataliaLavrivNedashkivska/Shutterstock
We may receive a commission on purchases made from links.
If you search Google to ask "Is Industrial Design Dead," one of the first stories you'll see is a Design News article posing that exact question. But the article itself dates from 2009, so if it were true, shouldn't the industrial aesthetic be long gone by now? Well, to paraphrase Mark Twain, rumors of its demise have been greatly exaggerated.
What the report does say is that industrial design continues to move away from its most strict applications and is finding new life by being augmented with other design concepts. Like almost any readily identifiable artistic trend, as soon as a look becomes so codified it actually has a name — like Art Deco, Bauhaus, and minimalism — artists and artisans incorporate those elements into their own work, which begins to morph them into something else, until a new innovation presents itself and the cycle begins again.
Historically, industrial design began with the rise of mass consumer culture during the Industrial Revolution. Every household required a tea kettle, an iron, or a lamp, and designers created looks that were both functional and, shortly thereafter, recognizable by brand. Within the realm of interior design, the concept reached its apex when tenants looking for cheap apartments found abandoned city lofts once used for business that they could repurpose with many of the original features and furnishings still intact.
Defining industrial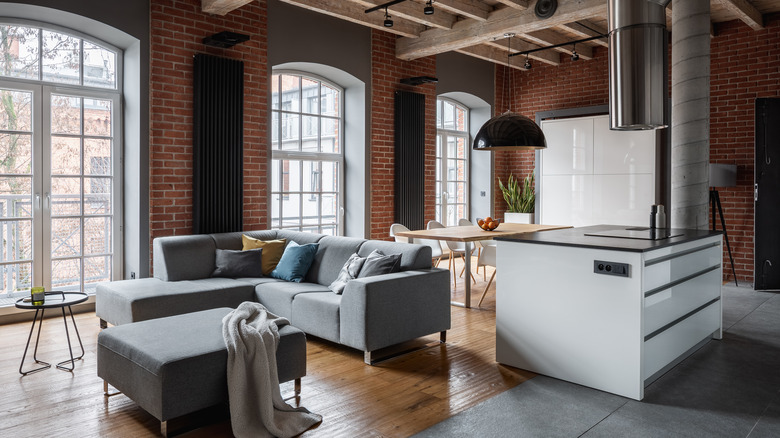 Dariusz Jarzabek/Shutterstock
Interior industrial design is immediately recognizable, not just in that it seeks to strip away anything that's not utilitarian, but in how individual designers meet the challenge of doing so. That means you'll not only find simplicity at work everywhere, you'll also see plenty of wood, pipes, and metal alongside exposed brick and beams. It's a proletarian approach that emphasizes a laborers' look commonly seen in factories from 1900 to 1950.
According to MasterClass, the evolution of industrial design means you'll rarely find it looking as austere as it did at inception. In order to soften the harshness of strict industrialism, you'll often see its aesthetic combined with compatible styles like farmhouse and mid-century modern. While the whole point of industrial design is to focus on the basics and create an environment that leans minimalist (often to the point of looking like a live-in workshop), that approach has lately been enhanced to make the surroundings more welcoming and homey.
The team at Vaunt Design created a checklist of what they consider still en vogue compared to what's become passé. They maintain that parquet flooring and furniture remain on the yes list. Raw steel is out, though they recommend black matte metal as a viable alternative. In their opinion, the lifeless aspects of machinery and metal should no longer be the primary focus. Instead, they suggest adding potted trees and leafy green plants. To maintain the overall aesthetic, simply use copper or concrete planters.
Industrial evolution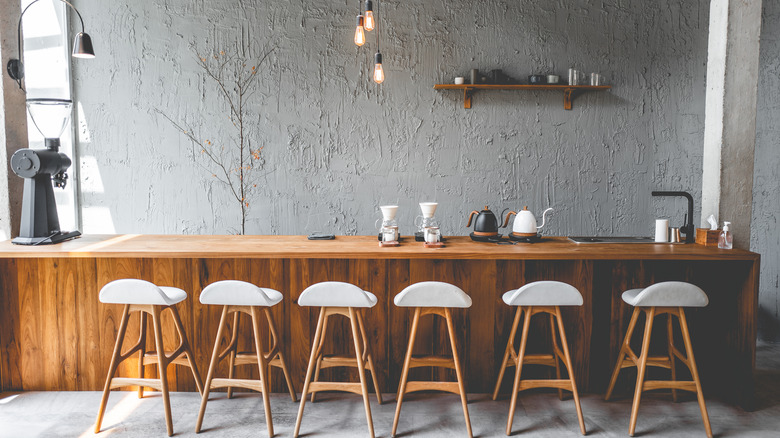 one photo/Shutterstock
Streaming TV and the internet have made it possible for designers and homesteaders to mix, match, and work with multiple design possibilities in order to achieve the effects they seek. So, in a sense, if strict adherence to a concept is what constitutes it remaining in style, there is a case to be made that hardcore industrial style is gone and isn't coming back anytime soon. 
But you can easily find evidence of its impact and influence everywhere in today's home interiors. What ideas remain — in signature components like exposed brick, visible wood beams, and hanging bulbs that mimic the original by Edison — are more popular than ever. Underlying it all, the concept introduced by industrial design will likely thrive forever. So, even without the materials that came into fashion with industrial design, its precepts of minimalism, simplicity, clean lines, and repurposing are likely here to stay, according to My Move. 
Products you wouldn't have seen a generation ago — items like linoleum (now manufactured from natural and recycled sources) and bamboo — are being brought into play too, simply because today's homemakers seek to make as much of a statement in sustainability as in style. Rugs, overstuffed furniture, and color also work wonders in making an environment more inviting. How much you incorporate and how fastidiously you hold to the principles of industrial style, are now more in the hands of the individual than ever.