15 Creative Carport Ideas To Make The Most Of Your Parking Space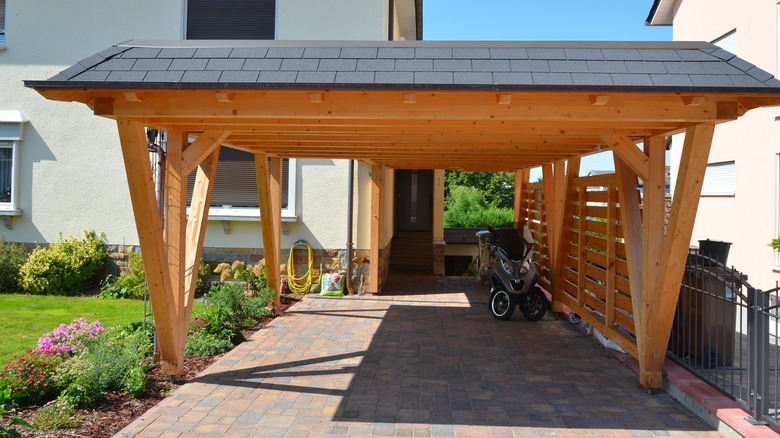 klikkipetra/Shutterstock
For most people, having a secure place to keep your car is extremely important. Whether you want to protect your vehicle from harsh elements or ensure it's safe from theft, a carport is a brilliant idea. We'd also like to point out that installing a carport is much cheaper than building a garage! According to Forbes Advisor, it can cost about $24,000 on average to build a garage from scratch, but the price can skyrocket to around $50,000 for one that can house up to three cars.
However, the national average for building a carport is between $2,000 to $10,000, according to Fixr, which is a much more affordable way to protect your vehicle. While a carport may not offer the same protection as a typical garage, it's an excellent option for those on a budget. If you think a carport is a  direction you'd like to go in to protect your car, here are stunning designs that will inspire you.
1. A craftsman-style carport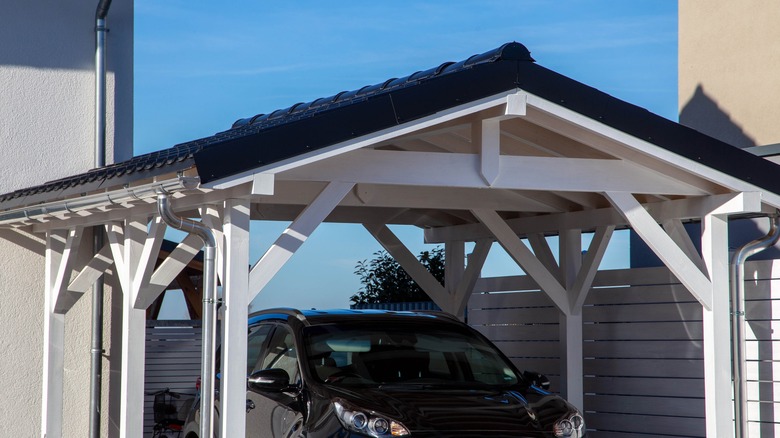 U. J. Alexander/Shutterstock
If you are as obsessed with the craftsman style as we are and have a home to match, consider using the design as inspiration for your carport.
2. A durable carport option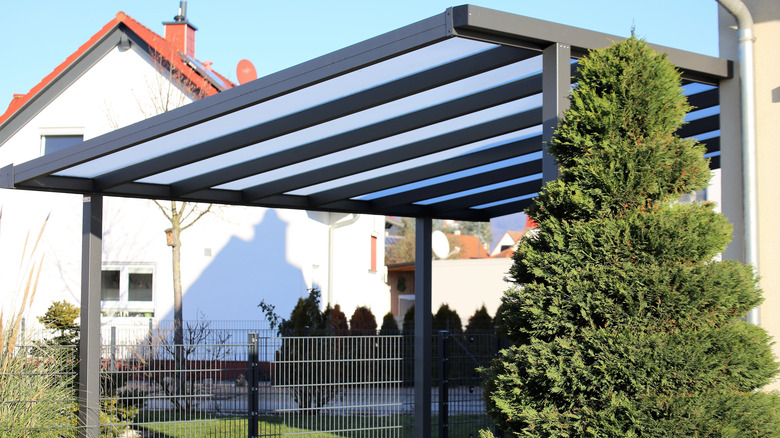 U. J. Alexander/Shutterstock
This chic carport is constructed of aluminum, which is an excellent high-quality material, and as a bonus, it looks great too.
3. A natural wooden carport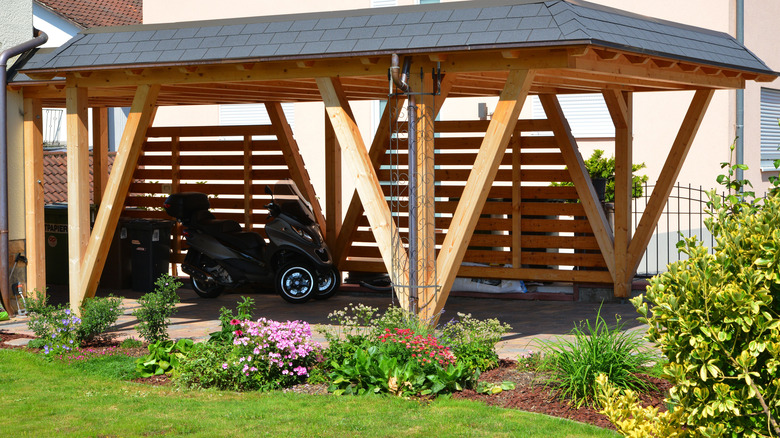 klikkipetra/Shutterstock
Go natural and get inspired by this beautiful wooden carport. Choose between pine or cedar and pay attention to the details. On one side, the homeowner used continuous planks with just a couple of inches of separation to give some privacy, and on the other, the carport opens up to a landscaped yard.
4. A modern carport for apartment parking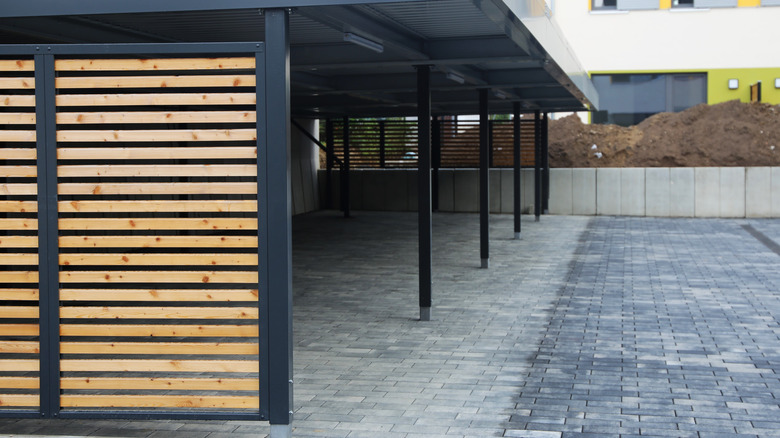 U. J. Alexander/Shutterstock
Whether you're in a single-family home or a sprawling apartment building, this carport is aspirational. We love the privacy wall made with a light wood such as pine or cedar, and the framing painted black for a modern look.
5. Go eco-friendly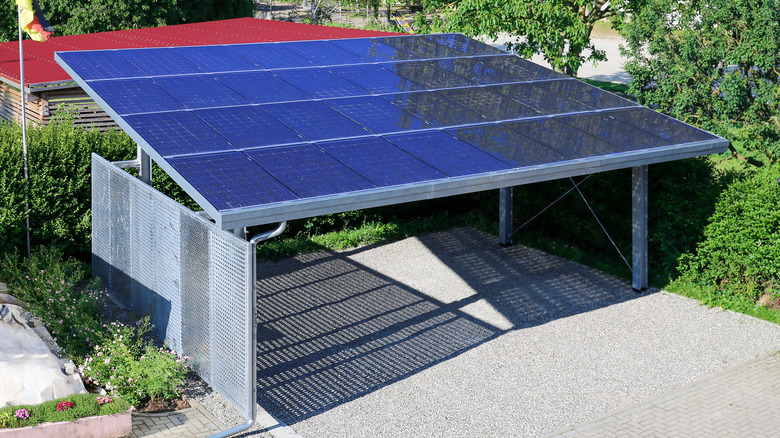 Marina Lohrbach/Shutterstock
We love that this option has solar panels on its roof, which would be an eco-friendly way to keep your car cool. According to Forbes Home, this may be the option to consider if you're looking for a way to reduce your carbon footprint and save money on your energy bill.
6. A light blue dreamy version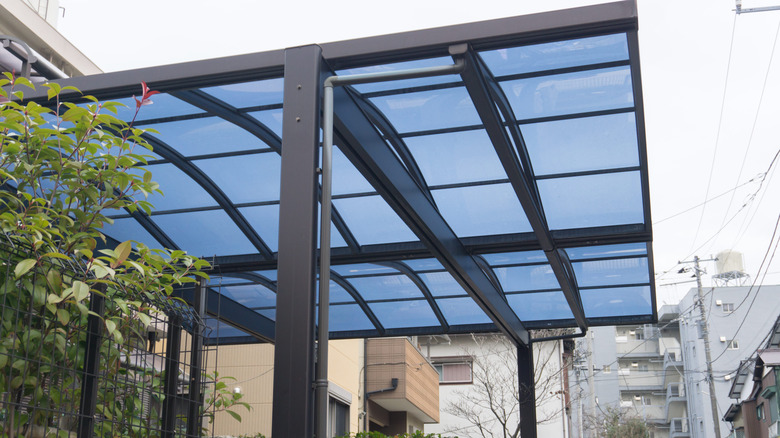 nhk_nhk/Shutterstock
What an absolutely dreamy carport! We love how modern it is, but the best part of this option is its light blue color, which is beautiful!
7. White and modern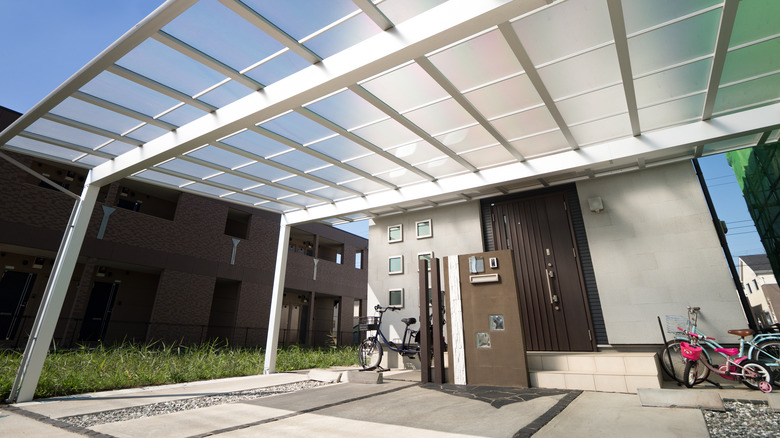 yoshi0511/Shutterstock
This modern white carport is made of steel, so it's ultra-durable and looks excellent. It is the ideal spot for your cars and an accessible spot to keep your bikes too!
8. A luxurious extension of the house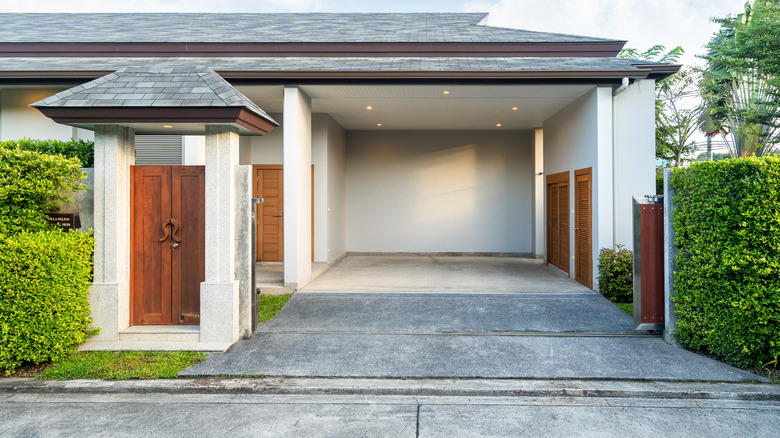 stock_SK/Shutterstock
This carport happens to be a beautiful addition to an already luxurious abode. Plenty of protection can be found with a design like this, plus the recessed lighting is a nice touch!
9. Plenty of privacy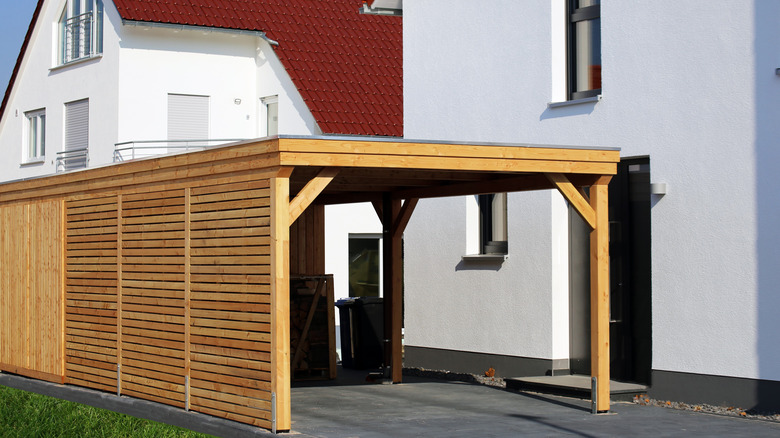 U. J. Alexander/Shutterstock
If your neighbors are close and you're looking for privacy, consider a design like this with the wood planks fitted extra tight to keep out prying eyes.
10. A simple carport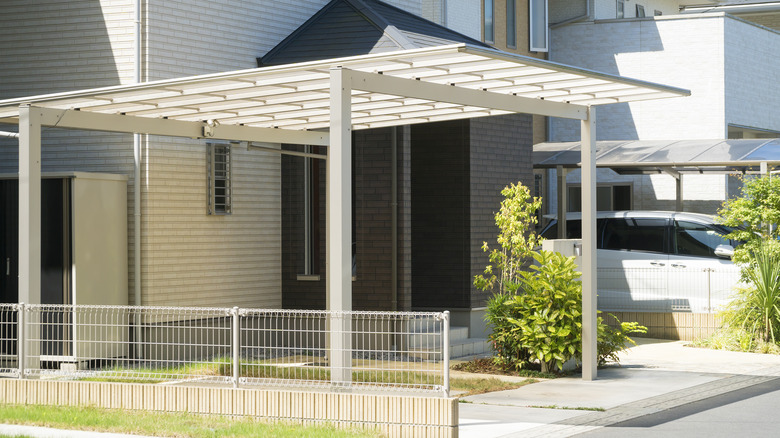 shigemi okano/Shutterstock
This simple style would be easy to put together on the weekend. With four sturdy aluminum poles and panels to shield out the elements, it's one that's easy to love.
11. A carport inspired by a pergola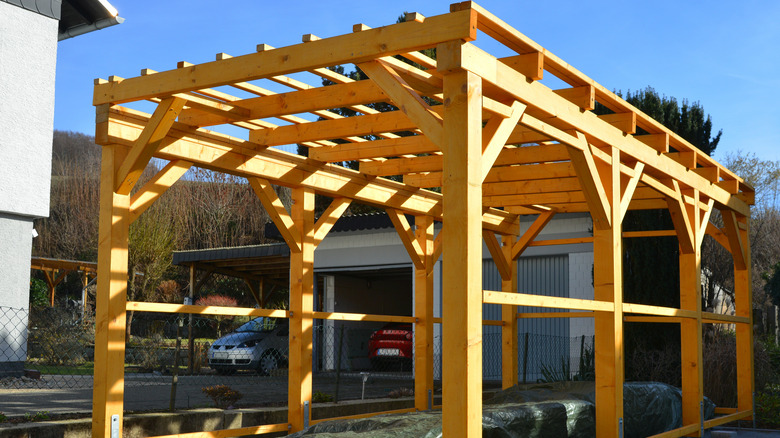 klikkipetra/Shutterstock
This pergola-inspired carport is large enough to protect several vehicles. It's made of wood and has a simple yet beautiful design.
12. Blend with nature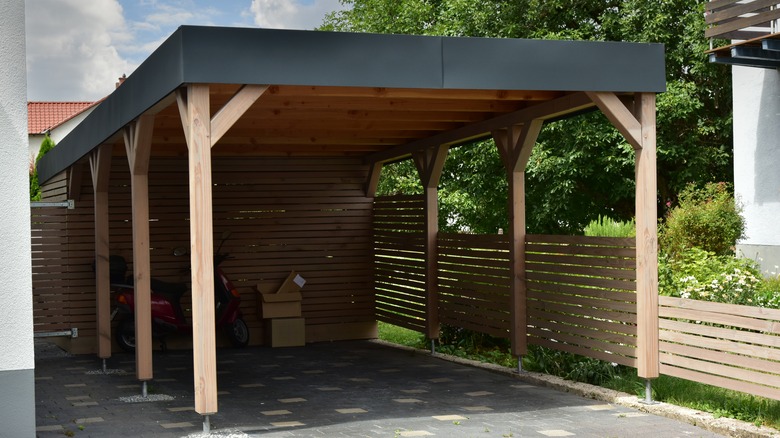 klikkipetra/Shutterstock
We can't get enough of this modern style that blends perfectly with nature. It features ultra-light wood, and the carport's trim is chic black.
13. Kaleidoscope of colors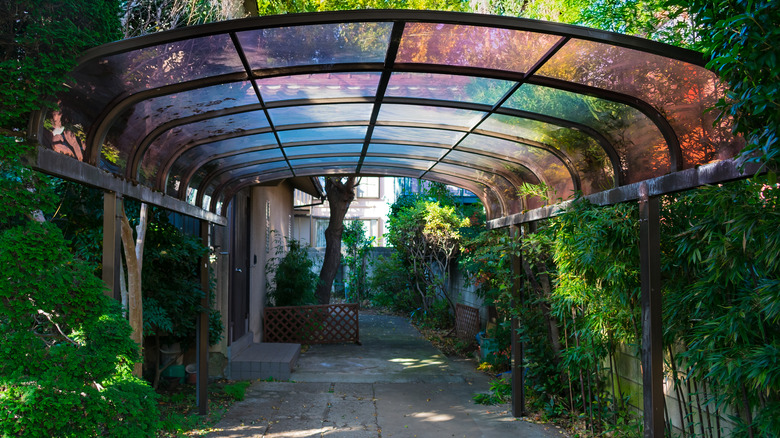 Rick Henry/Shutterstock
We don't know about you, but this colorful carport in the Tokyo suburbs makes us so happy. The panels show a kaleidoscope of colors, including pinks, greens, and blues. We wouldn't mind pulling up to this parking spot every day.
14. Metal shingles look good and are durable too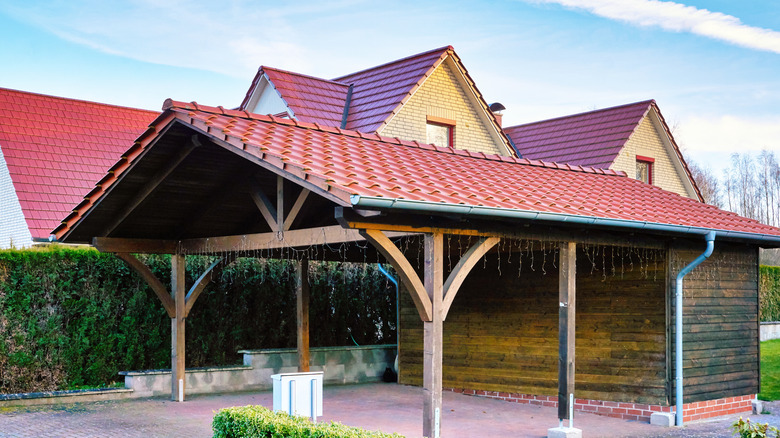 DR pics/Shutterstock
Not only does this carport with a metal roof look beautiful, but there are some significant benefits to this type of roof. According to State Farm Mutual Automobile Insurance Company, these roofs are long-lasting (up to 70 years!), are energy efficient, and use recycled materials to improve the environment. We're sold!
15. A multifunctional space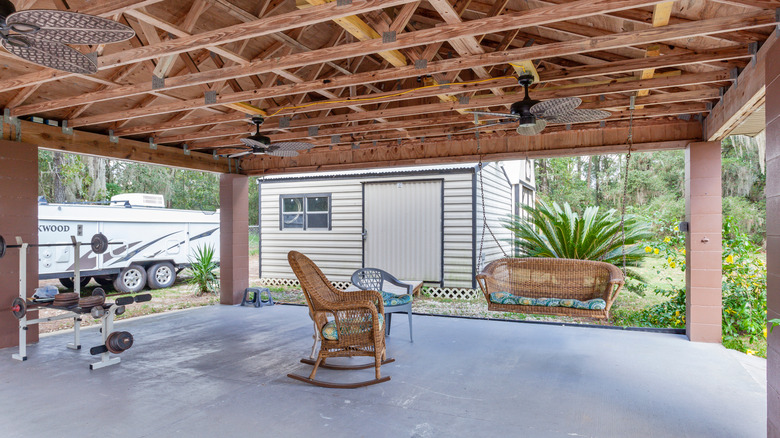 Pipas Imagery/Shutterstock
A carport doesn't necessarily always need to be used for your cars. Get creative like these Florida homeowners. They used this airy space for a seating area with gorgeous wicker furniture and a spot to work out, which is brilliant if you ask us. They even added details like ceiling fans to keep the area cool.