15 Shades Of Paint You'll Want To Use On Your Ceilings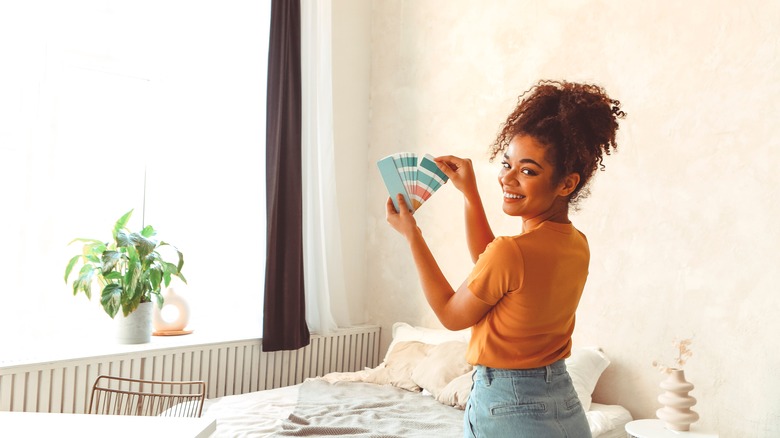 Dasha Petrenko/Shutterstock
We love designs that bring out the many qualities in a room with thoughtful and innovative ideas. Painting walls in rich hues is a good way to make the room cozier or to match with dark bedding. A light shade such as mint green has the ability to make the room look brighter and let natural light in. The decision to paint your ceiling can add an element of design that can transform a room into something more than you might've thought of. After all, designers call the ceiling the fifth wall for a reason, right?
But how do you decide if you want to paint the ceiling in the first place, and what should you do about choosing a color? According to Ecos Paints, taking the concept of an accent wall and applying the same thought process to the ceiling is a great idea to provide continuity to the room. Patterns like stripes or dots look great on an accent wall, and they would look just as beautiful on a ceiling in the right room. Want some inspiration on colors? We've got 15 shades of paint you'll want to use on your ceilings.
1. Sky blue
Light, pastel blue that resembles the sky gives an easy, breezy mood to the room. Combined with white trims or walls, it's the perfect way to encourage natural light to come through the space. Try it in a bedroom, bathroom, or breakfast area.
2. Stone gray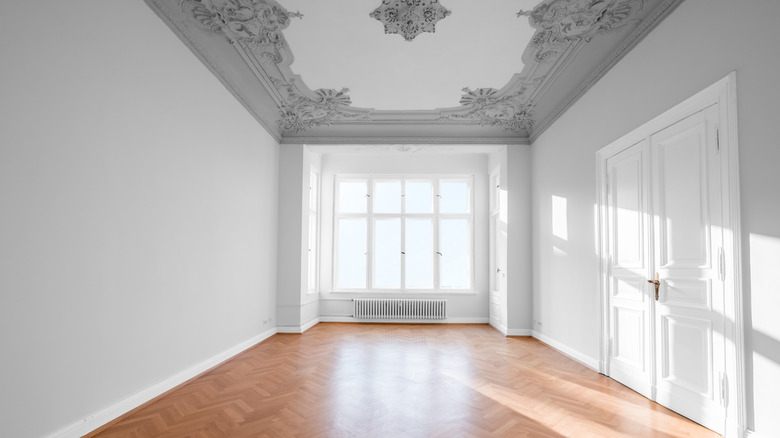 hanohiki/Shutterstock
For a sophisticated, calm feel to the room, opt for a gray shade with white undertones for almost any space in the home. This color makes the room feel light and airy, which pairs well with white walls without a deep contrast.
3. Rich green
An earthy green can make an already large room feel cozy, warm, and inviting, which is a good idea for a living area or master bedroom. Go ahead and bring some indoor plants to the space, too, to connect the paint color to the outdoors for a beautiful nod to nature.
4. Black
While you may think that a black ceiling can make a room look dark and cold, it actually gives the space a sophisticated touch. Black ceilings are super trendy at the moment and can be inviting and cozy when paired with complimentary colors.
5. Sunny yellow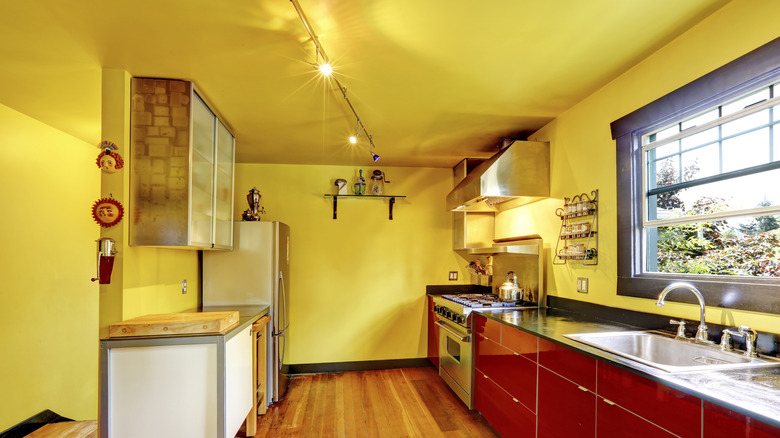 Artazum/Shutterstock
A feel-good sunshine yellow is just so pretty and happy that it'll be tough to feel anything but energetic when you look up at the ceiling. We love yellow paint for kitchens, as it resembles summery lemons. Pair with a bold color like red or navy for a nice contrast. 
6. Cozy brown
Lilly Trott/Shutterstock
A soft, cozy, light brown in the taupe and beige family can be just the color you need if looking to go outside the traditional white ceiling. We love the biscuit shades that blend well with other furniture and white walls.
7. Cherry red
Warm and welcoming, a cherry red ceiling is so pretty in a front door hallway. Not only is the color rich and dramatic, but it also has the potential to set the tone for the rest of the home.
8. White pearl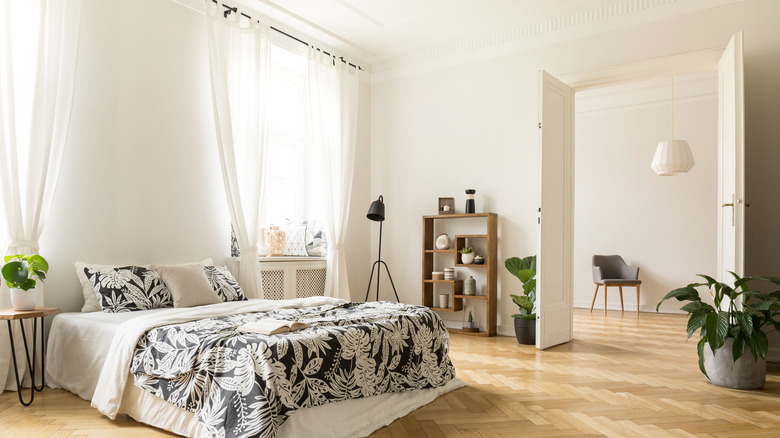 Photographee.eu/Shutterstock
If the goal is to make a small room look bigger and brighter, go for the tried and true white, but with soft undertones. A white pearl is perfect and will blend easily with any color for an accent wall or all-over paint.
9. Royal blue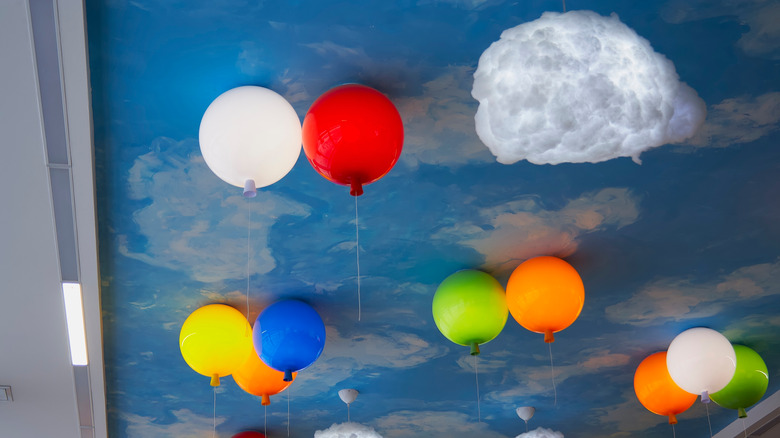 Anatoliy Berislavskiy/Shutterstock
Bright and beautiful, a royal blue is fun and bold. We love this color for a kids' playroom or office space with white walls and black border paint. You could also decorate it with clouds for a kids' room as they wake up in the morning.
10. Coral
Stunning in a sitting area or office, we love how coral brings out the best in orange and pink. The color reflects light really well, so a pretty ceiling lamp or chandelier will look dramatic and beautiful with a ceiling in this hue.
11. Mint green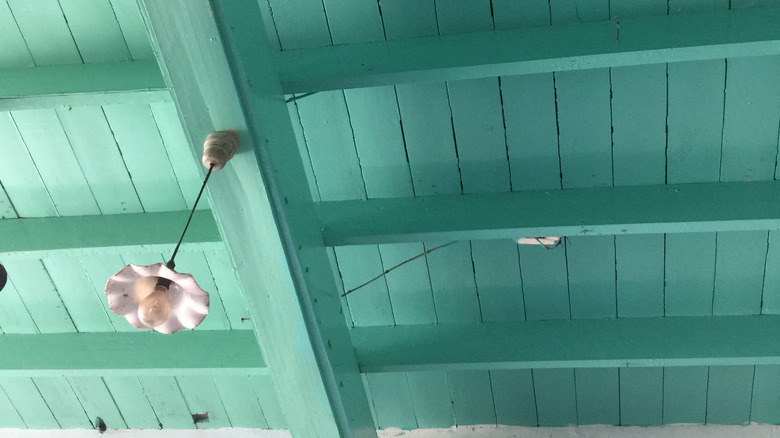 Koopphy/Shutterstock
Light and airy, mint green walls make the room look bigger and let natural light in a bit more. Combined with dark green walls, it creates a color contrast in the same family with a dramatic effect.
12. Burnt orange
A warm orange can make an area seem cozier and inviting. However, we recommend a dark orange for a bedroom or reading room with tan or beige walls to add contrast.
13. Royal purple
Sophisticated, bold, and beautiful, royal purple is a great paint shade for a bedroom, office, or living area. The darker tone makes a space look smaller but also cozy and warm with a modern and contemporary touch.
14. Pink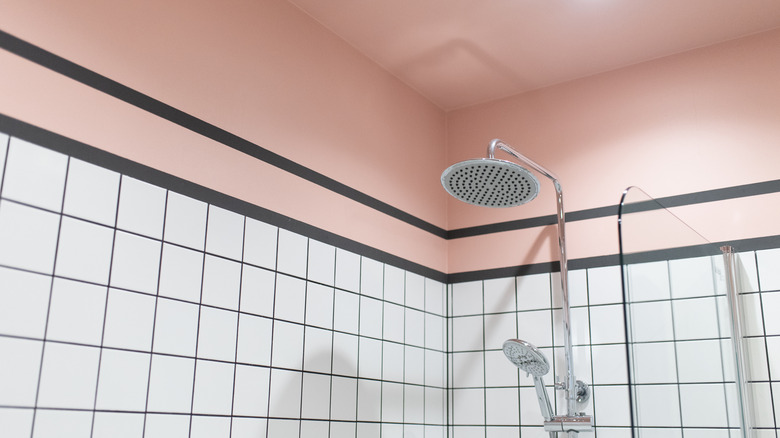 Anastasiia Chepinska/Shutterstock
Soft pink in the light blush and rose hues are great for ceilings as they create a feminine, soft and sophisticated mood in a space. Use pink for a bedroom, bathroom, or sitting area.
15. Teal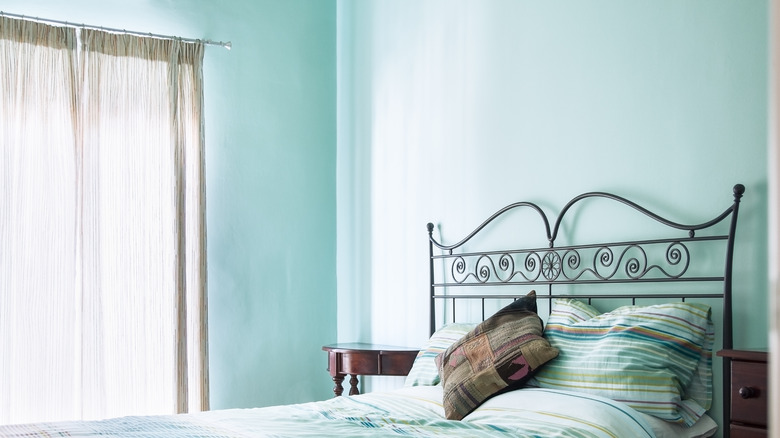 ra.photo/Shutterstock
Teal is a great shade for rooms that are on the smaller side. A bright color that combines green and blue can be energizing and lively while at the same time making the space appear bigger.