How To Replace Your Outdated Door Knobs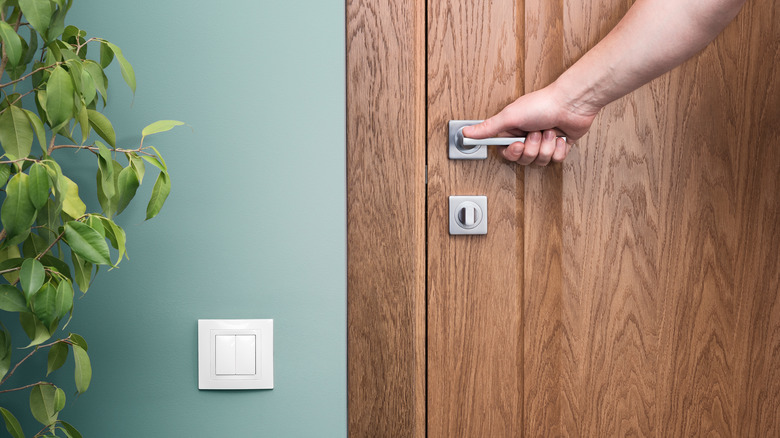 Dmitry Bakulov/Shutterstock
When updating your home, it is easy to overlook the importance of smaller changes such as replacing your outdated door knobs. While this may seem like a very minor update, changing out your old knobs for ones that better reflect your style will make a huge impact on the overall look of your space. Moreover, changing the door knobs is a quick and easy way to add character when moving into a new home. 
Doorlocks Direct says that knobs enhance a space's design while also being very useful. Door knobs come in a number of styles, finishes, colors, and types, so finding the right one to match your decor should be fairly simple. They recommend choosing a design that complements the overall style of your home, to make your space appear well thought out. Below, you'll find the easiest way to replace an outdated knob, as well as some styles you could choose from.
How to replace a door knob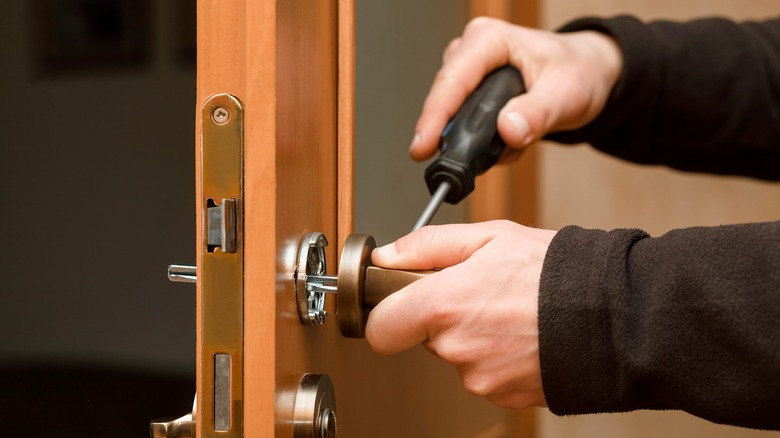 Mariana Serdynska/Shutterstock
The Home Depot says to first identify what type of door knob you are replacing. There are four main types: Those used outside are called entrance or keyed entry knobs, while those used on internal doors are called passage knobs and cannot be locked. Privacy knobs can be locked from one side and are often found in bathrooms and bedrooms, whereas dummy knobs are used on doors that don't have a latching mechanism such as closets. 
In most cases, you can replace the door knobs without removing the lock assembly. Begin by removing any visible screws that attach the knob to the door. If you cannot see the screws, you may need to pry off the rose, or the round piece that covers the screw heads. 
Once the knobs have been removed from both sides of the door, you can slide your new knobs onto the exposed spindle. When choosing replacement knobs, make sure they fit the spindle and open the door latch when turned, explains Wayfair. Finally, attach both knobs to the door using the supplied hardware and open and close the door a few times to ensure correct operation.
Choosing the right style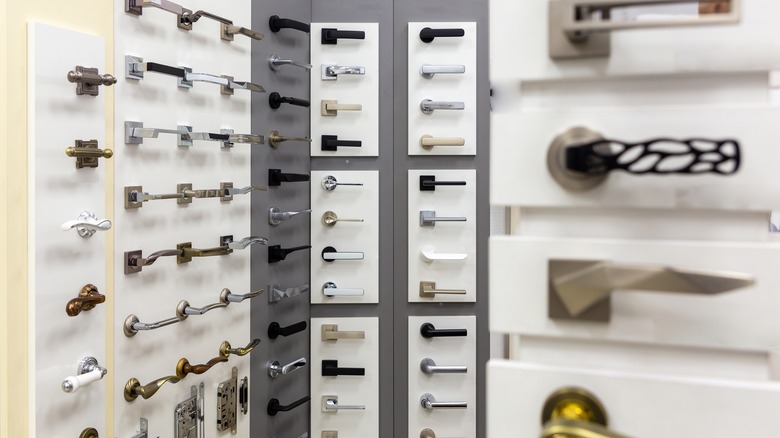 BY-_-BY/Shutterstock
Because there are so many different designs to choose from, finding one that fits your particular needs shouldn't be too difficult. However, it's important to consider all your options before narrowing down which one you like the most.
When it comes to finishes, there are plenty to choose from. The Home Depot says that door knobs can have a bronzed, nickel, black, chrome, brass, copper, or even a clear finish. Additionally, there are also many different styles. Homes with traditional decor may benefit from simple yet stylish designs. Some prefer a more rustic look, which fits in well with farmhouse-styled spaces, while antique knobs help to give an aged appearance.
Interiorsplace says that if you come across multiple looks that you enjoy, this may be a good thing. While some prefer to have all their knobs identical, others recommend focusing on cohesiveness instead. Therefore, you could have completely different knobs in each one of your rooms as long as they all blend together nicely.