HGTV's Mina Starsiak Hawk Talks Risky Business And Home Renovation Tips - Exclusive Interview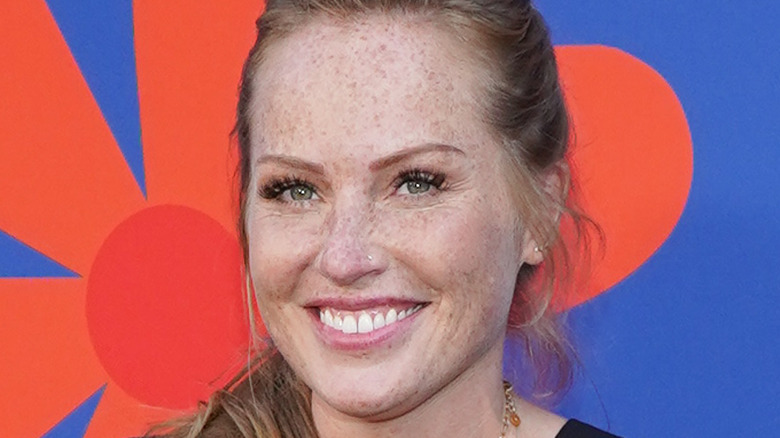 Rachel Luna/Getty Images
"Good Bones" star Mina Starsiak Hawk is no stranger to high-risk, high-reward home renovations. As the co-owner of Indianapolis-based Two Chicks and a Hammer will be the first to tell you, renovating historic and run-down properties is never without the potential for peril. However, when the reward is revitalizing the very neighborhoods you've known and loved since you were a child, what's a little risk when you're working hard every day doing what you're passionate about?
In her new show, "Good Bones: Risky Business," Starsiak Hawk takes on her biggest challenge yet. Premiering Tuesday, September 6 on HGTV and Discovery+, the six-episode series sees Starsiak Hawk go solo to tackle the historic, 6,700-square-foot Sanders House in the Indianapolis neighborhood of Fountain Square. 
While fans of "Good Bones" will find a lot to love in this spin-off, its depth of detail and pronounced grit are bound to appeal to industry professionals and regular viewers alike. In this exclusive interview with House Digest, Starsiak Hawk gives us insider information on shooting "Good Bones: Risky Business," shares expert tips on renovating your dream home, and discusses how the COVID-19 pandemic and economy have affected her recent projects.
How Good Bones: Risky Business pushes the envelope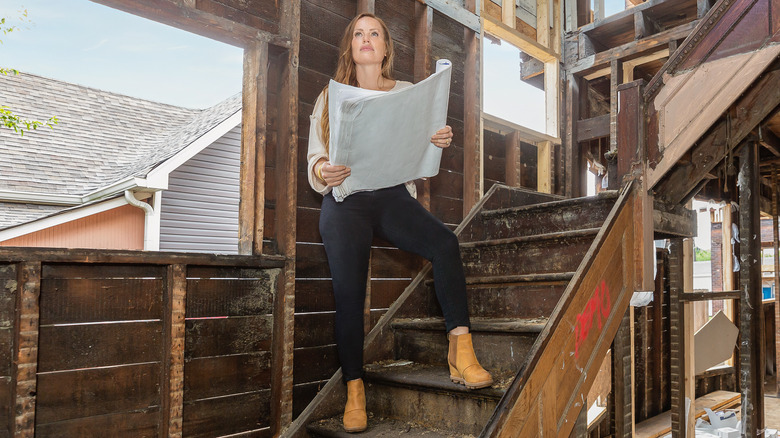 HGTV
You've indicated that "Good Bones: Risky Business" will appeal to industry insiders as well as casual viewers due to it having much more in-depth information than many similar programs. Which aspects of the renovation and redesign process do you think most people fail to realize when watching programs such as "Good Bones"?
Mina Starsiak Hawk: I think usually when you are trying to fit a whole home renovation into what shakes out to be around 42 minutes of TV, there's obviously so much of the process that has to get cut out to make way for everything — all the funny moments, all the fun moments.
The spinoff is ... Granted it's 6,700 square feet, but it's one property over six episodes. We just really have the time to focus more on the process, I guess. When there are things that are going wrong with construction ... and again, I haven't necessarily seen how they've edited yet, but the process felt different in what we were filming. The content we were gathering was just a lot more holistic, and I think when you watch "Good Bones" or a lot of other shows, it makes it look very easy to a lot of people, and it never really is.
A recent HGTV profile references "COPs-style filming" and "curse words" when describing "Risky Business." Will this be one of the first renovation shows that will require us to put our children to sleep before firing up the DVR?
Well, depends on your parenting style, but to each their own ... When I say COPS-style filming, there was a camera guy there all the time. Whether the rest of the crew was there, we had one guy on our team that was always there, so if there was something that went wrong, or I showed up when I hadn't told production — which I did a lot — they caught everything real time in a much more raw footage format, which means more of the tragic or awesome reactions, I guess, that are not me saying "holy moly!"
It's more the "holy s***" version of that, and I think because of the format of the show, the network's definitely giving us a little bit more leeway to push the envelope. Obviously, they're beeping out or cutting out any of the more aggressive foul language, but there's definitely a few "hells" and "s***s" dropped, for sure.
Why Mina Starsiak Hawk Hawk loves saving old homes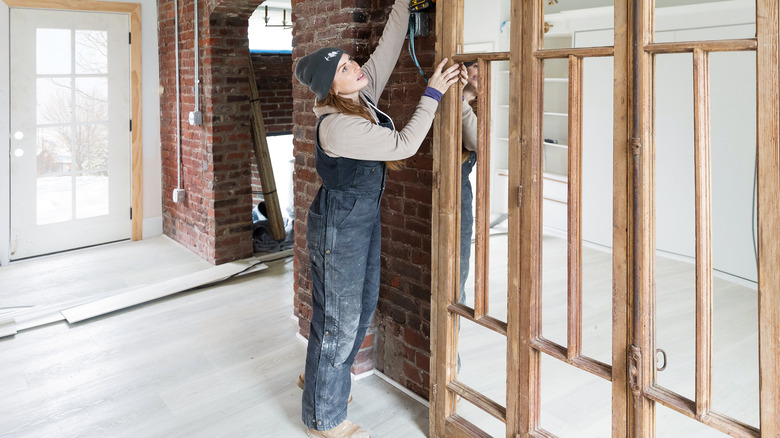 HGTV
You're described as being dedicated to the art and business of saving old homes. What is it about remodeling them that appeals to you versus demolishing rundown homes and building new ones?
I think it's a two-parter ... I'm super competitive, and a lot of the projects that we take on are ones that other people have failed at, or no one else wants to do because they're so messed up. So, there's that part of me that wants to be able to do it, to be able to figure it out. Sometimes me and my team all would love not having a challenge (laughs) ... But that's just not really how we operate.
So, while there's the competitive nature, it's also, I think it's just more personal, I guess. New construction, you're not really starting with anything to pull from. The inspiration's harder to get, so the vision's harder for me to find. And while I am definitely not the most in-tune with people's emotions, or a sensitive person, I do like the personal aspect of what existed in the home before we got it and being able to pull that story through it.
You obviously take pains to protect the historical integrity of homes and neighborhoods when taking on projects. Why is this an important thing to keep in mind when renovating a fixer-upper property?
I'm sure there's some people that really like that builder-style new construction because it feels completely fresh and clean, and no one's ever touched it, no one's ever lived here. But I think a lot of the people that are looking in the areas that we renovate in want the functionality of new construction but want it to have more character. So, whether we're doing a renovation or new construction, I think it's important to make it not feel like new construction, so it has a personality, it has some charm.
If it is new construction, we pull from our warehouse of randoms, then put an amazing old pocket door that we can use from another house or something like that to give it something in the project that's a little like an extra layer, a little more thoughtful, and makes it feel like it's not just white box and finished.
Tips for renovating and selling properties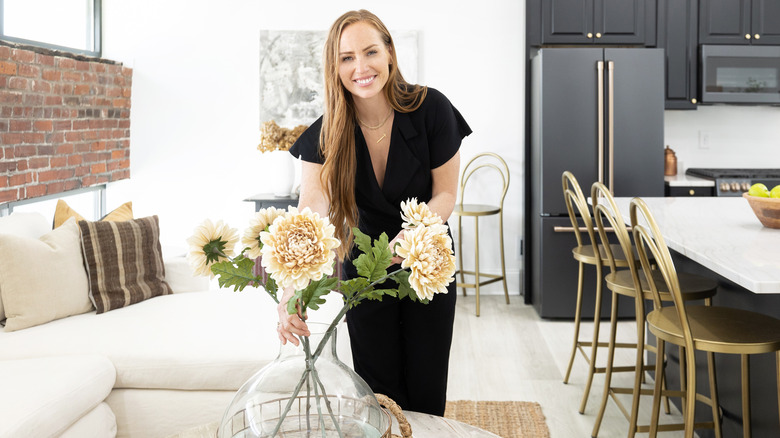 HGTV
What are some must-haves that a home should possess when someone is looking for one that can be renovated for a profit?
I think that's such a broad answer depending on what you're looking for. I think the easy answer that most people want is that the home has good bones. The foundation's stable, the roof is good, the framing's good. It just needs new flooring, new paint, and maybe an update in the kitchen and bath.
That's obviously ideal because it really is all just the aesthetic items, but those are the ones that everyone's competing for. So, depending on your openness to risk in a bigger project, you might have more success getting a property that has some of those bigger things that you'll need to fix.
What advice, if any, can you give homebuyers who are looking to purchase a fixer-upper in an up-and-coming neighborhood?
Oh gosh, a very, very in-depth home inspection, but even with that, there's things that they can't check. I had someone in our neighborhood buy a house, and the first winter, they discovered that there was no insulation in the walls, because your inspector isn't going to drill a hole in your exterior wall to check for insulation. They can't do that. So, things like that.
I always think it's worth checking the big ticket items. So, have a foundation specialist, a roofer. And, I always suggest that people pay that $250 and scope the sewer line, because it's $250 for peace of mind. Because if it's not okay, usually once you start poking at things that are old, they start falling apart. So if you're digging around in the yard, if you're doing landscaping, it's very possible that your sewer line, if it's original, could collapse or it could split, if you're grinding up tree roots that are going into it. So, if there's any damage already existing, you'll know that and ideally be able to negotiate that into the purchase instead of spending anywhere from $5,000 to $25,000 to replace your sewer line.
When renovating homes in less prominent neighborhoods, it's only natural that you'll need to keep costs down in order to turn a profit. What are some ways in which you can do this while still achieving unforgettable results?
We do a lot of mixing of materials, so a lot of the lots in the areas we work in are very long and skinny, which means the homes are very long and skinny, and they're also set very close to each other. So, the sides of the homes we don't really see. The front, obviously, is everything.
The curb appeal is the first impact, so a lot of the times we'll do a Dutch lap vinyl siding on the side and then mix up our materials on the front and do a combination of shake or board and batten and really get a lot of visual interest there and spend a little more money, while saving a little bit on the siding on the sides of the house since it's not something that is going to be part of the façade of the house really, just purely by where they sit on the lot.
Mina Starsiak Hawk on the state of the market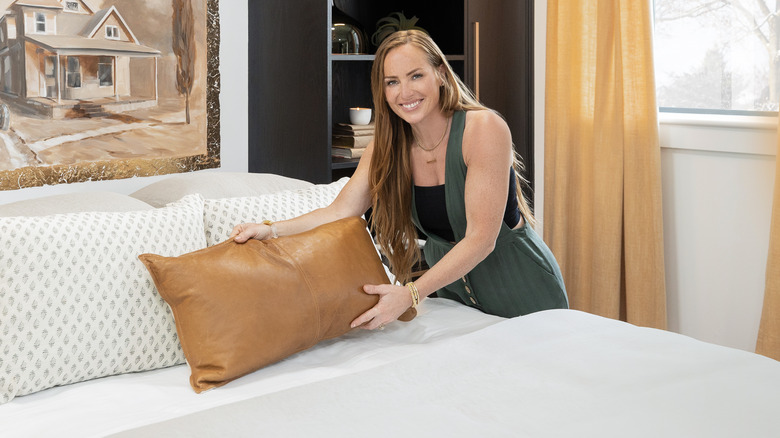 HGTV
You've indicated that shooting "Good Bones" in the midst of the pandemic was a challenge due to having to contend with delays and shortages that have affected builders all across the country. What kind of specific challenges are builders facing, and in what ways have they changed since the peak of the COVID-19 pandemic?
The neighborhoods we work in are all very transitional, so the fence material we use is dog ear pine pickets, and that was, you would think you were competing for bricks of gold. As soon as the stuff would hit any big box store, it was gone, so we were building cedar fences because cedar's a more expensive material, so there were less people competing for it. So, that was a very specific one.
And just since the height of COVID, we'd send our plans in and we'd get a materials bid for all the framing, and the framing materials bid we got for a project that we're doing for Season 8 came in, I believe, at $107,000, and I said, "Nope, hold off on that," because that was the peak of material prices. Wood costs have [since] gone down, and we reran that bid through that vendor maybe a month ago, and I think it had come down around $20,000. So, you're starting to see those wood prices level out. Availability is still extremely challenging, though. We can't get certain siding. Cabinets take a long time. There's still a lot of delays that haven't caught back up yet.
With rising interest rates and inflation in the news, how has the current state of the housing market affected developers and house flippers?
For us, it's always been competitive, but it's been even more competitive. You have a lot of wholesalers, people in the industry in Indy, that buy on behalf of California investors, and they've been instructed, anything under $300,000, just buy up. And that's hard to compete with when you're one of the smaller ones, for sure.
So, I think some of the housing buying in the downtown areas have slowed a little bit. In the suburbs, people are still paying an arm and a leg in cash for homes because of the school system, so the interest rates haven't really affected that. But I think we are going to see it slow down a little bit and depending on where they land, possibly see a lot more renting while people try to wait to see where the rates are going to go.
"Good Bones: Risky Business" premieres on HGTV and Discovery+ on September 6, at 9 PM ET.