How To Install A Rain Shower Head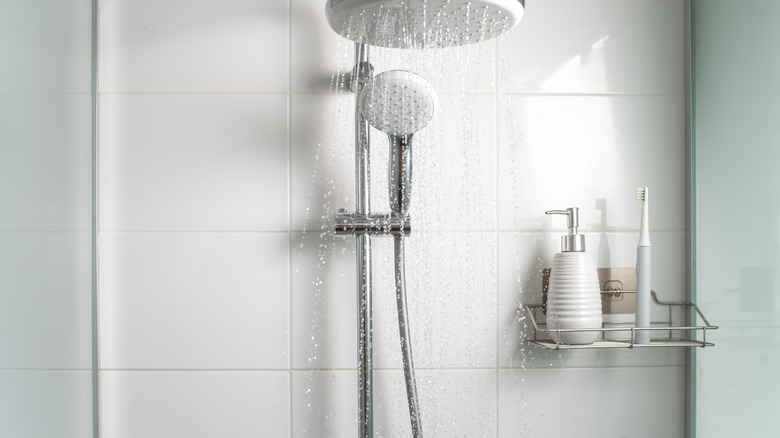 VladKK/Shutterstock
Not everything you purchase for your home needs to be installed by a professional. You can save costs by doing certain jobs yourself, and you may learn some new skills while you're at it. If you're new to home DIY, starting with a shower head installation shouldn't be too difficult. Rain shower heads are becoming increasingly popular for several reasons. Not only are they available in many aesthetically pleasing designs and materials, but they also provide a larger coverage area, creating a relaxing rainfall effect to wash your whole body, explains Smart Remodeling.
Rain shower heads are generally much larger than regular ones and are available in various sizes, ranging from 8 to 12 inches. They are also created with more holes to mimic the feeling of natural rainfall. While rain shower heads are traditionally installed on the ceiling, many modern versions can now be installed on the wall, too.
Out with the old, in with the new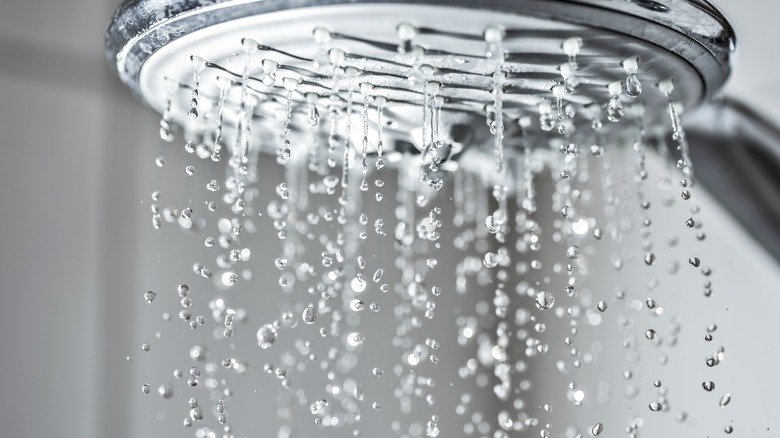 Janny2/Shutterstock
If you currently have a fixed shower head, swapping it for a rain shower head is a simple process. Sunrise Specialty explains that you should first remove your old shower head. You can usually do this by hand, or you may need to use an adjustable wrench if it's giving you some trouble. Once removed, clean the shower arm and make sure there is no grime or old Teflon tape on the thread — it's best to use a microfiber cloth to pick up any small pieces. You then need to add new Teflon tape to prevent the shower head from leaking, wrap it tightly around the threaded section of the shower arm three to five times, in a clockwise direction.
To install the new shower head, screw it onto the shower arm using your hands, then use a wrench to tighten it in place (you may want to wrap a rag around the fitting to protect the finish.) Don't make it too tight though, as you'll want to be able to move it around when it's being used. 
A new bathroom means endless possibilities
Quality Stock Arts/Shutterstock
If you're planning on a full bathroom remodel, the possibilities are endless, explains Plumbing Supply. Many modern rain showers can be installed on a fixed riser that complements traditional or vintage bathroom designs. However, the best option is to install your shower head on the ceiling, which will create the ultimate rainfall experience as the water will spray down directly above you. You can do this yourself, but if you are unsure, it is recommended to hire a professional.
Lowes says before you get started, it's good to know that the standard shower head heights are 77 to 81 inches from the shower floor, however, rain shower heads can be installed a little higher for a more immersive experience. If your plumbing isn't already exposed, you'll have to start by removing parts of the wall and ceiling. The new pipework will run from the shower valve to the center of the ceiling. Various length shower arms are available so you can install the new head at the best height, which should be suitable for all members of your family.