15 Stylish Alcove Shelving Ideas Perfect For Awkward Spaces In Your Home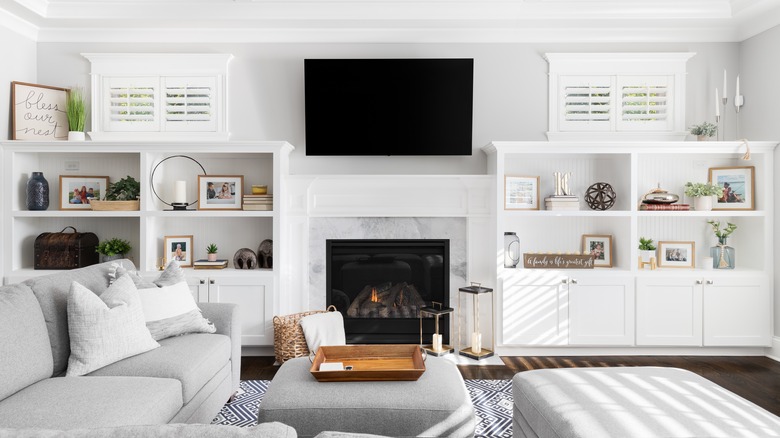 Hendrickson Photography/Shutterstock
If you want to maximize space within your home, you might consider the benefits of alcove shelving. From bedroom and living room areas to the foyer and kitchen, there are many styles of niches and nooks to examine. Often presented as floating shelves within a partially enclosed space, alcove shelving may sometimes appear with an arched aesthetic or possibly a more symmetrical design. According to Designing Buildings, an alcove is a recessed space that has been utilized in various ways throughout architectural history, for instance, the Romans commonly displayed busts, sculptures, and statues in hollowed-out coves.
What kind of space do you need to expand? You might utilize an alcove to increase storage space for books, collectibles, décor, or other purposeful items that require easy access. You can install alcoves and/or built-in shelving to add depth within a variety of places throughout your home. Showcase floating wood shelves amidst an alcove to add rustic charm against a neutral palette or choose a monochromatic color scheme on multiple-layered shelves for a more modern appeal. 
Bathroom recess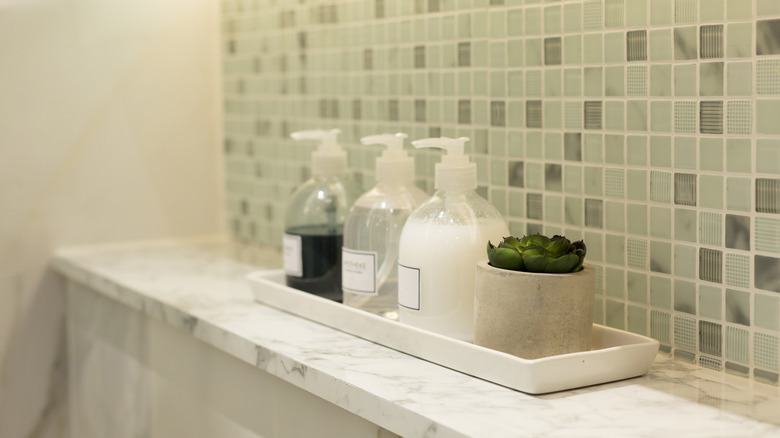 Rachel Moon/Shutterstock
Bathrooms can be limited when it comes to space, especially hall bathrooms or powder rooms. With the toilet, shower, bathtub, and sink consuming much of the room, you may need a place for additional toiletries. The alcove pictured above features a marble shelf with a complementary tile backsplash and is ideal for daily essentials like soap and lotion.
Hallway nooks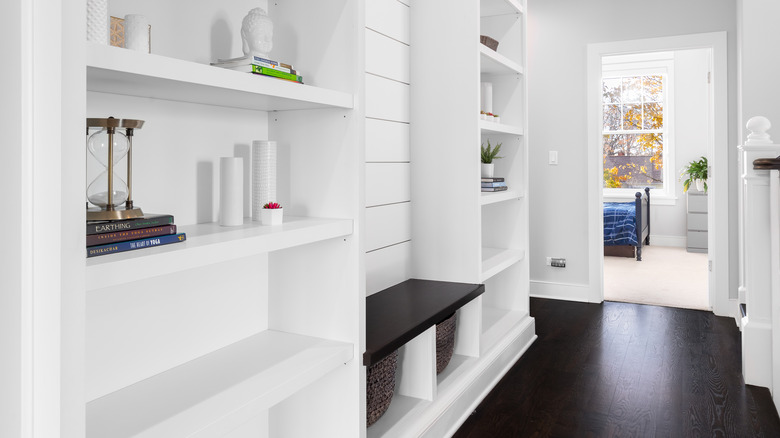 Hendrickson Photography/Shutterstock
As entryways and foyers are often places of transition, they are a great place to incorporate extra recesses for everyday items. The dual built-in shelves pictured above are dazzling white to offset the dark wood floor and bench.
Walk-up pantry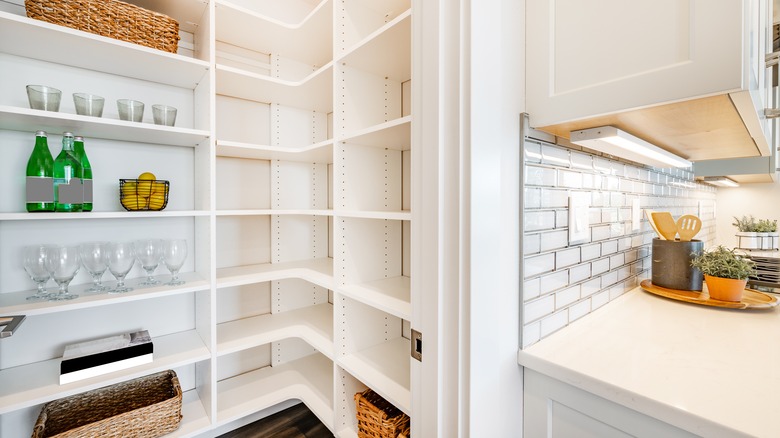 Sheila Say/Shutterstock
The kitchen pantry is the go-to space for your daily cooking needs. This open-concept pantry is tucked into the corner of the kitchen and features multiple-level shelving, which can accommodate bins, dishes, glasses, packaged food, and other kitchen necessities.
Kitchen alcove
When cooking, the area where the stove or range resides is a place you might spend a good amount of time. If there is sufficient space, you might install an alcove here, like the one pictured above. Within the nook is a great place to store your baking and cooking essentials while keeping them within easy reach.
Recessed lighting
Showcase your valuables or essentials on purpose-built niches that feature recessed lighting. As pictured above, the captivating alcoves are illuminated, and suitable for displaying art, sculptures, or other focal points.
Cozy workspace
Set up an office or workspace in an alcove. You might establish an alcove work area within built-in cabinetry like the one pictured above. Here there's an efficient shelf space located above the wooden desktop and an organizational peg-like backboard for fundamental office items.
Dreamy enclave
The bedroom is the ultimate place to find recluse. Like a cozy enclave, you might situate the bed within an alcove space like the one in the image above. With the triangular opening in full center, this children's room features a nook specifically made to encompass a bed with convenient shelving on both sides.
Lofty library
Alcove shelving can be installed in small, discreet nooks or large layered areas with multiple shelf spaces. Here pictured is a gorgeous library of books built into an A-framed. The room is furnished with a contemporary-style desk and chairs. 
Laundry room cove
From folding clothes to storing cleaning products, your laundry room may require a versatile amount of storage space. The sizeable laundry room pictured above offers cabinetry for sorting and storing, plus open-air alcove shelving on the right where baskets, towels, and other essentials are conveniently located.
Modern built-in closet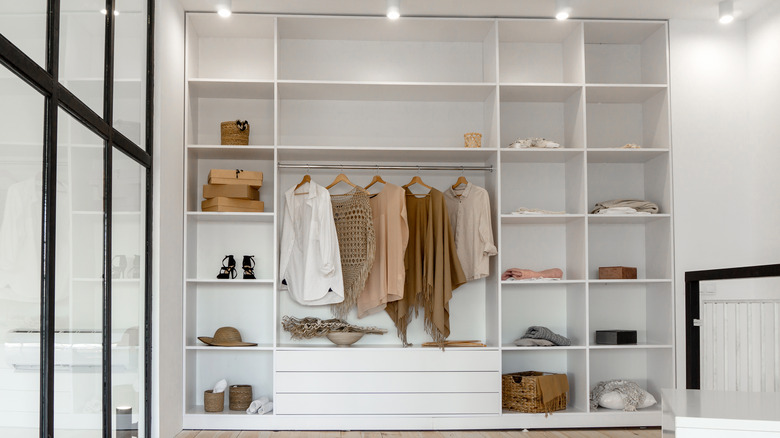 NataliaLavrivNedashkivska/Shutterstock
Closets are the ideal place for storage and unlimited shelf options. From clothes and shoes to seasonal accessories, organization is crucial. This contemporary setup appears built into the wall for a fluid function. Simple and minimal, the modern alcove closet features various shelves for containers, hats, shoes, and scarves.
Urban style
Living in the city may make renovation projects more challenging with limited overall space. Why not utilize the wall space by implementing alcove shelving within the wall like the loft-style apartment pictured above? Amidst the brick walls are easily accessible bookshelves within the living area that is both congruent and stylish.
Glassware showroom
The dining room is a great place to display your glassware while providing easy access for entertaining. Pictured above is an elegant dining room that features several alcove shelves. On display are various goblets and glasses behind protective glass. 
Traditional sundry alcoves
Need more than one alcove? Pictured is a modern yet classically designed living room that features a variety of alcove shelves. Although they're different sizes, all the shelves have a matching arched top, which complements the room and provides ample storage and display options.
Entertainment inlet
If you want to keep your entertainment area organized while somewhat discreet, you might place items within a custom-built epicenter. Here, the television is positioned in the middle of the piece and is tucked back into its own private niche amidst the tall bookshelves and fireplace.
Wooden alcove shelves
In classic alcove fashion, you might incorporate wooden shelving. Whether it's light and rustic or dark and contemporary, wood block-like shelves give a layer of depth and sophistication to your bookcases and storage areas. As pictured above, twin dark brown cabinets are paired with elongated shelves and a matching coffee table.