The Number Of New Real Estate Listings Has Gone Down Drastically In Atlanta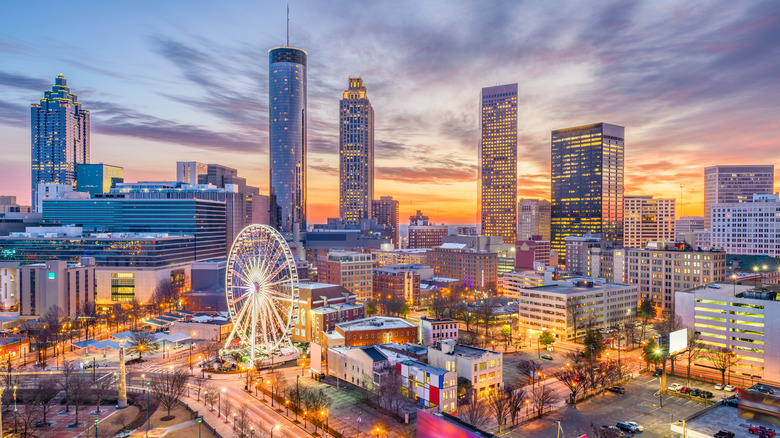 Sean Pavone/Shutterstock
Atlanta, Georgia is a large and bustling city set in a quaint Southern state. With a population of over 6 million people, it's the seventh-largest city in the United States and part of one of the largest metropolitan areas in the country, according to Macro Trends. Besides the nightlife and sports teams, what draws many people to the city is the affordability; the median list price of Atlanta homes is $435,000 and the median sold price is $395,000, according to Realtor.
Since many people are flocking to the city for the reasonable cost of homes, they may be disappointed to know that new real estate listings have gone down in Atlanta. However, the decline may be good news for anyone looking to sell their property in the area. 
Comparing the last few years of real estate data can give insights to those looking to buy and sell their residences. To that end, Zillow collected the intel in order to find out the specifics.
The cause of the decline
Many people tend to put their homes on the market between April and June, says Rocket Homes. However, comparing those months over the last four years, new real estate listings in Atlanta have declined sharply. 
In 2019, the year before the COVID-19 pandemic began, the number of new properties in Atlanta was at its highest at 13,000 in April. By June, there were 12,081 new listings. This predictably dropped in 2020 because of the pandemic, falling to 10,096. And while there was a slight rise in June of 2021 with 11,009 new listings, there was a dramatic decrease this year; June 2022 saw only 9,917 new real estate listings, lower than at the height of the pandemic.
So why are there fewer houses? Atlanta isn't the only city that's seeing a low inventory; this phenomenon is happening across the country. Rocket Mortgage points to a few causes. For one, mortgage rates were super low in 2021, and many homeowners took notice and moved to more affordable suburban communities. They were also able to pay well over the asking price with larger down payments. This influx of new buyers then caused an inventory shortage for others. Sellers were also able to sell their properties for a higher price. But now with mortgage rates high again, many are opting to hold onto their homes because of the difficulty in finding one to move into themselves.