Are Wall Sconces Coming Back In Style?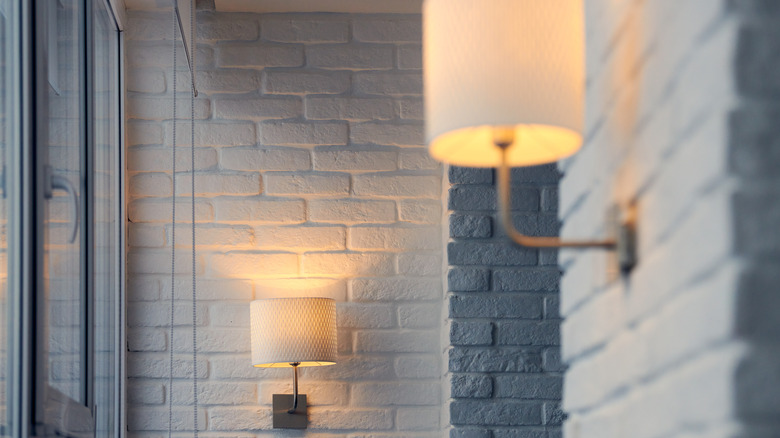 travelarium.ph/Shutterstock
Are wall sconces coming back in style? Yes. And because they're generally used in pairs, yes. A stalwart in decorating for their function and form, they've always been a mainstay of interior design. However, the popularity of second-hand and antique decor as an essential part of rising eclectic and maximal aesthetics has made the idea of these light fixtures even more appealing. Additionally, the tiny house boom and the glamorization of city living (tiny space living at a higher price tag) have contributed to the desire for space-efficient lighting alternatives. And finally, the recent prevalence of dark and moody interior paint colors has invited the contrasting and necessary illumination of said walls.
My Domaine spoke with designer Justin Q Williams about developing trends and he noted that although sconces have an association with more traditional decorating, they are being installed in modern applications now, too. "Sconces have become a way to make bold and impactful statements that truly elevate a space," he explained. Sconces can be an affordable avenue for introducing posh and purposeful design. According to The Strategist, they're optimally utilized in doubles to flank an object or architectural detail — thereby emphasizing it — like a mirror, artwork, fireplace surround, or pretty headboard. 
Vintage options are easily found through resellers and antique dealers, while there are plenty of new models available in various styles, finishes, and price points; off-the-shelf pieces can be further personalized with custom shades.
Function first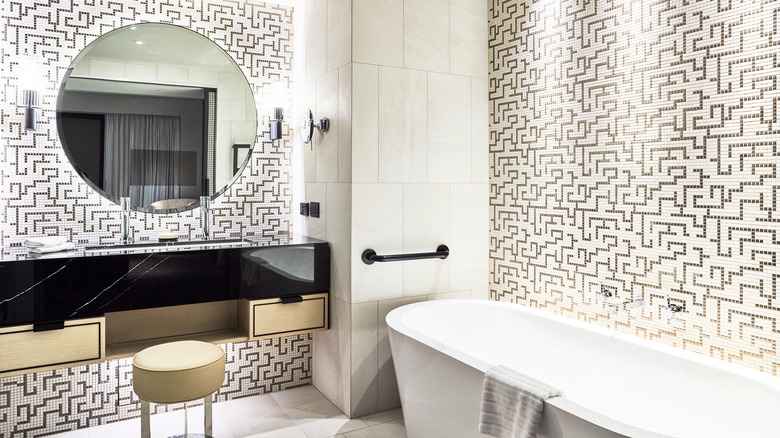 PhotoMavenStock/Shutterstock
Broadly speaking, the items that endure in decorating do so because, in addition to their appearance, they provide an important function. To that end, The Strategist points out that wall sconces are excellent space-savers in that they possess no footprint. Furthermore, they add another element to a room's lighting plan, best approached with a multi-layering of general and task lighting. And third, sconces offer a more directed ray of light, which subsequently doesn't affect the illumination of the entire space.
Build.com distributes the types of sconces into categories as such: up and downlights, candles, swing arms, lanterns, and wallchieres. Downlights are ideal for outdoors, where soft beams illuminate the sides of structures and walkways. Uplights focus light onto the ceiling, brightening dim areas, albeit they lack in producing an intimate ambiance. Candle sconces provide a classical touch, though shaping and materials can be quite modern; in keeping with their inspiration, they emit a faint amount of light. Swing arms are hinged (and shaded) options with the ability to move the light source; they're perfect for the bedside and in small spaces as they can be folded back into position and out of the way. Similar to the candle style, lantern sconces add a historic component to a home and are a favored choice for exteriors. Lastly, the home improvement superstore notes that wallchieres are the most typical representatives, offering maximum performance and decoration.

The how-tos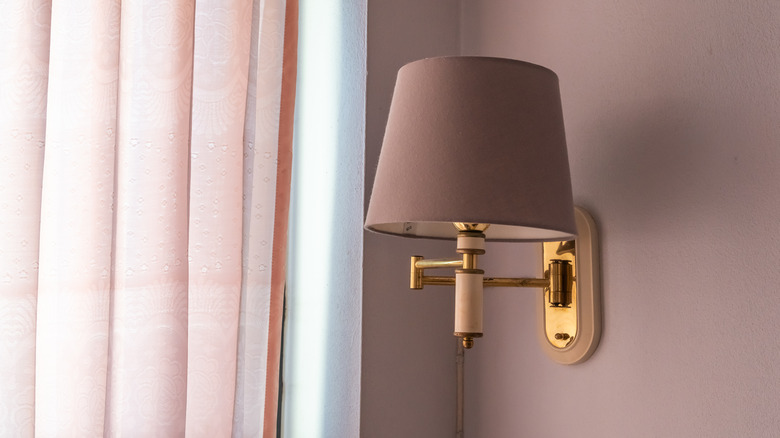 Style by Emily Henderson asserts that good lighting can transform a space. The design pro shared tips for prime sconce placement around the home. For the living room, dining room, hallways, and entryway, they advise installation just above eye level in most instances; for vaulted ceilings, it can be slightly higher. In addition, guidelines are to allow at least 6 feet between them; and for a clean atmosphere, maintain 6 inches from their shades to window and door casings. Bedside fixtures, which provide a great solution to nightstand clutter and lend the space an upscale hotel vibe, should be positioned just above shoulder height when seated in bed, and centered over the side tables. 
Most frequently, sconces are of either a hard-wired or plug-in variety. Hard-wiring can require an expensive electrician visit, but it results in a finished look and is the most user-friendly; they are operated from a wall switch and there are no unsightly cords. However, the affordability and flexible nature of plug-in sconces make them an enticing alternative. Their wires nearly disappear beneath cord covers painted to match the wall. Lest you think we're leaning too traditional, new technology has created a different option altogether — faux hard-wired fixtures. Eleven Magnolia Lane details how she altered regular sconces, which would normally require hard-wiring, with battery-powered LED puck lights. They're activated by touch or remote control. This DIY hack for high-end style may be yet one more reason sconces seem to be turning us on lately.