5 Easy Ways To Bring French Architecture Styles Into Your Home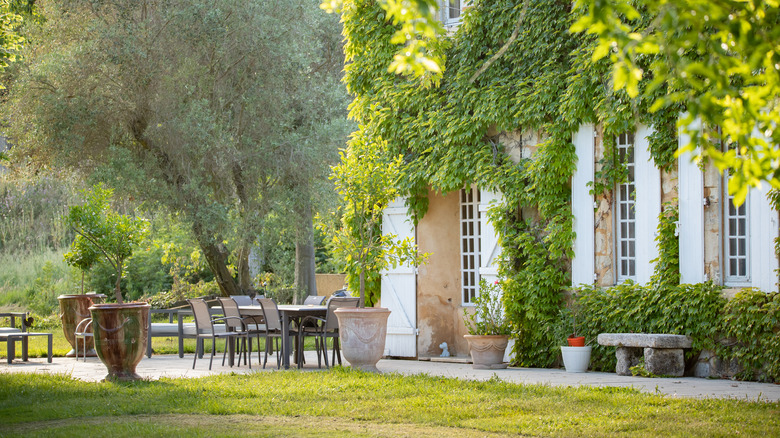 Laurent CHEVALLIER/Shutterstock
When it comes to regional architecture styles, there are few as timeless and romantic as French design. The words French architecture likely conjure up images of great structures like the Eiffel Tower or Versailles, but it just as much refers to quaint stone cottages in the French countryside.
While there is no universal French style when it comes to architectural design, there are quite a few commonalities and trends between each variation. There tends to be a focus on natural elements, such as the wooden maisons à colombage, or half-timbered houses, in northern France, or the large and historic stone bastides found in western and southern regions of the country (via Mary Anne's France). You don't have to live in a French cottage or a historic Parisian apartment to get a taste of French architecture in your own home, though. There are plenty of elements of French design you can take inspiration from and incorporate into your own home.
1. Parquet flooring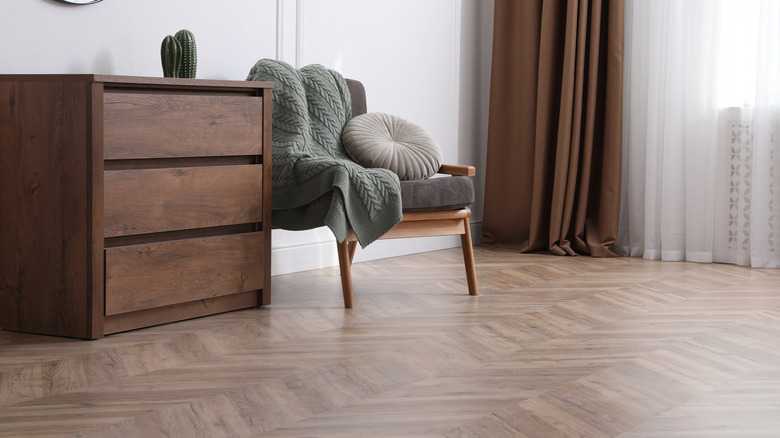 New Africa/Shutterstock
If you want some French inspirations inside your home, you should definitely be looking at replacing your carpet, tile, or vinyl with wood floors. More specifically, parquet style wood. According to The Reclaimed Flooring Company, parquet comes from the word parquetry, which means small compartment. Parquet floors, then, refer to multiple small pieces of angular wood that were put together to form numerous patterns, including chevron, diamonds, and more.
Parquet flooring goes hand in hand with French luxury and is most commonly associated with Versailles — King Louis XIV's elaborate palace. Historic French parquet floors are quite smooth and polished, as they were intended to replace marble. However, if you want a more modern take, consider sourcing multiple types of wood with a more hardwood finish. Regardless, the patterns will call to mind the beauty of French architecture and innovation and make your home feel a bit more regal and polished.
2. Gold accents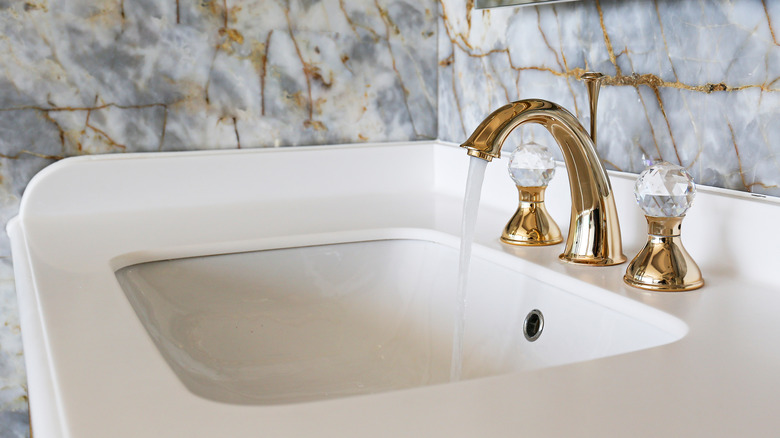 evrymmnt/Shutterstock
France is a country well known for its architectural flair, especially in the luxurious Rococo period. Again, the absolute splendor of Versaille and other luxurious castles and mansions are a major inspiration for many wanting to include some classic French elegance in their home. One way to do this is by incorporating lots of gold in your home (via Khan Academy).
In a traditional sense, this would mean embellishing your home with gold accents on the roof, walls, beams, posts, etc. It would also mean a plethora of gold sconces, frames, and mirrors hung throughout. If this seems over the top to you, don't worry — there are other subtle ways to include gold touches in your home without getting too gaudy. In fact, there is an entire hardware finish dubbed French gold, which has a very rich, buttery color that immediately brings to mind the luxury of Rococo-era France without being too in-your-face, per Jackson Design & Remodeling. Replace your silver or chrome faucets, cabinet handles, doorknobs, and any other hardware with the finish.
3. Beiges and pastels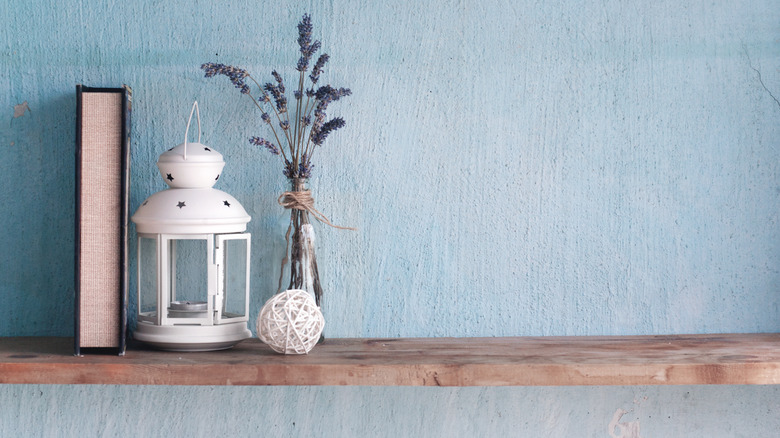 Tatyana Korotun/Shutterstock
No matter how bold or quaint you go, French architectural design tends to have a universal focus on neutral and soft color palettes. When it comes to choosing the colors for both the interior and exterior of your house, you should keep the color palette in the forefront of your mind.
According to Brocante Ma Jolie, you should start by establishing a couple of neutrals to base the rest of the palette around. These neutrals should be creamy and warm, ranging as light as a cream tone to as dark as a rich chocolate color, but they should fall along that warm, taupe line. These colors are great for grounding a room — a light blonde or dark espresso wood and trim, light cabinets, etc. Next, choose your more exciting colors. You can choose really any color you like, but it should have a dusty pastel tone. For example, if you want to feature red, opt for brick, go for lavender instead of violet, and rose instead of pink. This looks great as an accent color, an exterior or interior wall.
4. Stone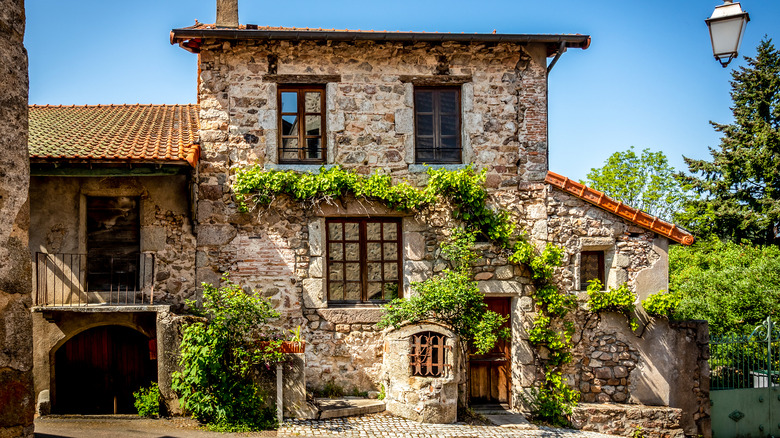 Ko Zatu/Shutterstock
In more rural and historic areas, you're likely to find lots of beautiful old stone buildings, which are a cornerstone of any French architectural style. Just a few styles of French homes that heavily feature natural stone include maisons à colombage, longères, mas, bastides, Charentaise homes, and fermes (farmhouses), per Mary Anne's France. This stone varies by region, with some being rougher stone bricks and others smoother sand and limestone.
If you don't have any natural stone in or outside, you can always use stone veneer to include the French inspiration. Stone veneer shouldn't be used to cover an entire room or house but instead to add some architectural intrigue. For example, Lowe's recommends using it outside on columns, chimneys, or as an accent to the rest of your siding. Inside, it's great when installed around arches, fireplaces, accent walls, or backsplash. If you don't want to install stone veneer, consider adding stone touches to your gardens, like pebble or cobblestone pathways.
5. Lush landscaping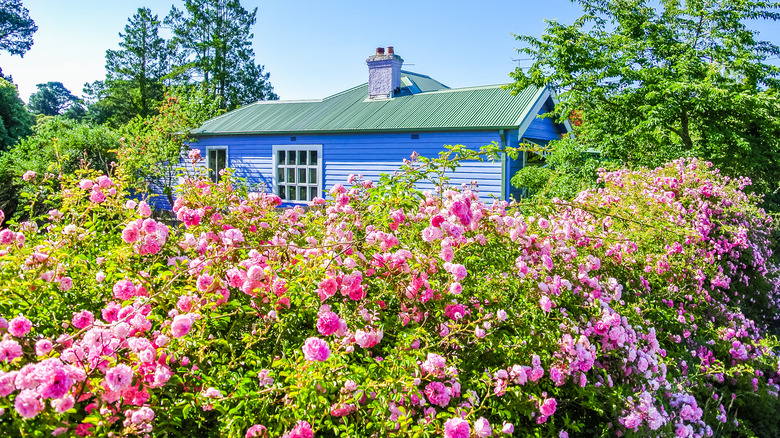 Nicole Kwiatkowski/Shutterstock
From the parks in Paris, the gardens of Versailles, and the meadows of the countryside, French architecture is only as beautiful as its surrounding landscaping. According to Parkinson Building Group, French landscaping is meant to be very naturalistic and blended with its surrounding environment, taking on an informal tone. Instead of having perfectly manicured trees, bushes, and lawns, let nature overgrow a little bit, but not too much.
Anything that climbs, vines, or creeps is a great idea. Consider introducing Virginia creeper or Boston ivy, as well as basic English ivy, sweet potato vines, or wisteria. Vines can quickly grow out of control, though, so be sure to keep an eye on them. Flowers are also incredibly important. As Chez Pluie notes, roses are about as quintessentially French as you can get. Lavender and other flowers that grow in beautiful, lush bushes are a great idea. Don't forget to add stone, wood, iron, and other natural, rustic elements to the mix.