What Is A Bypass Shower Door?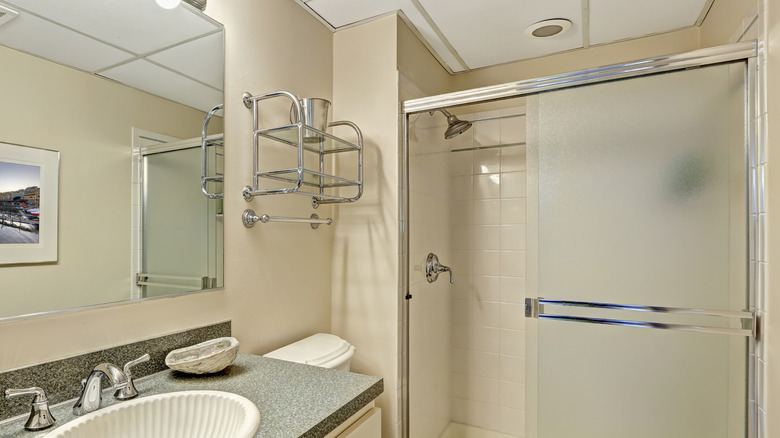 Artazum/Shutterstock
Bypass shower doors are basically panels of glass in aluminum frames that slide on tracks. According to New Concepts Glass Design, there are many reasons this type of shower door has remained commonplace through the years. Not only do they look neat and tidy, but they also conserve space in small bathrooms. They're easy to maneuver for most people and allow for clear access in and out of the shower. Unlike shower curtains, bypass doors are more effective at keeping the rest of the bathroom dry, although the tracks will need regular maintenance to prevent mold and debris build-up.
While effective, framed bypass doors can tend to look outdated. Most homeowners who choose to install bypass doors do so for economical reasons. The cheapest bypass doors at The Home Depot are around $270 with the average cost being in the region of $500. Although you can hire a contractor to install them, in many cases, handling the job on your own is relatively easy and can be a rewarding DIY project as long as you fully understand and follow the instructions, says Delta Shower Doors.
Semi-frameless and frameless bypass doors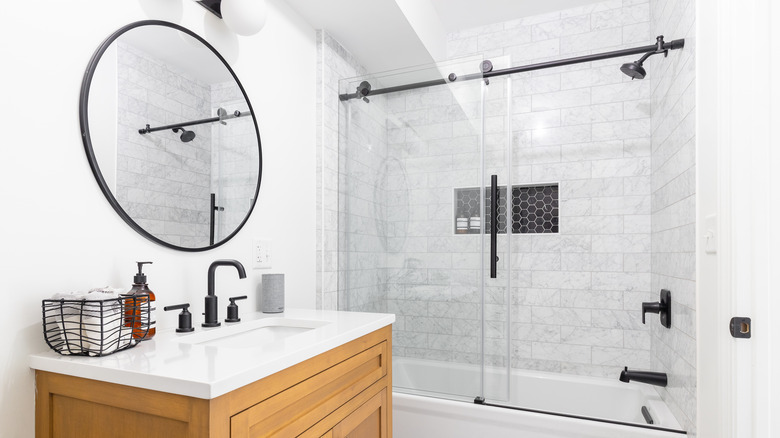 Hendrickson Photography/Shutterstock
Semi-frameless bypass doors are identifiable as they have several unframed parts, which give the doors a more modern appearance. Similarly, another stylish option, explains ABC Glass and Mirror, is a barn door style shower door, which incorporates two panels of frameless glass secured with unobtrusive mounting brackets. The sliding door is attached to an upper bar, allowing the panels to roll past each other to create an opening in the bath unit. An attractive feature of barn-style shower doors is that the design can be customized for larger bathrooms.
Whichever type of shower door you choose, it's important to clean the glass weekly with a natural cleanser such as warm water and vinegar in a spray bottle, says The Home Depot. They also recommend keeping a squeegee handy and using it on the glass after each shower, then opening the doors to allow air to circulate until completely dry. This not only keeps your bathroom looking tidy but will also help your shower enclosure last for many years.