Are Window Valances Going Out Of Style?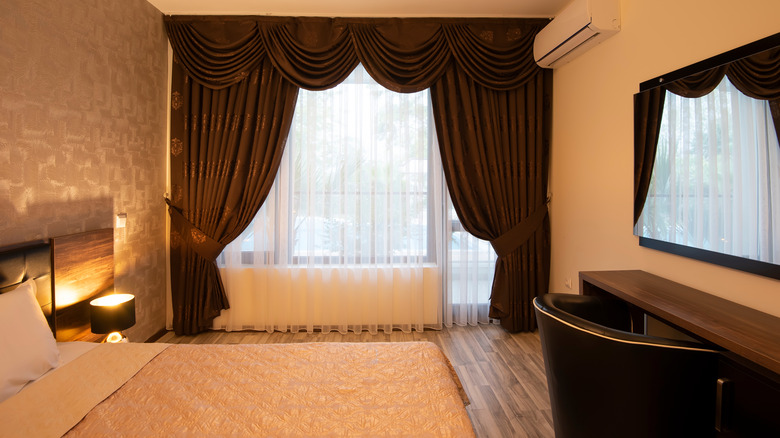 MONNKA/Shutterstock
Since reaching their peak during the Victorian era, window valances have survived through many generations of interior design. Window valances are perfect for shading the interior of a room and framing your windows without blocking all of the natural light. Valances initially signaled wealth in the late 1800s, but they've gained a reputation for looking cheap and dated in recent years. Today, many people picture window valances with polyester lace, ruffles, and sagging fabrics. According to Interior Designer Laurel Bern, these are classic trademarks of a grandma-esque home. 
However, window valances are not totally out of style. They are a timeless window treatment that can remain fashionable for many years after installation, but homeowners should take care when choosing their valances. Certain design qualities can make your interiors look drab and dated, while others look classic and fresh. Learn about what to avoid so you can tread carefully with this trend!
What makes valances look dated?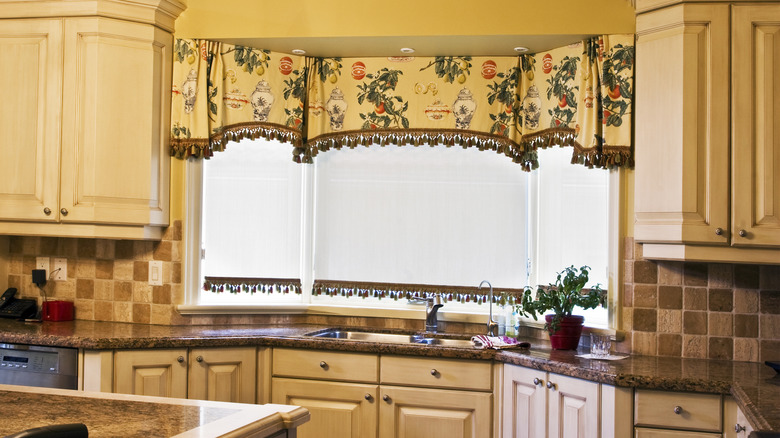 Domenic Gareri/Shutterstock
Valances can have more potential to look dated than other window treatments, like blinds or curtains. This is because they have been popular in interior design for over a century, although they've fallen in and out with specific trend eras. Some of the worst valance design offenses arose during the 1970s, '80s, and '90s. Bright colors and cheap fabrics were trendy during these decades, so designers had to conceal poor quality with over-the-top embellishments. Tassels, draping, gaudy lace, ruffles, and niche prints made it hard to carry these valances into the new millennium, forever trapping them as dated designs. 
Poorly fitting, sagging, and overly-pleated valances will almost certainly look cheap and dated in any home. To remedy this, Linda Erlam, owner of Design Sewlutions of Salmon Arm, recommends letting high-quality fabrics be the star of the show. Rather than relying on clunky folding and decoration, a good valance needs a beautiful, timeless fabric. 
How to choose a modern valance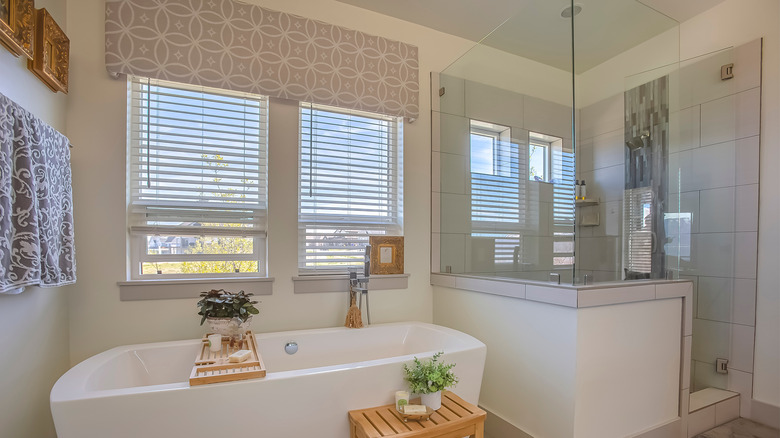 Jason Finn/Shutterstock
Less is more when it comes to choosing a valance design. To install new valances in your home, avoid overwhelming the eye by choosing one design element as a focal point. You can have tassels, bright colors, or draping in a modern valance, but having all three could look dated. It's best to avoid quirky, tawdry farmhouse designs and vintage florals. Instead, stick to solid, neutral colors and widescale patterns like bold stripes and geometric prints.
Simple, straight-cut designs in natural fabrics like cotton and linen generally look better than heavy, synthetic fabrics like polyester and jacquard. Ill-fitting window treatments are the enemy of good interior design. Simple pleating is fine, but Priority Home and Design recommends customizing your valances for a more modern, expensive look. If you're not sold on the idea of a valance, a cornice is another simple window treatment that can create a similar dimming effect. Cornices are typically made with firmer, tighter materials like canvas and wood, and they have a clean-cut style that leans more toward modern design.