Which House Style Do Homeowners Love The Most? - Exclusive Survey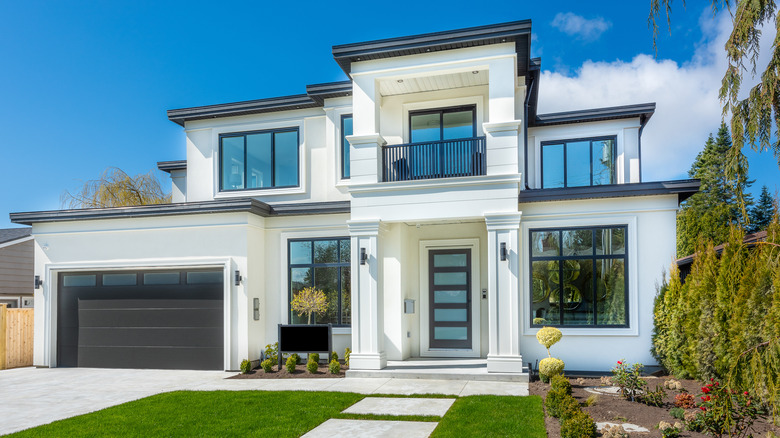 Sheila Say/Shutterstock
Architecture has been around since humans began building. Each home style has its own storied history of how it came to be and rise in popularity. Architecture is also heavily influenced by its location, which is why many homes in snowy locations have sloped roofs and why many desert homes lack basements. This art form is constantly ebbing and ever-changing as new building materials become available and society begins to value and desire fresh qualities in their homes. It's the unique details that draw people to certain types of homes.
Many people feel comforted by Craftsman bungalows, according to Carlisle Wide Plank Flooring. Mid Century modern homes reflect a move toward simplicity and a love of nature. And Colonial homes feel more traditional. But what house style do House Digest readers love the most? House Digest conducted a survey to find out and the results were pretty close.
Most love modern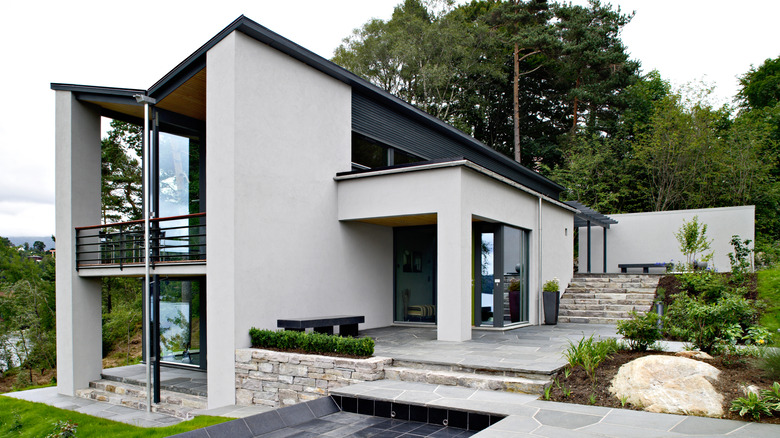 Elmer Laahne Photography/Shutterstock
It seems that most House Digest readers are currently loving modern homes. Out of a total of 627 respondents, 181 said that modern homes were their favorite. That's 28.87% of the total votes. And this makes sense seeing as modern homes often reflect what's currently in style and on-trend. Modern homes focus on clean lines, geometrical shapes, and unfussy details, says Schumacher Homes. That means features like arches, intricate molding, and ornamentation aren't in the design. Modern homes also prioritize natural light through large windows in addition to an open floor plan.
Modern and contemporary are often used interchangeably, though they aren't exactly the same thing. Modern design is a specific architectural and interior style, while contemporary changes its definition depending on what's currently popular. Modern homes may feature clean, geometric lines, open floor plans, and a minimal color palette. Contemporary modern homes might share some of these same features but also embrace current trends like colorful tile or wallpapered powdered rooms.
Victorious Victorian charm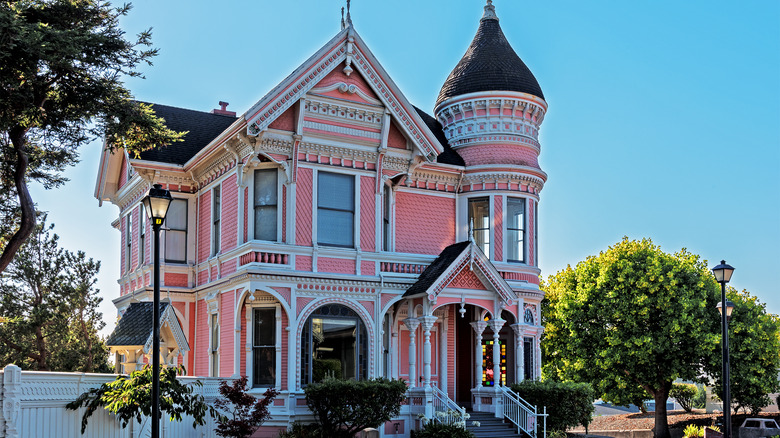 randy andy/Shutterstock
The second and third places were very close, separated by only eight votes. But ultimately, the next favorite house style was Victorian. A total of 118 respondents, or 18.82% of the vote, said that their Victorians were their favorite. Victorian is actually a term that refers to a variety of architectural styles that rose to prominence during the Victorian era in the 19th century, including Gothic Revival, Italianate, Second Empire Romanesque Revival, Queen Anne, and Folk Victorian, among others, according to Northwestern University.
When most people think of Victorian homes, they think of Folk Victorians and Queen Annes. The Folk Victorian is the most common and features steep roofs, small porches, and charming colors, but it is simpler than its other popular counterpart. The Queen Anne style has become synonymous with the term Victorian and features an eclectic design, bright colors, large porches, and turrets that many love from this era.
Close behind in third place were Craftsman homes with 110 respondents, or 17.54% of the vote, saying this home style is their favorite. Classic colonials received 90 votes (14.35%), followed by Cape Cods with 85 votes (13.56%), and Tudor in last place with 43 votes (6.86%).