18 Colorful Dining Room Ideas To Liven Up Your Space
Many people choose to design their homes with only neutral tones because they feel safe and they're easy to design. Additionally, some may fear that, if they choose a bold color, they may regret their decision later and have to do a remodel. Others may think that hues make rooms appear too childish, but using all neutrals is the best way to create a sophisticated appearance.
However, refusing to shy away from pigment can bring liveliness and happiness into your home. According to Habitat Design & Arts, color is the main driving force for bringing personality and your preferred aesthetic into a room. Generally, warm tones are used to energize, while cool tones bring serenity.
You could start in the dining room if you're looking for ways to brighten up your space. Because this area is typically only used for enjoying meals, it can be the perfect place to test out some riskier design options. Below are 18 colorful dining rooms to inspire the color-loving child inside of you.
1. Mix warm and cool shades
Pairing warm reds and pinks with cool blue shades would add dimension to a dining room. Because warm tones are exciting and cool tones are calming, this would balance out the area's energy.  
2. Use bold chairs in a neutral room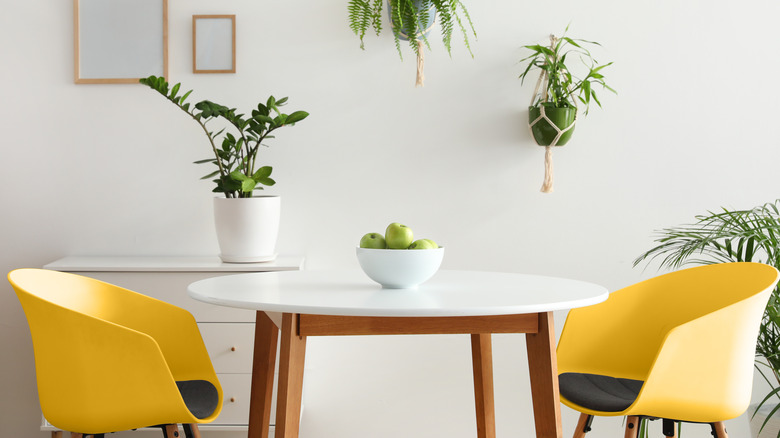 Pixel-Shot/Shutterstock
Typically, color is brought into dining rooms through chairs. The space pictured above is mostly neutral, besides the extra bold yellow chairs and the greenery. 
3. Perfect pastels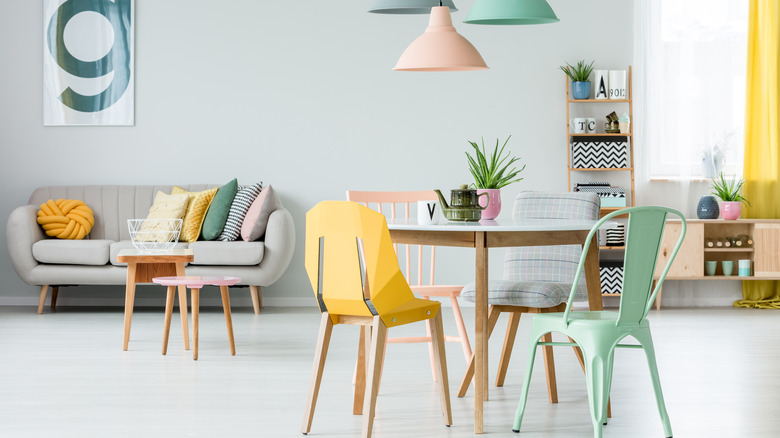 Photographee.eu/Shutterstock
To create a peaceful atmosphere, you could choose to incorporate pastels into your eating area. Using only pastel shades is a great way to make multiple different colors appear cohesive. Additionally, pairing chairs of different designs and shades can add lots of playfulness.
4. Use neutral furniture and a bold wall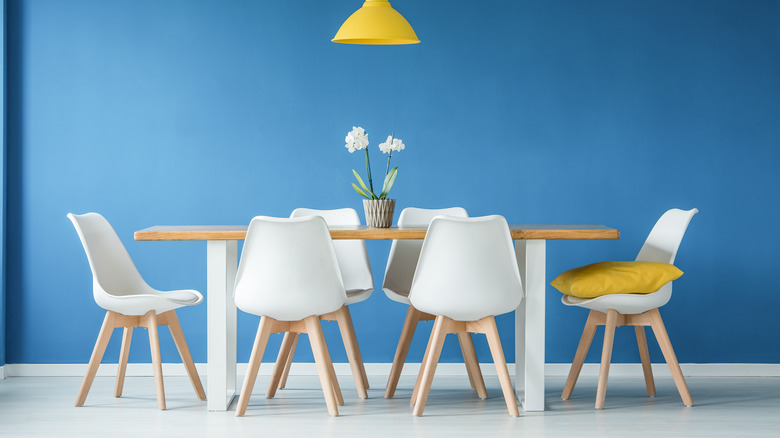 Photographee.eu/Shutterstock
If you're unsure about the color you want to use in your dining room, you could keep the furniture neutral and paint the wall instead. Because wall paint is much less expensive than furniture, this is a safe way to test out some shades. 
5. Go for vibrant, velvet chairs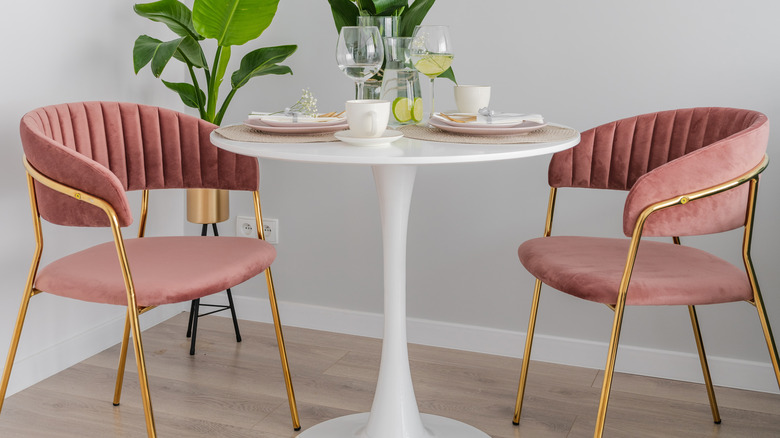 Piotr Gortat/Shutterstock
Velvet chairs create a luxurious appearance and make a dining room feel extra cozy. They are also a great opportunity to add a punch of vibrant color. 
6. Let an accent wall shine
Dariusz Jarzabek/Shutterstock
To allow an accent wall to truly shine, choose furniture that blends into the room. While you don't have to literally choose clear chairs (as demonstrated above), you could go for tones close to the wall's color or shades that don't draw attention.
7. Create contrast with complementary colors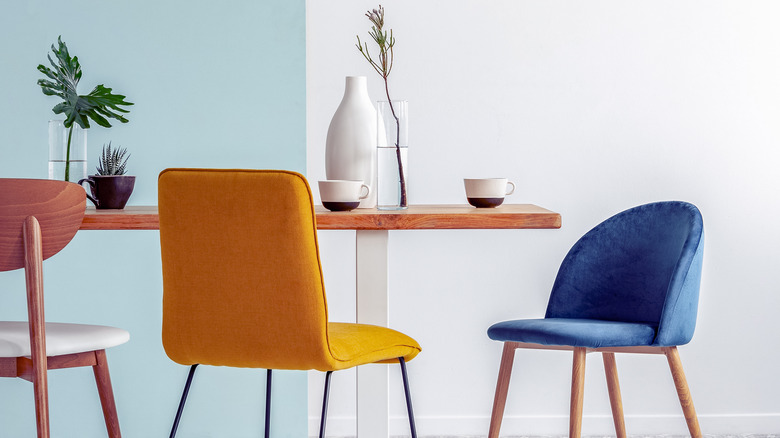 Photographee.eu/Shutterstock
To create contrast, you could pair two complementary colors (those sitting across one another on the color wheel). Therefore, you could use either blue and orange, red and green, or purple and yellow.
8. Align analogous shades
Pixel-Shot/Shutterstock
On the other hand, aligning analogous shades, or those that sit next to each other on the color wheel will make your dining room appear cohesive and well-blended. Some pairings stand out more than others — for instance, the above combination of yellow and green makes more of a statement than warm pink and red would.
9. Include one bright color
Choosing to add one bright color to a room filled with different textures, patterns, and materials will create even more interest and a dynamic look. For example, the above dining room has wooden elements, a gold chandelier, a textured wall, and a green accent color that makes it even bolder. 
10. Style the rainbow
If you love every color and have a hard time choosing one, you could include them all in your space. The above dining area does this through the chairs, but this could also be done through smaller decorative items, a wallpaper pattern, or a rug. 
11. Pair two different colored chairs
Pairing two different colored chairs of the same design together in a dining room will add interest while also ensuring it appears cohesive. This is a safer alternative to having every chair be a different shade and design. 
12. Go for a monochromatic space
Matching your dining room furniture with your wall color will create a monochromatic room. To add dimension, make sure to include different textures and materials, such as the cut flowers detail and leather chairs in the above space. 
13. Pair with warm wood
Pairing color with wooden accents will add plenty of warmth to your dining room. For example, the above orange and green area has a wooden floor and a large wooden table that gives the room that cozy feel you might be longing for.
14. Pull colors from artwork
If you're not sure what colors to choose for your dining room, start by finding a colorful art piece you love. Then, you can pull tones from the piece to use in your space. 
15. Add warmth with lighting
You can warm up the room's design with lighting if the main color in the space is a cool-toned one. For example, the above dining area has neutral elements and deep blue chairs but also feels warm because of the yellow wall sconces.
16. Opt for super subtle shades
Those who fear color may feel more comfortable when looking at the above space. Both the light lilac and deep green shades don't draw tons of attention; rather, they provide a subtle dash of interest. 
17. Carry one color throughout
If you are picky about color choices, try choosing one anchor shade to carry throughout your dining room. When doing this, make sure to include the shade in many different areas of the space instead of just in one place. 
18. All in for warm and welcoming tones
While an uncommon choice, mixing orange and red shades in the dining room would create an extra inviting feel. In addition, these colors also pair well with cooler-toned woods and grays.