Tamara Day's Advice For Rehabbing Old Furniture And Homes - Exclusive
Before her "Bargain Mansion" days, Tamara Day got her start rehabbing old pieces of furniture. The fan-favorite show has just released its fourth season through Magnolia Network and will follow Day and her father, Ward Schraeder, as they flip and renovate old mansions in the Kansas City area.
While previous seasons of "Bargain Mansions" followed Day as she redesigned these run-down historic homes in her own image, the newest season shows Day working with owners as she helps them achieve their own design goals — a natural next step for the experienced designer and rehabber. Day sat down with House Digest for an exclusive interview where she talked about the new season, her family, fun stories from the set, and some of her favorite design trends. She also dished out her expert advice for aspiring rehabbers and flippers, for projects as small as repurposing old furniture to whole mansion flips and restorations.
Start small and think smart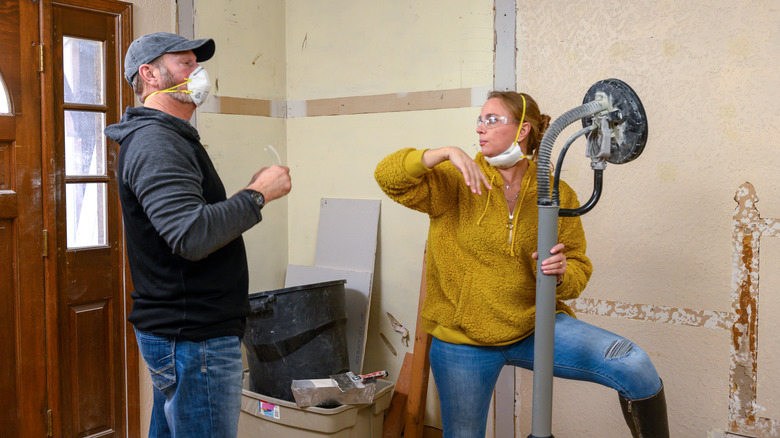 Magnolia Network
While it may seem simple enough in theory, flipping, rehabbing, and restoring is a very involved and complex process, no matter how big or small your project is. That's why Tamara Day says you should start small and smart, taking plenty of time to research your projects in advance. "I love saving whatever I can in a house," she said. "[A priority in my house was] researching how you can save things, how you can repurpose things. There are so many things on YouTube and Instagram of people teaching that are so valuable. It really matters that you do it right."
Day warns against rushing in and getting over your head, which can in turn ruin your project. "A lot of people might approach rehabbing something and destroy the actual character while in the process," she cautioned. "Research it, learn what you're doing and start out small. Don't start out with a mansion and try to save everything, start out with a piece of furniture or something smaller scale."
On the other hand, Day advises that you take your professional stake in these projects under heavy consideration, not getting too lost in the character or research. "When I was rehabbing furniture, one of the things that I wish I would've thought more about was the value of my time," Day said. "A lot of people, when they're trying to flip a house, trying to flip furniture, whatever it might be, they just look at the bottom dollar of what they've spent on it and [don't] calculate the time that they put towards it as also an asset."
Season 4 of "Bargain Mansions" airs each Thursday through December 22 at 9:00 p.m. ET on the Magnolia Network.