David Bromstad's Kitchen Cabinet Tip That Makes Your Home Look More Luxe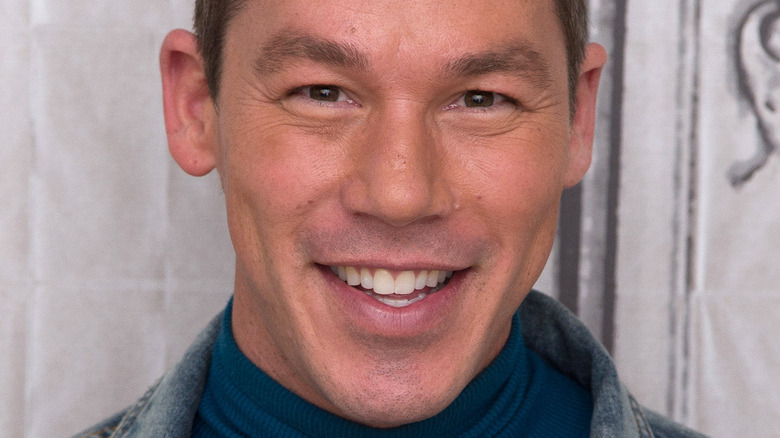 Dave Kotinsky/Getty Images
Interior Designer David Bromstad rose to fame following his win on HGTV's "Design Star," capturing the attention of home improvement television fans with his vibrant personality and equally vibrant design aesthetic. Following his success in the reality design competition, Bromstad appeared on "Color Splash" and "Rock the Block" where he continued to share his unique design perspective and helped transform tired spaces into expertly designed works of art.
Bromstad's current HGTV show, "My Lottery Dream Home," is one of his most popular with a successful — and ongoing — 13-season run. In the hit series, Bromstad uses his design expertise to help lucky lottery winners find their dream homes by introducing them to multiple potential houses they can afford thanks to their lottery winnings and suggesting ways they can use those winnings to make any necessary design updates. In a recent episode, Bromstad shared his advice on how you can update your cabinets to make your kitchen feel ultra-luxe.
This kitchen cabinet update can elevate your kitchen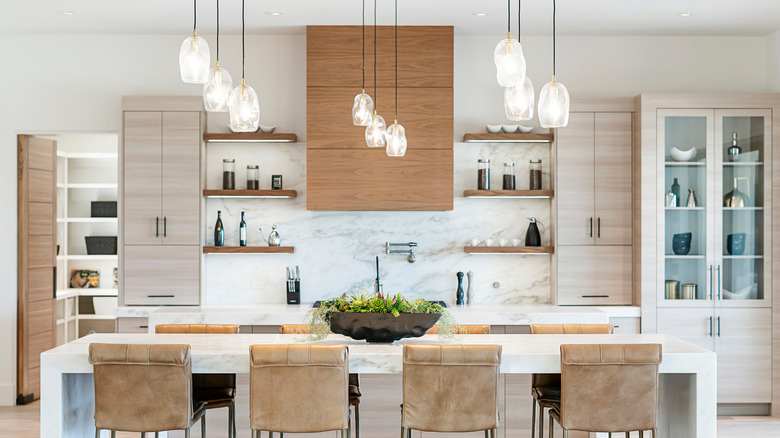 C Woods Photography/Shutterstock
In the Season 12 episode of "My Lottery Dream Home," titled "Knock Knock, It's a Million," Bromstad pays a visit to Mike and Barbara, who won their fortunes from a Publisher's Clearing House Sweepstakes and are looking to use some of their earnings to buy a new house (per Realtor).
Because Mike and Barbara are looking for a house closer to their families, they express that they want their new house to have plenty of space for entertaining their children and grandchildren. Bromstad knows that a kitchen is a common place for families to gather, and because of this, introduces Mike and Barbara to a house with a bright, updated kitchen with plenty of open space.
While the couple loves the kitchen, they seemingly read Bromstad's mind and add that they want to make one update to the cabinets by taking them all the way to the ceiling. "You know what? Thank you for saying that, 'cause I was going to suggest it," he says. "When you go to the ceiling with your cabinets, it just feels expensive."
Why these cabinets work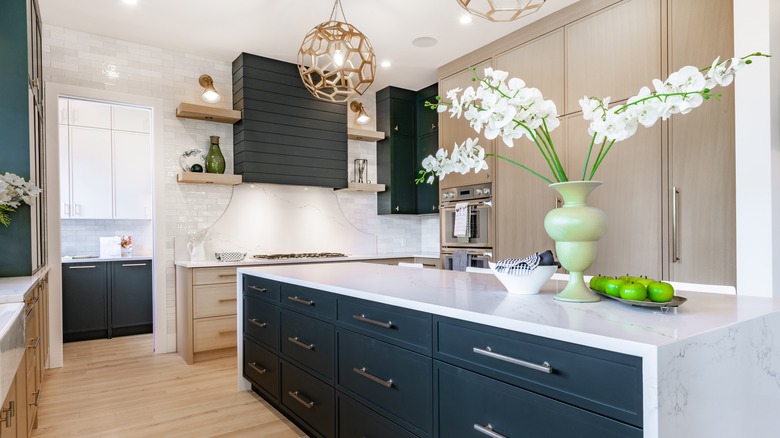 Sheila Say/Shutterstock
Not only are cabinets that span the height of your wall to your ceiling an excellent way to elevate the look and feel of your kitchen, but they also provide additional storage, which can be particularly valuable in smaller kitchens.
Continuous wall cabinets also eliminate the awkward gap between the top of the cabinets and the ceiling, which can not only help the design of your kitchen feel much more sleek and intentional but can also help you reclaim some of the dead space that is usually left above cabinets and make valuable use out of it.
Cabinet Door Mart also adds that these taller cabinets work particularly well in kitchens with high ceilings, as they help draw the eye up and open up the room. Though they give you a lot more usable storage and cabinet space, it's important to remember that the taller shelves inside continuous cabinets will be more difficult to access without a step stool, especially if you are not very tall to begin with. Cabinet Door Mart recommends using the top shelves to store seasonal items and cookware or appliances that you don't use very often in order to keep your cabinets functional and practical in addition to looking luxe.