Home Depot Or Lowe's: Which Has Better Deals On Microwaves?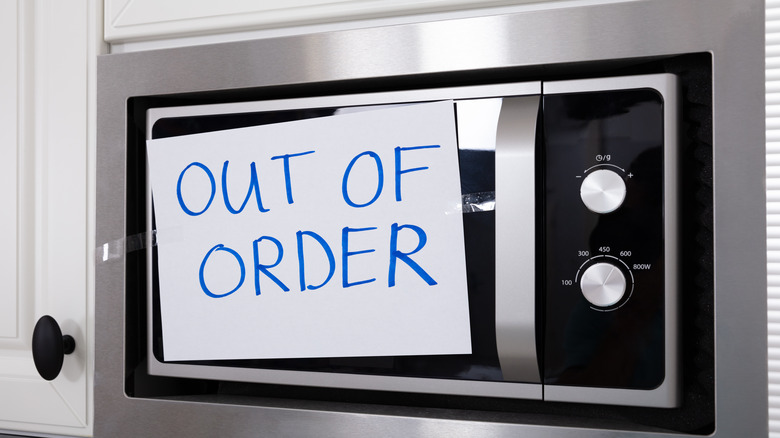 Andrey_Popov/Shutterstock
A microwave is perhaps one of the handiest appliances in the kitchen, allowing you to warm up meals quickly and easily. If your microwave suddenly stops working, you may realize just how much you rely on it each day. Buying a new one is often the best route to take, especially if repairs are expensive — sometimes the cost of repair could be more than it's worth, making microwave replacement the better option.
Fixr states the average cost of a microwave ranges from $50 for a very basic model up to $5,000 for a combination microwave and oven, which is a significant range. It's always a good idea to compare makes and models alongside your needs to determine which is the best version for you. As you start your comparison shopping, you may find yourself turning to Home Depot and Lowe's. While they both offer numerous brands and models with various features, you may be wondering which one has the best deals. It all comes down to comparing several like models. Both retailers tend to offer highly competitive prices, making it beneficial to check out what's available before making a purchase. Discounts and sales aside, here's what we found when it comes to microwave costs.
Countertop microwaves compared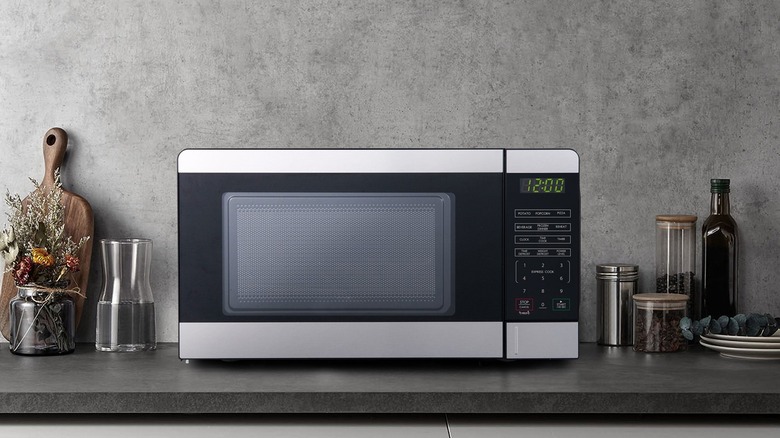 Sergey yakubovskiy/Shutterstock
A countertop microwave is one that's not mounted to the wall but rather sits on the countertop. It is versatile and often selected because it doesn't require mounting. You'll want to select a microwave that fits on the counter space you have, and they can range widely in size. Both Home Depot and Lowe's offer this type of microwave to consider. During your comparison, be sure to look at the power and overall cubic space within models. That way, you get a better comparison of price. 
The lowest-priced countertop microwave at Home Depot is the Farberware, 1.1 cu ft 1000-watt model at $129.99. This is a stainless steel and black model that has 10 power levels and a memory function for easy recall. It also has six cooking programs, a digital clock, and an express cooking feature. In comparison, Lowe's offers a Toshiba 1.1 cu ft 1000-watt countertop microwave in stainless steel at $119. This microwave also features six pre-programmed recipes for express cooking, a digital control panel, and an LED light inside.
Over-the-range countertop microwaves compared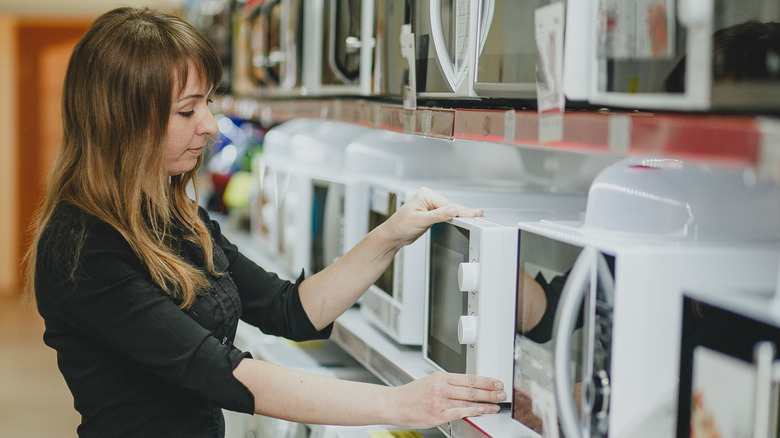 Viktoriia Sopel/Shutterstock
An over-the-range countertop is one that typically sits above the stove or cooktop. The key benefit to this model is that it may have an exhaust system or fan built inside, allowing for the device to pull cooking fumes up and away from the area and often venting them outdoors. Also important when selecting over-the-range models is to know the cutout depth to ensure it matches the space you have.
The Amana 1.6 cu ft 1000-watt over-the-range microwave is the least expensive of this type at Lowe's. It's priced at $249. It offers an "add 30 seconds" button, a digital clock, and defrost features. It also features a 300 CFM exhaust fan and a cutout depth of 14 inches. At Home Depot, the 1.7 cu ft. 1000-watt over-the-range Galanz model is priced at $249.99. It has a stainless exterior and a 300 CFM fan to remove odor and smoke from the cooking area. This model has a cutout depth of 14.6 inches.
It's essential to compare all options to determine which is best based on your needs. Buying a new microwave and learning how to use it could help minimize the risk of having to replace it again too soon.