Home Depot Or Lowe's: Which Has Better Deals On Laminate Floors?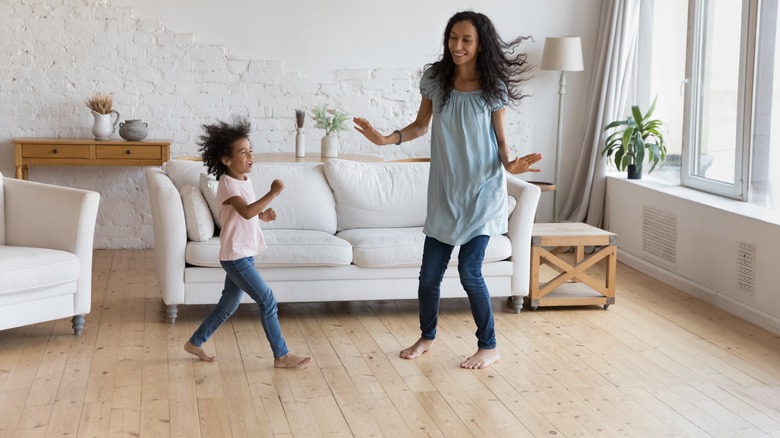 fizkes/Shutterstock
Redoing the floors in your home is a major renovation and can get pretty costly depending on the size of the room and the material you choose. You also have to factor in the price of installation as well (unless you plan on doing the job yourself). In this case, with professional installation, the average price of laminate floors is between $1,500 to $3,500 for a home, says Fixr. 
When shopping for the best deals for renovation and remodeling projects, you're probably looking at both Home Depot or Lowe's, two of the biggest home renovation stores out there. Home Depot has eight options, from brown tones to rustic finishes. Lowe's has several selections as well, including water-resistant and with attached padding.
Both Home Depot and Lowe's are known for selling high-quality flooring for most budgets, but which store has the better deals on laminate floors? Let's take a look at the two to compare.
How the prices stack up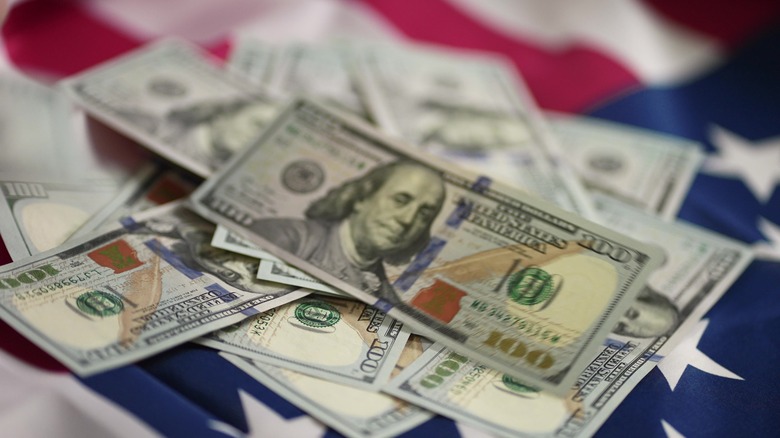 ibragimova/Shutterstock
When browsing the brown laminate flooring selection at Home Depot, you'll find options ranging from $0.99 to $4.09 per square foot. Say you're tackling your 350-square-foot living room and you choose one of the $0.99 options — that's going to cost you nearly $350 total (not including tax or installation). If you were to pick the most expensive choice, you'd be looking at about $1,430 for just the flooring itself. Additionally, if you use Home Depot's installation service, you'll pay $2.50 per square foot (including free basic furniture moving), as noted by Home Depot.
Lowe's brown laminate floor selection will run you anywhere between $0.69 and $6.00 per square foot, according to Lowe's. Using that same 350-square-foot living room example, it would cost around $250 on the low end and $2,100 on the higher end. That's about a $620 increase from Home Depot's highest-priced option; however, you do save about $100 for the more affordable choice. Lowe's also offers an installation service, but at a more costly rate than Home Depot. With Lowe's service, you can pay upward of $8 per square foot, Home Oomph explains. So when it comes to cost alone, these options are fairly similar.
Quality comparison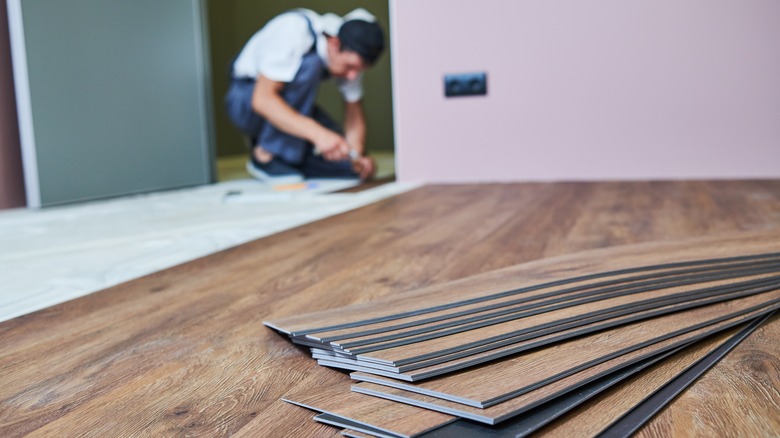 Dmitry Kalinovsky/Shutterstock
When it comes to Home Depot's laminate floor quality, the store has received rave reviews. Take the TrafficMaster Saratoga Hickory for example, which has more than 1,270 5-star ratings. One reviewer called it, "a genuine great deal," saying no matter how many times they dropped something on the floor, they always found the floor unharmed. The Pergo Outlast+ Warm Sienna Oak also received stellar reviews, obtaining nearly five stars across the board. One reviewer said the floor held up against "two medium-sized dogs that are constantly testing the floor's durability." 
Then there are the Lowe's reviews, such as those for the Florian Oak 7–mm Thick Wood Plank, which claims to be scratch-resistant with "superior resistance to wearing, scratching and fading." However, one customer warned that the floor is in fact not scratch-resistant (unlike the TrafficMaster option from Home Depot). Another reviewer said the floor is "Cheaply made, You get what you pay for. Flooring scratches easily." A third reviewer adds, "This floor by itself IS NOT water resistant nor scratch resistant," and recommends coating it with polyurethane. This means you'll have to purchase a separate product to protect your floor against scratches. 
Even though the Lowe's option is slightly cheaper than Home Depot at the low end, it requires more work and materials just to obtain the same quality. So if you're searching for a laminate floor that is genuinely scratch-resistant, we suggest checking out Home Depot's options.