Why Painting Your Porch Ceiling Is The Perfect Way To Upgrade Your Outdoor Space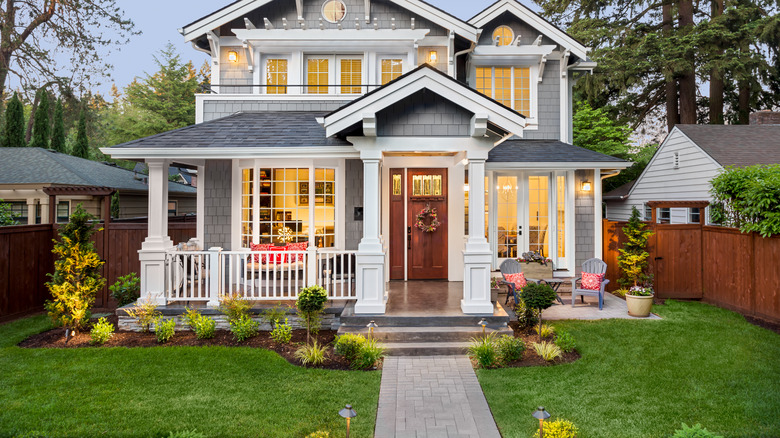 Justin_Krug/Shutterstock
If designed strategically, your front porch can turn into a beautiful and comfy space for you and your family to relax. There are many factors that go into creating this area of the home, such as seating, lighting, flooring, décor, and paint. The paint you choose should complement the rest of your home or create an elegant contrast. There are many colors to choose from, such as white to create a light and airy space or dark green to add interest, per PaintRite Pros.
You'll most likely paint the floor, walls, and stairs; however, the ceiling is the spot most deserving of a bit of color. Painting the porch ceiling isn't new, and explicitly using the color blue is a sort of southern tradition, according to Terravista. Adding a touch of color to your ceiling may seem out-of-the-box, but it may also be the design tactic you've been waiting for. We'll show you exactly how and why this method may work for your home.
Color brings symbolism into your home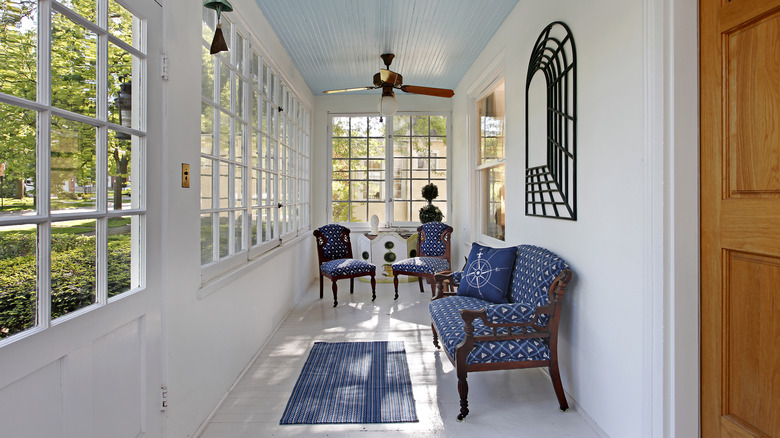 pics721/Shutterstock
As you already know, colors hold meaning, whether profound or lighthearted, and painting your porch ceiling is the perfect way to convey a message with the shades that mean the most to you. For instance, in the southern portion of the U.S., you'll often stumble onto front porches with ceilings painted a light shade of blue, according to Anderson and Rogers Construction. Historically, residents believed this color would protect their families from evil spirits, and it is more casually used to create a bright and fresh feeling. If painting the ceiling of your front porch light blue is now your next move, there are specific colors it will look best with.
There are a plethora of colors to complement light blue, such as lavender, per Canva. You can incorporate this color in several ways, such as introducing lavender-colored seating, cushions, artwork, or the plant itself. If you're hoping to add a bit of contrast, a deep, midnight blue will work to create a monochromatic design; adding white accents to this combination is also sure to create a bright and relaxed space.
Different colors to use
According to Benjamin Moore, if you believe light blue won't suit your front porch, there are several other colors to choose from, such as gray, green, yellow, or earthy red. If you'd like to paint your porch ceiling a cool shade of green, such as Benjamin Moore's Kennebunkport Green, neutral colors such as beige and cream will complement the color and create a harmonious design. A lighter shade of green, such as Guilford Green, will also work and is easily complemented with cool shades of gray and dark green.
If you want something with more spunk, Benjamin Moore's Georgian Brick (the earthy red) will create a stunning visual if painted on the ceiling. Off-white, beige, and dark grays will work well with this color. It would also be interesting to incorporate different accents of this color throughout the porch, such as on the steps or railings.