Which Furniture Store Has The Cheapest Dining Tables?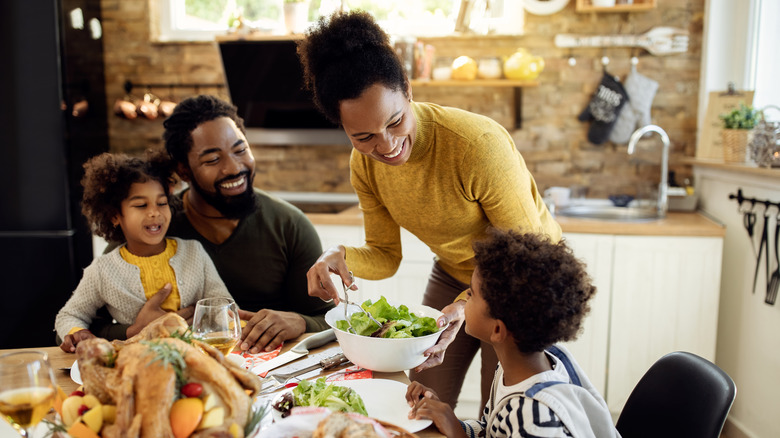 Drazen Zigic/Shutterstock
A place to gather with family and friends, the dining room table is an essential piece of furniture for your home. Whether you're one to host regular dinner parties or you just want to sit down for a nightly meal, you may soon find yourself looking for the perfect table.
Figuring out the shape is a good place to start. Rectangular tables are great for formal dining spaces with lots of room, says The Interior Editor. Smaller dining areas and apartments can benefit from circular and square shapes. The material should also play a role in your decision. Wood can be a very durable option for busy homeowners, while something like marble can add a luxurious touch to the room.
Regardless of the shape and material you ultimately choose, dining tables have a tendency to get a bit expensive. Where can you shop to find one that doesn't break the bank but also doesn't force you to give up style, function, and durability?
Overstock has great deals
When it comes to finding inexpensive furniture that doesn't compromise style, many people head to Overstock.com. The online store has great prices to start with and then offers regular sales and discounts that help get the prices down even lower for buyers. Furthermore, Overstock showcases many pieces you could find at other stores but at much lower prices than those competitors. You can shop Overstock for designer pieces as well as designer dupes. According to Budget Fashionista, Overstock's loyalty program, Club O, costs only $20 a year and allows you to get 5% back on purchases as well as free returns.
On the company's website, dining room tables range, on average, from $300 to $1,200. More expensive tables are available for purchase, but they tend to be high-end designer options. There are many solid wood tables that fall in the $300 to $600 range, like the Deville Acacia Wood and Iron Dining Table and the Fairgreens Farmhouse Wood Dining Table, which cost $335.99 and $456.74, respectively. If you're looking to furnish your dining room on a budget, Overstock is a great option to consider for stylish furniture that will have you planning your next dinner party as soon as you have it set up.