Are Dining Benches Going Out Of Style?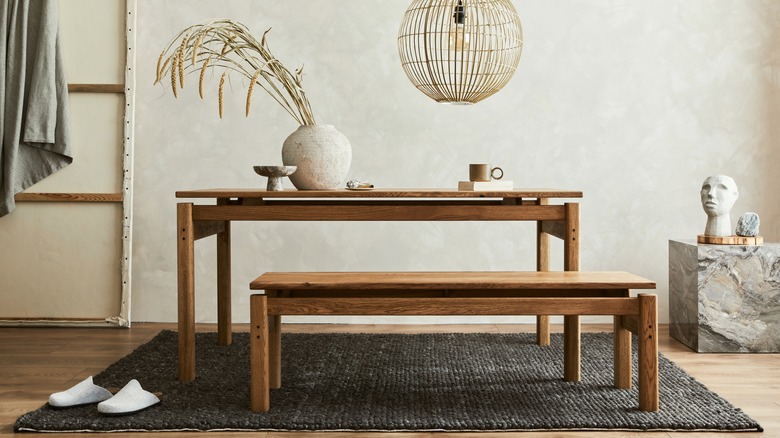 Followtheflow/Shutterstock
When you think about key aspects of your dining room, you might focus on things like the overhead lighting fixture, as well as the table and chairs. However, chairs aren't the only option when it comes to stylish seating. If you want to make a statement in your dining room, then you might be the kind of person to mix it up a little by opting for dining benches instead of chairs. Or, you might love the idea of combining a dining bench and chairs together.
Of course, on top of being super stylish, dining benches can also help to set the particular vibe of the room. Along with being more laidback, they can also be a sensible choice, according to La-Z-Boy interior designer and Canadel expert Zeina Badawi. For instance, NashCo Furniture notes that dining benches can take up less space than chairs thanks to the fact that they can easily be tucked away beneath your table when not in use. You can also have more people sit on a bench as opposed to individual chairs. Beyond that, this relatively short and unobtrusive seating option won't get in the way of your windows, so you'll be able to fully enjoy the view as well as any light that might come in.
While this makes it clear why dining benches have been a popular option in the past, you might be wondering if they're still in style.
Dining benches are a trendy and versatile option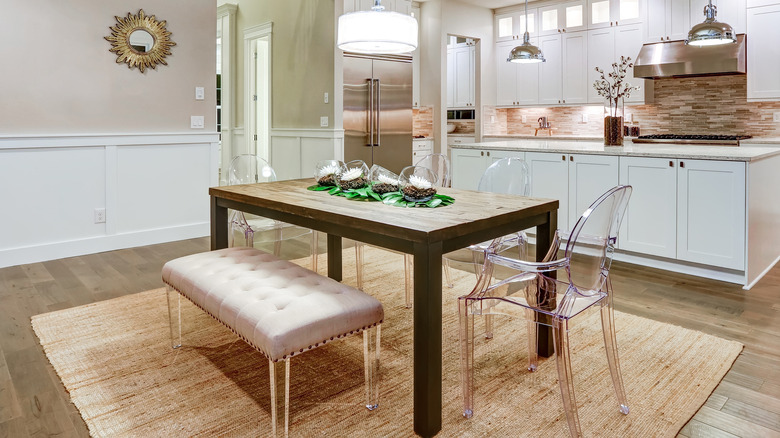 Artazum/Shutterstock
If you have dining benches in your home or have been considering adding some to your dining space, then you may be worried that they look outdated. However, as it turns out, it's a seating option that's still totally trendy, according to Modish Living. NashCo Furniture confirms that, as they include benches among their picks for design trends that won't be going out of style.
While that's not only good news for anyone who prefers dining benches, it also means there are seemingly endless versions still being made to suit pretty much any classic or contemporary design you have in mind. When you shop for a new dining bench, you might come across ones that are made of wood, which may perfectly suit your boho-chic aesthetic. There are also simple and straightforward benches that work well with a minimalistic Scandanavian style and metal benches that could enhance a space that embraces industrial décor. You could also track down something posher, featuring clear lucite legs and plush blush-pink cushioning.
Of course, those are just a few options. There are plenty of other dining benches in different sizes, colors, and styles, which means you'll surely find something that you absolutely adore. Whatever you choose, you won't have to worry at all that it's outdated, and you can rest assured knowing it will remain trendy for years to come.