How Early Is Too Early To Decorate For Halloween?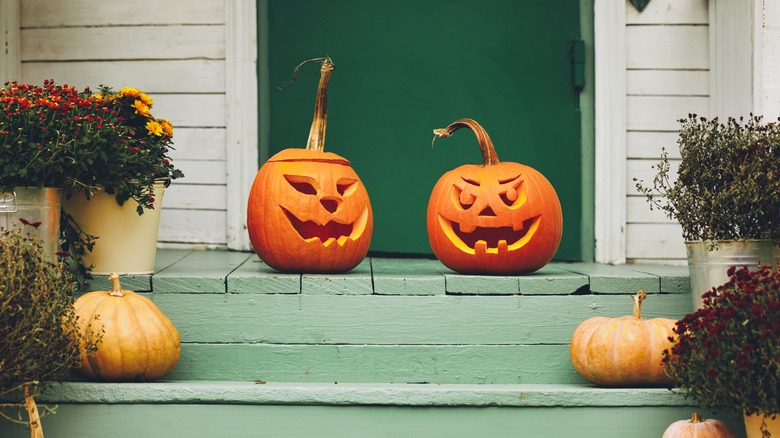 Evgeny Atamanenko/Shutterstock
As October approaches, Starbucks adds pumpkin spice lattes to their menu again and big box stores set up their Halloween sections. All of us begin wondering the same thing: "Is it too early to start decorating for Halloween?" Depending on who you are, the answer could be to the tune of "It's never too early!" or "Halloween season begins when October begins." If you fit in neither category, this article is for you. Deciding when to start decorating can be confusing. In September, some neighbors have all their summer patio furniture out while others still have their Christmas decorations up from three years ago.
You can take a page from Disney World, which decorates its park in the middle of August, according to WDW Vacation Trips. Or, you can feel out when the time is right for the area you live in. After considering a few different factors, the earliest time for you to begin adorning your home with Halloween decorations is usually determined by where you live.
The weather will tell you when the time is right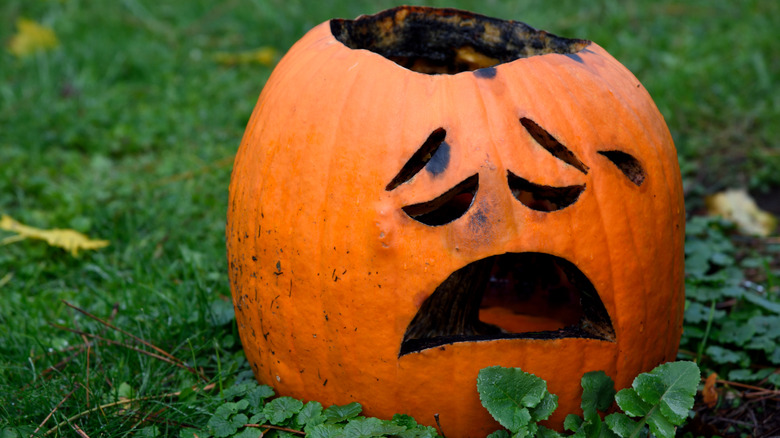 Michael T Hartman/Shutterstock
Typically, the best time to begin decorating for Halloween is when you start to feel a cool chill in the air. When you switch out your shorts and tank tops for long-sleeve shirts and jeans, that's a good clue that you can bring out your autumnal or even spooky decor. Of course, this is not a hard-and-fast rule. Depending on the climate you live in, it may not get chilly until the winter season approaches.
The reason for waiting until cooler weather isn't just because you should follow suit with others' decorating habits. Outfitting your porch too early with perishables, such as carved pumpkins, can have consequences when your state is still experiencing hot weather. For example, as warned by Fox Weather, Florida has been known to see temperatures in the 80s with humidity levels higher than 70% in October. Because of this, keeping Jack O'Lanterns outdoors where they are subject to heat, precipitation, and high humidity will quickly lead to bacteria growth and rot. Additionally, other decor items made from fabric, plastic, or other weaker materials can be damaged by the heat, strong afternoon sun, and moisture in the air. Before decorating your lawn, be sure to keep the weather in mind to avoid sadly damaged Halloween decor before making it to the actual holiday.
Consider your neighborhood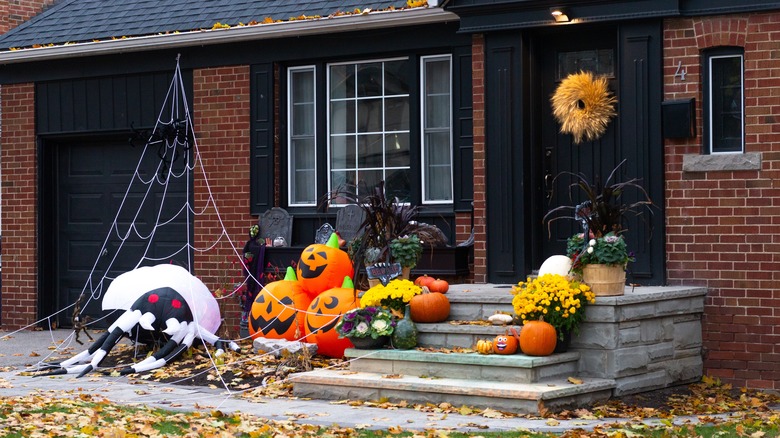 ACHPF/Shutterstock
Sometimes, the best way to tell that it's an appropriate time to start decorating for Halloween is to look at your neighbors. When you begin to notice signs of change such as mums instead of zinnias on front porches, or something a little more obvious like skeleton cut-outs in your neighbors' windows, you'll know that it's time to break out your autumnal favorites. 
Depending on the neighborhood you live in, you may have stricter rules for Halloween-themed lawn items than others. As mentioned by MacQueen and Gottlieb, living in a neighborhood with a homeowners association can place limits on when you put out your decorations. Your HOA board is allowed to create a timeline for when it is appropriate to set up decor pieces and when you must take them down.
New Home Source also notes that the type of decorations you use can be deemed inappropriate or dangerous by your HOA. This includes strobe lights, noisy props, scary figurines, religious symbols, and more. No matter what type of community you live in, you should be considerate toward your neighbors and abstain from decorating with objects or images that may be considered offensive.