What You Need To Know About A Chattel Mortgage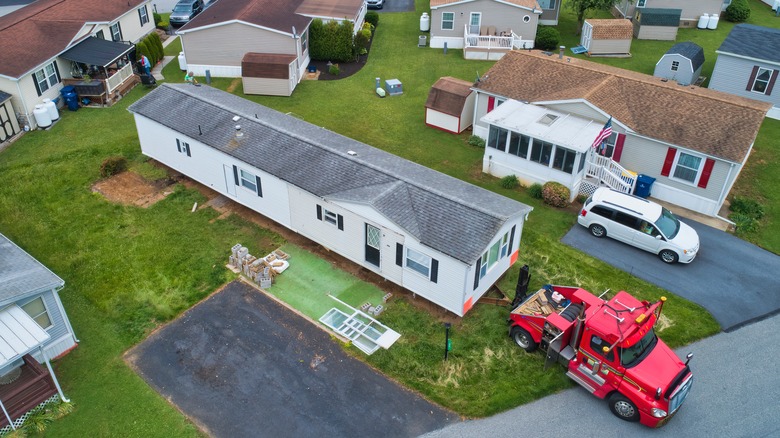 Greg Kelton/Shutterstock
Are you thinking about purchasing a home like a manufactured house? You may be unsure what type of mortgage is best suited for your needs. A traditional mortgage typically covers the cost of the permanent residence, such as the home itself as well as the land it sits on when a buyer is purchasing both. Yet, manufactured housing, like mobile homes, can be moved should you decide to relocate across the state or even across the country. That's a key advantage to buying this type of property, along with the typically lower cost.
You may be considering applying for a mortgage just to cover the cost of the structure rather than the land it is on. That's possible to do with a chattel mortgage, according to Investopedia. Chattel is a term used to describe movable property. This is a different type of financing from a traditional home loan, with some good features and a few drawbacks you need to know before you apply.
What a chattel mortgage covers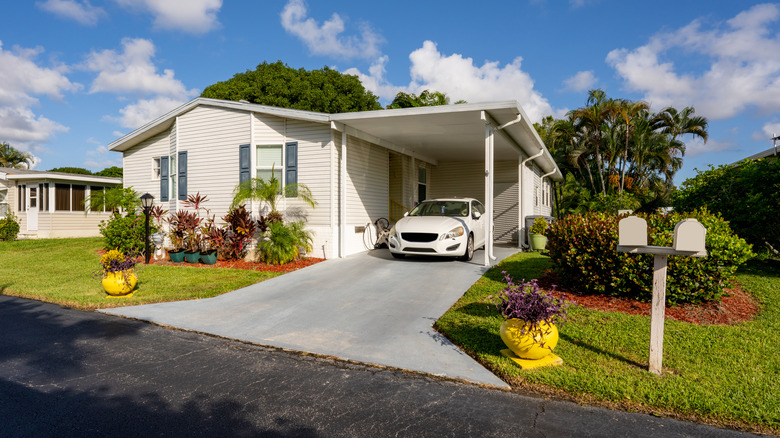 Felix Mizioznikov/Shutterstock
A chattel mortgage is a secured, asset-based loan designed for specific types of movable property, according to Rocket Mortgage. A manufactured home, or mobile home (for properties purchased prior to 1976), is one type. Typically, these homes are built at a factory or other location and then relocated to the property where a person will live. These homes may still move, even though they're not typically on wheels.
Modular homes are similar types of movable property that may use a chattel mortgage but are less mobile than manufactured housing. Most of the time, modular homes are manufactured (and nearly completed) offsite and then put together on site (per Next Modular), but they don't often move after that point — making them more similar to traditional housing. Because of this, some mortgage lenders will approve a conventional mortgage for these homes as well. If a lender does offer a conventional mortgage option, the modular home must conform to all local building codes as a traditional building would (via Rocket Mortgage).
Another type of property for which a chattel mortgage is an option is a tiny home. As U.S. News & World Report notes, many of these homes would easily fall under the "movable property" condition. In all cases, it's important to know the details of the chattel mortgage before going that route.
Consider the costs associated with these loans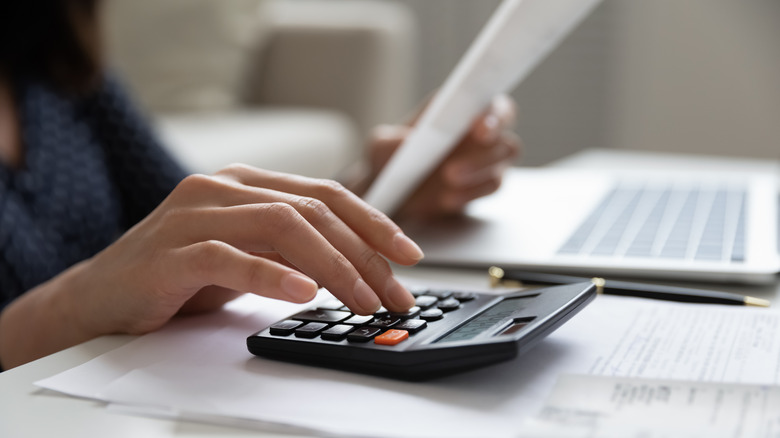 fizkes/Shutterstock
Before you decide to use a chattel mortgage, know that these loans are a bit different than a traditional mortgage. For example, they tend to have a shorter-term limit and may have lower processing fees, according to American Financing. Additionally, they tend to have a higher interest rate, 1.5% higher on average than what you may pay for a conventional mortgage loan.
An alternative home loan that may offer lower interest rates and fees than a chattel mortgage is an FHA-backed manufactured home loan. The U.S. Department of Housing and Urban Development states these loans are available with terms as long as 25 years, with borrowing options that include the home on its own as well as those that include the home and lot. Interest rates and costs may be more competitive with these loans than they are with chattel loans. Consider all mortgage loan options before making a decision.