Home Depot Or Lowe's: Which Has Better Deals On Front Doors?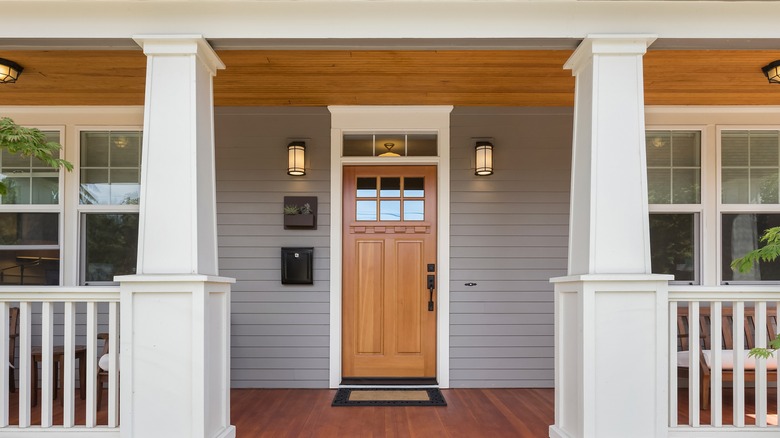 Justin_Krug/Shutterstock
While somewhat uncommon, at some point or another you may be faced with needing a new front door. As Fairview Home Improvement points out, it would be nice if your main entranceway lasted as long as your home does. However, this isn't always the case as they can get worn down from weather along with many other factors. Upon deciding to purchase a new door, there are many elements to consider. According to European Cabinets & Design Studios, materials such as steel, wood, or fiberglass are an important factor. Often, modern doors will come with a combination of at least two of the three.
You also need to figure out what type of design you want, as well as the insulation and energy efficiency you require. Even though your door may be aesthetically pleasing, it isn't serving much of a purpose if it's not keeping the air in your home from escaping to the outside. Finally, it's crucial to think about security; the ideal front door should come with a deadbolt to help keep you and your family safe. Furthermore, consider that modern glass doors can be made bulletproof. Once you've chosen what your needs and wants are, it's time to decide where to purchase your new door. Here are the best deals Home Depot and Lowe's have to offer.
Home Depot's Steves & Sons model
One of the best front doors available at Home Depot is a fully customizable option made by Steves & Sons, which starts at around $2,600. Since this door is custom-made, the final price will vary depending on many factors. To begin with, you can decide whether to go for a pre-hung or slab door. As Angi points out, a pre-hung door is best if you want to replace the entire entryway. Otherwise, you can get by with just a slab.
Next, you can choose how much and what type of glass you want within the door. Window sizes range from ¼, ½, and ¾ lite. Lastly, you'll pick what color you'd like your door painted. There are several shades available including neutrals and more statement colors like morocco red and a greenish hue called quarry paint (seen above). If painting is your favorite type of project to DIY, you can opt to get it only primed. A 25-year manufacturer warranty is also available.
Out of five stars, this product has a rating of 4.8 and has been recommended by 95% of customers. One reviewer stated they cannot stop looking at their new door and they're very happy with it. Another chimed in saying they were thrilled with the quality of their new door and pleased they were able to get it installed within a day.
Lowe's Therma-Tru Benchmark door
Of course, Lowe's has many options and the most popular front door is a standard model by Therma-Tru Benchmark. Sitting at either 32-inches or 36-inches by 80-inches, you can purchase this door for just under $500. In addition, depending on stock in your area, you'll have the option of a left-hand or right-hand inswing. Unlike other models, this door is not available in any color and is instead ready to be painted. Self-aligning hinges are included to help with the installation process and ensure the weatherstripping is compressed to form a tight seal around the doorway. These doors are guaranteed not to rot, warp, dent, or rust. In the event that any of this does occur, a limited lifetime warranty is available.
This model has a 4.3-star rating out of five stars and is recommended by 84% of customers. One purchaser stated they enjoyed the quality of the door for the price they paid for it and would recommend it. In addition, they said they had no issues during the installation process because the steps were fairly straightforward. Another buyer disagreed and said they were highly displeased with their experience. They went on to add that all of the hinges were misaligned and there were nails sticking out of the side.
Based on the customization options as well as the ratings, we have to say the better deal is at Home Depot. While it costs vastly more compared to the Lowe's door, in the end, you will receive exactly what you pay for.