The Ceiling Design Feature David Bromstad Used To Add Texture To A Wall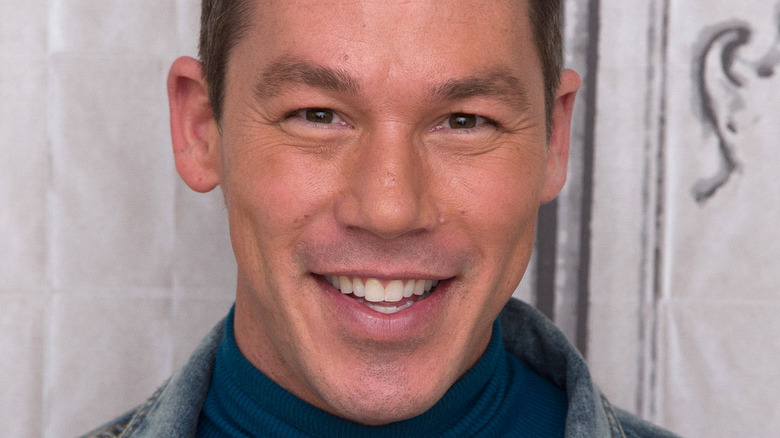 Dave Kotinsky/Getty Images
David Bromstad, one of our favorite HGTV stars, is known for his ability to transform spaces with taste, class, and uniqueness on a shoestring budget. As noted in an interview with Bella Mag, his playful use of color and love of the fantastic sets him apart from many other celebrity designers. As the host of "Color Splash" and "My Lottery Dream Home," this HGTV Design Star champion works with folks and their budgets but doesn't skimp on high-end finishes and thoughtful details. 
So when new homeowners asked Bromstad to help renovate their Victorian gothic historic mansion, he did not want to let them down. One of the aspects that makes historic mansions so rich and luxe is their use of texture in every design element — which does not run cheap. But with a bit of creativity and craftiness, Bromstad gave an affordable ceiling finish new life as a wall treatment. Read on to see what he did. 
The home owner's inspiration
From textiles and wall hangings to floor-to-ceiling molding, historic homes pack a ton of character into the room, sparing no detail or expense. But as any homeowner (or aspirational designer) knows, these antique-style craftsman finishes do not come cheap and can be total budget-busters. The use of multiple tiers of molding is a key characteristic of high gothic style, says John Canning. But if you're lacking a highly skilled and trained craftsman, and the room in your budget for solid wood or stone to carve, you'll have to get creative. 
Bromstad, instead of thinking about traditional materials, looked to tin ceiling tiles, which were made popular in the late 1800s to early 1900s. But due to wartime scrap metal efforts, these metallic ceiling fixtures declined in popularity, and aren't commonly manufactured now, according to American Tin Ceilings. But always thinking creatively, Bromstad didn't let this stop him. Instead, he and his designers found plastic tiles that were made to look like their sturdier tin and iron counterparts. 
The transformation
Having a hard time seeing the plastic here? That's because each metallic plastic panel was primed, painted, and sanded to give an antiqued finish. The panels required primer, even though it would be sanded down later on because the paint won't adhere to plastic otherwise, says painter Christopher Almeida. Then, using a sanding pad, he and Patricia Laurel, the show's design coordinator, roughed up the edges to show worn metallic details. This gentle distressing gives the illusion of a natural wearing down over time. 
This style also pays homage to the Victorian's love of using stenciling on walls, one of their prime design techniques on walls, says Old House Web. Stencils allowed homeowners to create stunning, but easily repeated wall displays without investing in additional lumber or stone. Consider this Bromstad wall technique a new twist on an old-school problem. The use of high gloss paint rather than a typical satin or matte finish also helps this wall to stand out beautifully.