The Best Portable Fire Pit To Transform Your Backyard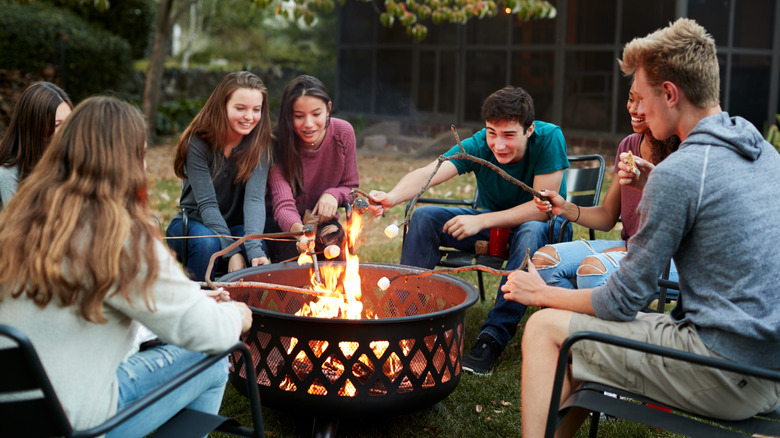 Monkey Business Images/Shutterstock
We may receive a commission on purchases made from links.
Backyard fires are a great way to spend time with family and friends while enjoying the brisk fall weather. Unfortunately, in-ground fire pits don't come cheap. The average cost of a permanent fire pit ranges between $700 and $850, Bankrate says. The price varies based on materials, size, and any additional add-ons, such as a grill grate and spark screen. If an in-ground fire pit isn't within your budget, or you don't want to commit to something permanent, why not opt for a portable fire pit instead?
According to Burlington Fireplace and Solar, portable fire pits are much more convenient than permanent ones because you can move them from place to place. This comes in handy if the wind is blowing a certain way, which can become a fire hazard. You can also move a portable fire pit if you find it looks more aesthetically pleasing in another spot in the yard. No matter your reasoning, you want to invest in a high-quality fire pit that isn't going to rust. Here is the best portable fire pit to transform your backyard.
Solo Stove bonfire fire pit
The Solo Stove bonfire fire pit offers everything you could ask for in a portable fire pit, and at $279, you'll be paying a lot less than if you were to build a permanent one. Measuring 22 inches by 22 inches by 17 inches, and weighing in at a mere 20 pounds, this fire pit is light enough to move around your backyard with ease. It's made from stainless steel and built with double walls to improve airflow. One of the greatest features of the Solo Stove bonfire fire pit is that it burns with virtually no smoke, so you won't have to keep moving around to avoid smoke blowing in your face.
With a 4.8-star rating and more than 2,300 reviews, it's safe to say this fire pit is a popular item for backyard fire lovers everywhere. One reviewer said it's the best fire pit they've ever used because of the lack of smoke. They also commented on how hot the fire gets, so you can count on staying nice and toasty in the cool autumn temperatures. However, some customers claimed the Solo Stove bonfire fire pit is susceptible to rust if left out overnight or in inclement weather.