Home Depot Or Lowe's: Which Has Better Deals On Stoves?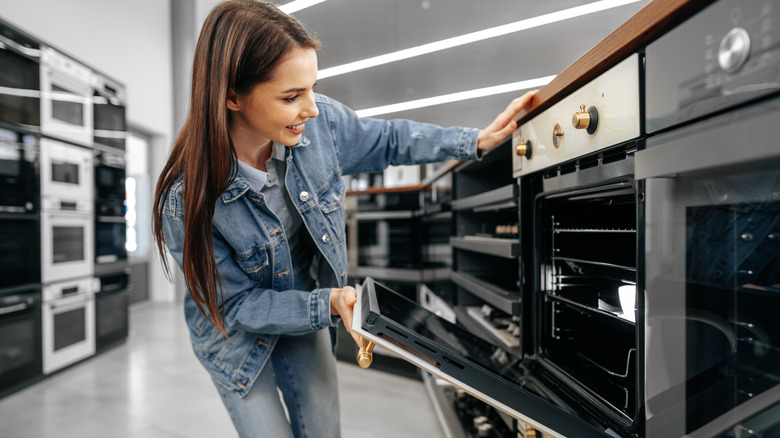 FabrikaSimf/Shutterstock
Your stove is likely one of the most important and well-used appliances in your home — it is probably in action at least once a day, if not more. Regular maintenance and upkeep can help extend your stove's life, but it's recommended that you replace it at least once every 15 years, though you can get away with longer for a gas range, per Service One.
Replacing your stove not only ensures the reliability of the appliance, but it prevents potentially dangerous incidents that could arise from outdated or broken equipment. According to HomeServe, a low-range or budget stove should cost anywhere from $450 to $1,000, and mid-range models should be in the $1,000 to $1,500 range. Two of the most popular home improvement stores to look at when purchasing your new stove are Home Depot and Lowe's. But which one has the best deals on stoves? Keep reading to find out.
Home Depot stove models
To better gauge which store offers the better deal on stoves, control factors have to be established. According to Whirlpool, while both gas and electric ranges have their pros and cons, electric is safer, offers a more even cook, and is easier to clean. Similarly, stainless steel is an incredibly timeless finish that's also easy to clean.
Taking a look at the steel-finished electric ranges from Home Depot, there are quite a few to choose from. In the low range/budget price range, Home Depot has an array of highly rated models. The most popular and top-rated is a Frigidaire model costing $748, with a 4.6-star rating and over 5,200 reviews, giving it a whopping 91% recommendation rate. It has five burners, a self-clean cycle, and a broiler.
Another popular and best-selling model in the mid-range price range is also a Frigidaire stove, which is currently on sale and costs $1,198. It also has a 4.6-star rating with over 2,100 reviews and is recommended by 71% of customers. It has a digital front control as opposed to traditional knobs and a modern, sleek appearance, a total of four burners, and an induction/air fryer setting.
Lowe's stove models
Lowe's offers a similarly large and diverse range of electric top stainless steel stoves for every budget. Starting with the low/budget price range, they offer the same Frigidaire model as Home Depot for only $729 with a 4.5-star rating. Lowe's also offers a few other higher-end models in the lower price range, like this self-cleaning, convection oven also from Frigidaire for $899. This model has a 4.6-star rating with over 6,400 reviews and a 70% recommendation rate.
As for the mid-range models, Lowe's also offers the same mid-range Frigidaire, which only costs $1,099 not on sale, making it a much better overall deal than Home Depot. One of their best-selling models in that price range is a GE brand stove, which has five burners, an air frying/convection setting, and a power broiler, costing $1,499. It has a 4.7-star rating with over 1,600 reviews and a 93% recommendation rate. Lowe's quite clearly offers better deals and a wider range of models than Home Depot when comparing stoves.