The Major Mistake To Avoid When Installing A Kitchen Island
Sheila Say/Shutterstock
Adding a kitchen island to your space has its pros and cons. According to Francini Inc., islands create more counter space in the kitchen, as well as extra storage for utensils and other cooking gadgets. If your kitchen lacks seating (or you'd like to add additional seating), you can add high-top dining chairs or bar stools. The issue with kitchen islands is they could potentially ruin the flow of your kitchen, especially if your kitchen is on the smaller side. Additionally, if you want more space for your appliances, this could backfire, as most islands don't have the proper wiring or plumbing required.
To ensure the island works with the rest of your kitchen, there are things to consider while browsing for the perfect one. If you don't take the proper precautions, you may create more problems than solutions. With that said, before you install your kitchen island, keep in mind this major mistake you should avoid.
Choosing the wrong size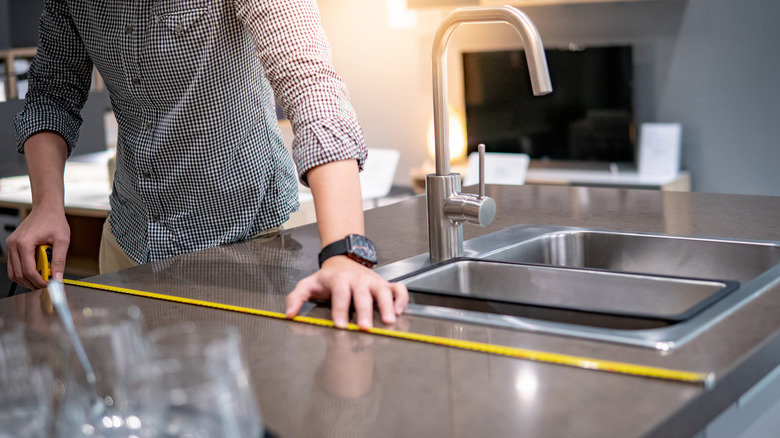 Zephyr_p/Shutterstock
When searching for the perfect kitchen island, you might be thinking, the bigger the better, but that isn't always the case. Installing a massive island can make your kitchen feel a lot smaller, making it difficult to get around. If you don't have enough room for a big island, you'll find a major lack of walkway space, per Laurysen Kitchens. This makes moving about the kitchen super inconvenient, especially if you have multiple people in it. You'll run into some major traffic jams, which you can avoid if you choose an island that actually fits your space. 
On the other hand, installing a smaller island could make your space look disproportionate. An island that's too little could look lost in a large kitchen. As a rule of thumb, your island should be no smaller than 4 feet long by 2 feet wide. If your kitchen doesn't have enough room for even the smallest island, opt for a portable butcher's block for additional cooking space.