Paint Hacks Outside Of The Ordinary For A Striking Home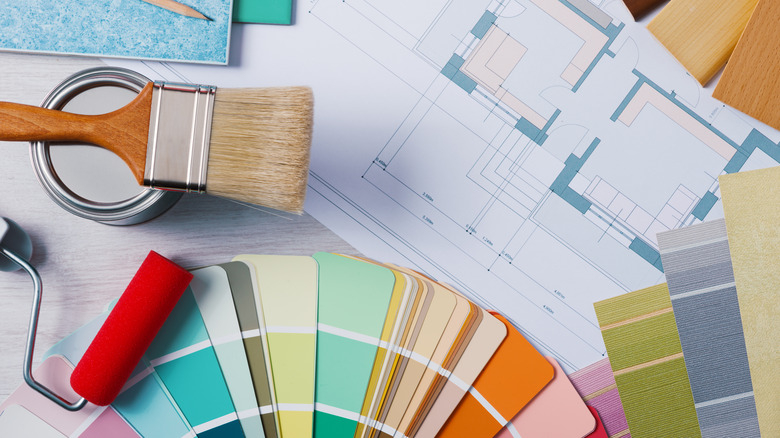 Stock-Asso/Shutterstock
If you're looking to transform your home, all you need is a fresh coat of paint. Paint drastically improves the look of a space, and is easily adaptable to any style you choose. At $15 to $60 per gallon, painting your space is an affordable way to give it the makeover it needs, says Extra Space Storage. Once you've chosen your paint color, it's time to get to work. Of course, you paint your walls, but why not take it a step further to transform your home into a stunning work of art?
Thinking outside of the box gives your home a more unique and stylish look. The question is, how do you do it? There are a few ways you can use paint to spice up your space that doesn't call for any extra supplies, or doling out more cash. All you need is paint and a roller, and you're ready to go! Here are a few paint hacks outside of the ordinary for a striking home.
Add color to your railings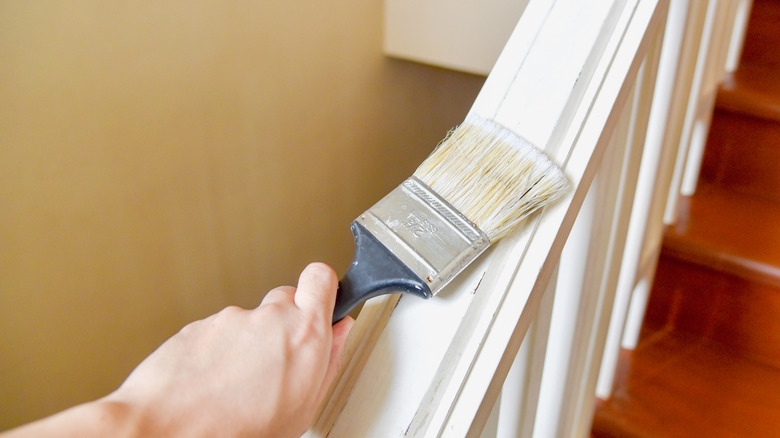 Jesse33/Shutterstock
Painting your railings is an easy way to show off your creativity in your home. Perhaps, you've thought of painting your stairs, (which requires much more effort) but painting your railing gives you the same effect. It's unexpected, considering most railings are wooden, and frankly ... boring. For an extra touch, match it to an interior door, like a closet or the door to the basement. This will tie the room together. Just like painting a wall, however, adding paint to your railing needs to be prepped before adding any color.
To prime your railing for this paint hack, you'll need to first sand and clean it so the paint has something to adhere to, according to Snazzy Little Things. Next, add a coat of primer, let dry, then you're ready to paint. Your best bet is to paint in sections, starting with a small area that's not easily visible until you get the hang of it. You don't want to step back at the end of your paint job to realize it's streaky. Taking the proper precautions will ensure your railings look nice and even.
Jazz up your island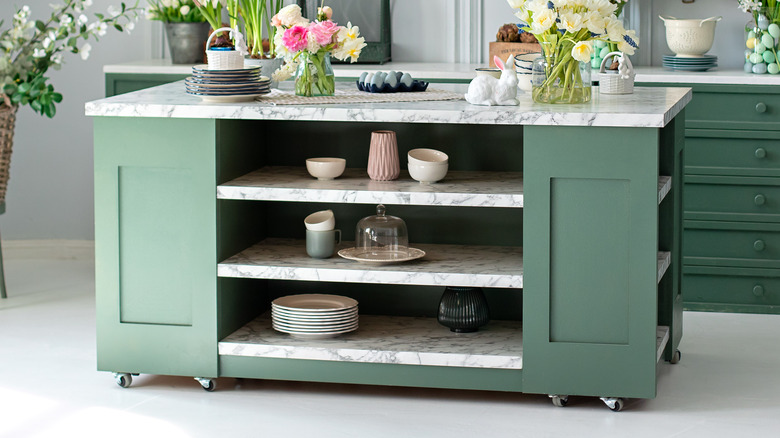 stock_studio/Shutterstock
For those of you that have a kitchen island, this paint hack is for you. To take your island to the next level, splash it with a bold color (the bolder, the better). You can also match it to your cabinets for a more cohesive look. If you really want to make your island stand out, keep the rest of your kitchen one color. For example, you could paint your island a deep shade of green, and choose white for the cabinets, countertops, and even appliances. This will direct all of the attention to your island, making it the focal point of your kitchen.
If you find the white cabinets a bit jarring and want a less stark contrast, choose a neutral shade for your cabinets, such as beige or tan. This way, you can still make your island the focus, but with a more subtle look. Before you start painting your island, Sherwin Williams recommends removing all hardware to maintain its pristine condition.