Heather And Arryn Blumberg On Their Renovation In We Bought A Funeral Home - Exclusive Interview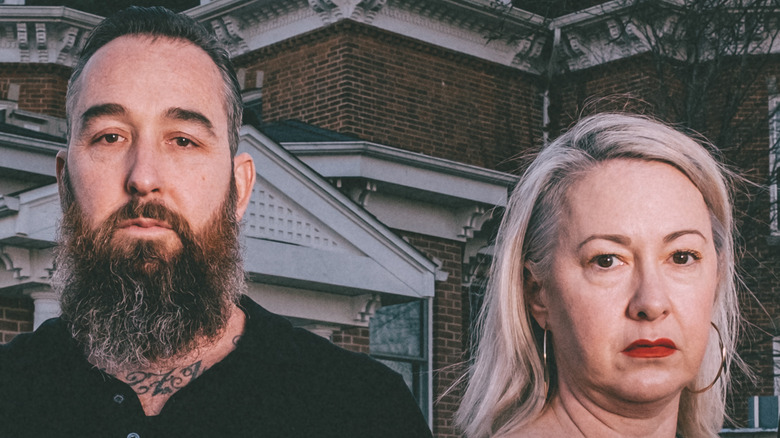 discovery+
Even under the best of circumstances, living in an old home as it's undergoing a major renovation can be stressful, chaotic, and even scary. Luckily, Heather and Arryn Blumberg of the new discovery+ show "We Bought a Funeral Home" are not your average homeowners. In their inventive new home renovation show, the Halloween- and horror-obsessed family braves budgetary scares and shocking surprises while taking on the most ambitious glam-goth renovation of the year in their newly purchased 12,000-square-foot 1800s Victorian funeral home.
Thankfully, no renovation is beyond the scope of a family that has a clear vision and a skilled team on their side — even, it turns out, if that vision includes repurposing an embalming room into a luxurious speakeasy, or transforming a cadaver elevator into a mobile coffin bar! In this exclusive interview, the couple opens up about "We Bought a Funeral Home," their unique take on cultivating an alternative interior aesthetic, and the trials and horrors of major renovation projects and tight budgets.
On We Bought a Funeral Home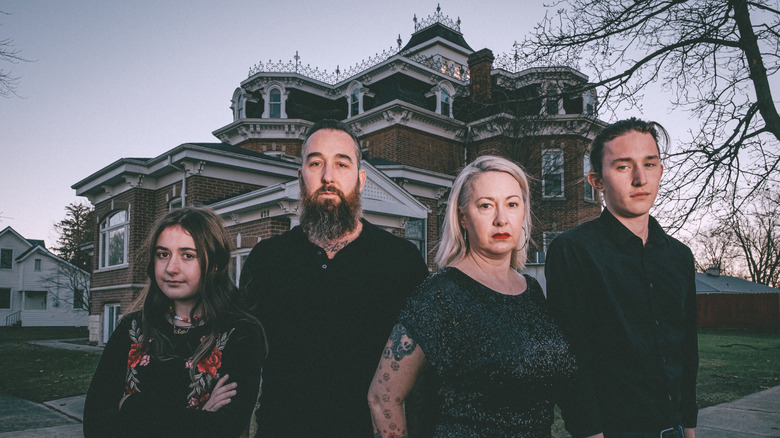 discovery+
What sets "We Bought a Funeral Home" apart from other home renovation programs?
Heather Blumberg: It's a story told across the season. It's not just home renovation; it's a deep dive into our family moving from a large city to a very small town and how we all adjust to that move. It's also told from the perspective of the family, rather than a classic procedural approach. Add to that, the design envelope is pushed. You're not going to find any white or the typical trends here!
Arryn Blumberg: As H said, it's really about our family's experience of living through such a large and unique renovation. We lived in the house the whole time, [and] that was a lot to take on — glad we did it.
Buying a funeral home is probably one of the spookier investments one can make. What advice can you give homeowners who have to deal with the supernatural on top of the stress of a major home renovation?
Heather: Try to remain calm. Figure out what is fact and what is an overactive imagination. Do your research, and trust your gut. Yes, we have some very odd things going on here, but nothing is threatening or upsetting. The kids are very comfortable, and we are very happy to share our space.
Arryn: Funeral homes are generally places you come to celebrate loved ones. We definitely "feel" that in the home. We get no bad vibes. If you choose to buy a jail or asylum, that's a whole different story. Probably worth investing in an exorcism then!
Styling alternative interiors
Heather, in "We Bought a Funeral Home," your vision for your new home's design was described as "goth glam." Can you describe this style in detail and tell us what makes it appeal to you?
Heather: I do struggle to put a label on my design. It's definitely gothic glam, but with a good dose of English eclectic. What this means to me is rich, saturated colours; layers and layers of texture; mixing of styles, eras, and genres, [for example,] not being afraid to put brutalist together with French Empire; [and] mixing dark, typically gothic colours with a rock-and-roll flare.
I also utilize every inch of a floor plan, and wall plan, and, on occasion, the ceilings. I love turning spaces into something unexpected. A room is just a room. It doesn't have to be used the same way it has always been used. The extreme example of this is [how] the old embalming room is now a cigar lounge!
Where might homeowners shop or source furnishings to achieve their own gothic glam interior aesthetic?
Heather: A lot of my more interesting and unique items come from online auctions, buying pieces from TV [and] movie sets as they close down, flea markets, and more than once from the side of the road. Arryn has learned to dread my "Stop!" scream as we drive down country roads.
But don't ignore the mainstream stores. They often have fantastic pieces that you can use to balance the room. Not everything can be a crazy, intense piece. You need balance and practicality too.
Any other advice for alternative homeowners (punk, metal, goth, glam, etc.) to add their own unique touch to their homes?
Heather: I don't think it's unique to alternative homeowners — I think it's true for all — but when first thinking about design, consider how you want to use a room. We are great believers in practical design, even if it may not look like it at first glance. Then think about how you want the room to feel. What emotions do you want to drive? Then do your research. And don't just look at design magazines, shows, [and] books. Get inspiration from music, movies, fashion, off the street — wherever it may be. Your home is a reflection of you; it shouldn't be full of trends that other people tell you to follow.
Arryn: Don't be afraid to express yourself. There is nothing wrong with a home being truly personal to you. It's your home — make it yours rather than a copy of what people expect. If you love metal, embrace your inner Ozz[y] and go from there.
Challenges faced while renovating a home
What challenges did you face in making what was a funeral home feel like home? Do you have advice for homeowners who are renovating unconventional buildings to live in?
Heather: The big expenses for power, water, HVAC, etc. will be soul destroying. Be very realistic with your budgets [for] what you will need. The good side of this is that you get to start with a fresh canvas. You can design your home to function exactly as you want.
Our biggest challenge was pulling the huge, 6,000-square-foot 1990s extension back in time to marry with the original 1880s home. Unfortunately, when the extension was done, most of the original features of the home were removed from the first floor. We had to put them all back and then build them into the new space. That meant finding craftsmen who could do that work, which meant both time and budget impacts.
Arryn: Take the time to live in the building, if you can safely, to really understand how you want to use each space, how you move between rooms. Don't go with your first design plan; odd buildings have a way of slowly revealing how they want to be lived in over time. Changing your mind is okay — it's part of the process, so build that into your timeline and budget. Our biggest challenge was prioritizing what we really needed versus wanted. In a big project, you can't do everything, so we had to be practical, to some extent, about what we did in the first phase of the reno.
When undertaking a major project, staying under budget can be tricky. What advice can you give homeowners who are operating on a tight budget?
Heather: Do your research first. Speak to multiple contractors and trades to really understand the scale of work you are doing. Ensure who[ever] you desire to work with appreciates your vision and can accurately interpret it.
When executing your vision, be open to taking on projects to save money, be it doing the demo, or painting, making, or upcycling furniture. There are lots of ways to cost cut, and your contractor is probably very happy to have you take on some of the unskilled items so his team can focus on the real value-add [or] expert pieces. And shop vintage!
Arryn: You don't have to do everything at once. Be clear on what must happen first — infrastructure, safety, etc. — and then think about what you need to live — bedrooms, bathrooms, kitchen. After that, you can always do other rooms later once you've saved up or do them slowly yourself. Take the time to learn from your trades, but also know what is worth paying for. Plumbing and electric you should never do yourself.
Minimizing stress during a hectic renovation
Clearly, you are a couple that appreciates the occasional drink. What are some must-have features to include when designing a bar or speakeasy room in a home?
Heather: A husband with strong cocktail skills! But practically, room to move (cut, shake, have out multiple bottles and glasses) and running water. Cost save by buying glasses, decanters, [and] tools at flea markets and vintage stores.
Arryn: [An] ice machine! You'd be amazed at how much ice you go through making cocktails. Think about what you and your friends enjoy. If you love wine, focus on a good temperature-controlled wine fridge. If you love cocktails like [I do], focus on areas for bottles, bitters, different types of glasses, and a dedicated sink for washing.
For "We Bought a Funeral Home," you lived in the funeral home with your children as it was renovated into your dream home. What advice do you have for families who plan on staying at home during a major renovation?
Heather: Set expectations with everyone. It will be dirty, it will be uncomfortable at times, you will all get annoyed with each other, and that's all okay.
But also have fun with it. Camp out, do picnics, challenge each other to cook with unusual tool[s] — whatever appeals to your family. We played a lot of board games. They make us laugh. And that reminded us that it's a fun adventure we are on.
Lastly, get the basics done first! We have done bedrooms, bathrooms, kitchen, and dining rooms. We still have over half the house to go, but at least now everyone has their space to retreat to, or a lovely area for the family to come together.
Arryn: We really tried to put the kids first, got them set up quickly in rooms and spaces they could escape [to] and relax in, away from the noise and dirt. This helped them feel settled, [and] that in turn took stress off of us. Embrace outdoor cooking. We really learned to use our BBQ, as we didn't have a proper kitchen for nearly a year.
"We Bought a Funeral Home" is available to stream now on discovery+.
This interview has been edited for clarity.