The Best 2022 Halloween Decorations At Home Depot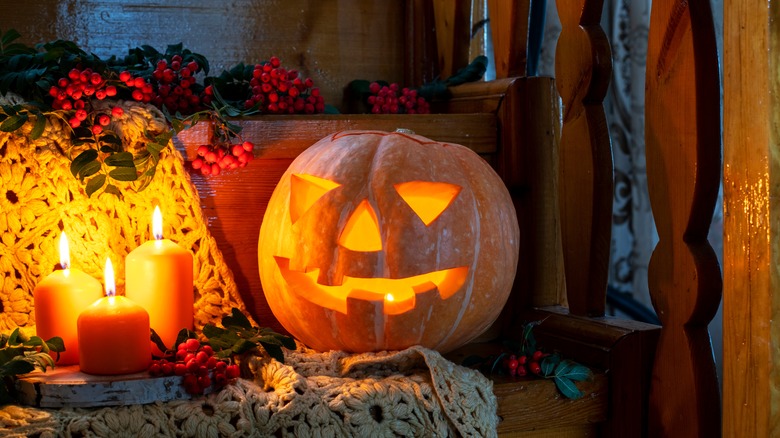 Elena Tcykina/Shutterstock
Halloween is getting closer! It's the time of year when all of your spooky decorations make their way up from the basement to turn your home into a ghastly extravaganza. If you don't have any Halloween decorations (or you need some more to truly satisfy your need to create an eerie mood), it looks like you're due for a trip to Home Depot. The home improvement giant has a wide selection of Halloween decorations, from kid-friendly inflatables to scare-the-pants-off-of-you animatronics.
According to Lombardo Homes, pumpkins and skeletons take the cake as the most popular Halloween decor in America, and Home Depot has the hookup. The popular retailer carries decorations for any budget, so no matter how much you're inclined to spend, you can deck out your home to show your love for the holiday. If you're looking for a few suggestions to get you started, stay right where you are. Here are the best 2022 Halloween decorations at Home Depot that you need to check out.
Orange mini Halloween string lights
What's Halloween without lights to showcase the rest of your decked out yard? With Home Depot's 100-count orange mini Halloween string lights, you can light up your home and yard with a creepy orange glow. At just $5 per 22-foot unit, you can purchase as many as you need to adorn your home's exterior. According to customer reviews (and their 5-star rating), these festive lights are trustworthy, so you don't need to worry about having to repurchase them each year. One reviewer said the lights were exactly what they needed to decorate their home. They also commented on how affordable they are.
Another customer raved about the long electrical cord, which makes plugging in the lights simple and easy. They also claimed the lights were nice and bright. One of the benefits of having the lights on the outside of your home is they help trick or treaters make their way up your walkway or to the front porch. Another great thing about these lights is they're not just a popular decorating trend for Halloween; you can leave them up for the rest of the fall season.
Poseable skeleton creeper with animated LCD eyes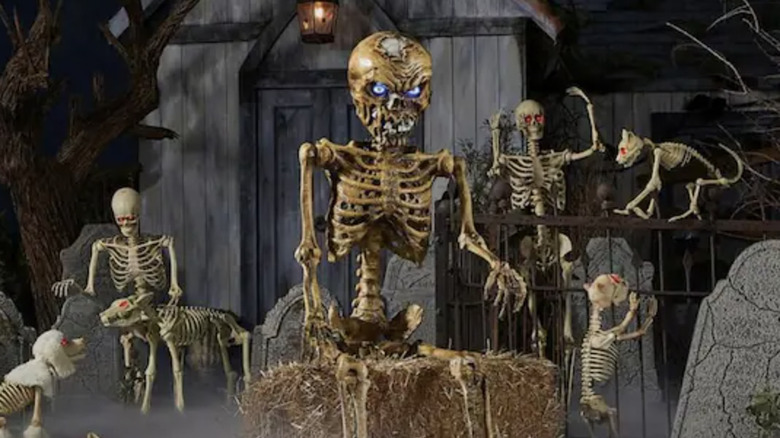 Home Depot
Like we said, skeletons are one of the most popular Halloween decorations, so we couldn't pass on this poseable skeleton creeper with animated LCD eyes. Measuring 6 feet tall, the skeleton is sure to give a real fright to anyone who comes by your house on Halloween night. Because of its bendable limbs, you can pose the skeleton any way you like. It also comes with a hanging loop in case you want to hang it instead. With a 4-star rating, this skeleton is a crowd favorite of Halloween lovers everywhere.
Customers say how creepy the skeleton looks outside their home (in a good way). They also note the fingers are bendable too. Reviewers warn that posing the skeleton for the first time may be difficult, but once its joints are warmed up, you shouldn't have that problem again. It's best to be on the cautious side so as to not accidentally break its arm off, unless dismembered limbs are part of your aesthetic, of course. Otherwise, we recommend having some super glue on hand just in case.