Home Sale Prices In Las Vegas Are Trending Down For The First Time In 5 Years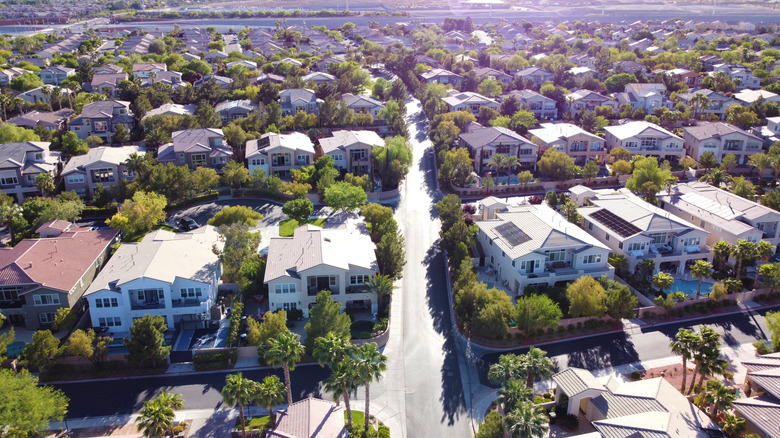 Gavin Nelson/Shutterstock
Home prices in Las Vegas have gotten much more expensive since their five-year low of $245,000 in January of 2018, but as of late a number of factors are causing the median sale price of Las Vegas homes to fall. According to exclusive data collected from Redfin by House Digest, June of 2022 saw the median sale price of Las Vegas homes peak at $460,000 after steadily increasing since 2018. However, Vegas home prices have been down since June, with data showing that the median home price at the end of August was just $420,000, up $10,000 from that month's low. While home prices have increased nationally since 2012, it's important to note that prices rose most dramatically following the COVID pandemic and ensuing interest rate cuts.
According to Fox 5 Vegas, falling home prices in the area have corresponded with greater availability of homes for sale and homes spending longer on the market. This is in stark contrast to other markets, such as Los Angeles, where new listings are still few and far between despite decreasing median home prices. Regardless, it's safe to say that falling home prices are a natural result of increasing interest rates and diminishing consumer interest in purchasing a new home in an uncertain economy.
A national trend
Of course, home prices have been decreasing in more markets than just Las Vegas. In fact, according to HousingWire, homes across the nation have not seen price cuts this stark in a single month since January of 2009. However, those expecting to bide their time until their dream house is available at a fraction of its current price may never see their ambitions come to fruition.
This is because there is still plenty of demand for houses out there (per CNBC) and less of a supply than there was following the financial crisis of 2008. Given much of the demand for quality real estate is coming from financial groups instead of your average prospective homeowner, and these entities are able to purchase homes in cash, the prospect of rapidly falling home prices lacks the allure that it might have possessed in generations gone by. Add to this that homebuilding supplies are still more expensive than they were pre-pandemic, and it's clear that home prices will likely fall less dramatically than some may expect.