House Digest Survey: Which Type Of Sink Would You Love To Have In Your Kitchen? - Exclusive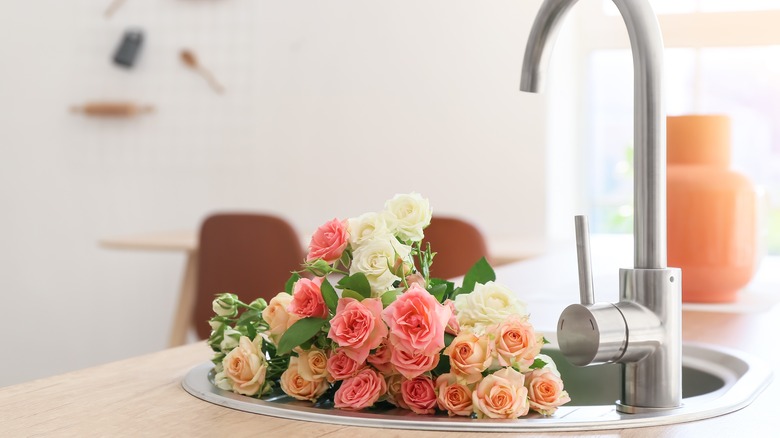 Pixel-Shot/Shutterstock
There are several factors in regard to kitchen design, such as tile, countertops, cabinetry, lighting, and other décor options. One thing you shouldn't overlook is the kitchen sink because what you choose can either positively or negatively impact your overall design. This is true, as there are several different styles and materials to choose from, such as stainless steel, copper, granite, and more, according to Vevano Home. It's also important to think about the functionality of the space, as you want a sink that will accommodate the way you cook and clean, per ArchiExpo.
Recently, House Digest conducted a survey asking participants the type of sink they would love to have in their kitchen. They were offered six choices: farmhouse, undermount, double basin, single basin, top-mount, and drainboard. We'll show which sinks were the most popular and explain why. If you're currently struggling to choose a sink, this will hopefully help you make the perfect decision.
More space equals less headaches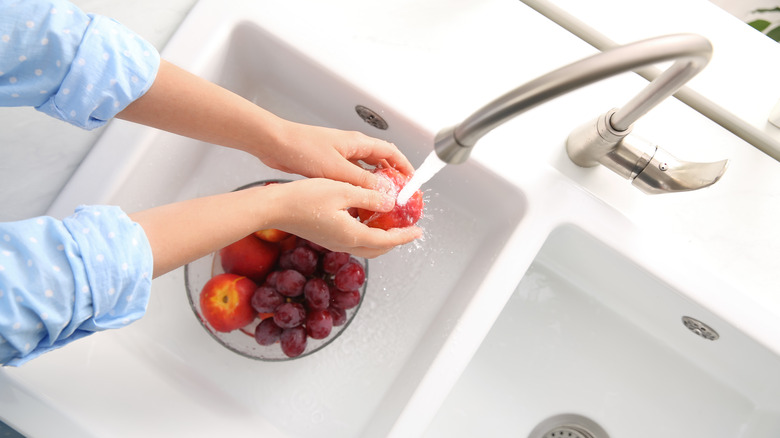 New Africa/Shutterstock
Out of 612 respondents, 45.10% (276 people) chose the double basin as a sink they would love to have in their kitchen, according to our survey. A double basin sink is two basins that are either split symmetrically or asymmetrically, according to Grundig. People tend to enjoy this option due to its versatility, as you can soak your veggies on one side as you prepare dinner and clean your dishes from lunch on the other side. This option also comes in a variety of materials, such as stainless steel for a modern look or fireclay for those who adore the cottage aesthetic.
Homeowners also tend to love double basins because you can add a drying rack to one of the basins, which is great for those who need more countertop space, according to Caroline On Design. You'll also be able to keep your fragile dishes safe by keeping them separated from heavy kitchen pans and sharp utensils.
Farmhouse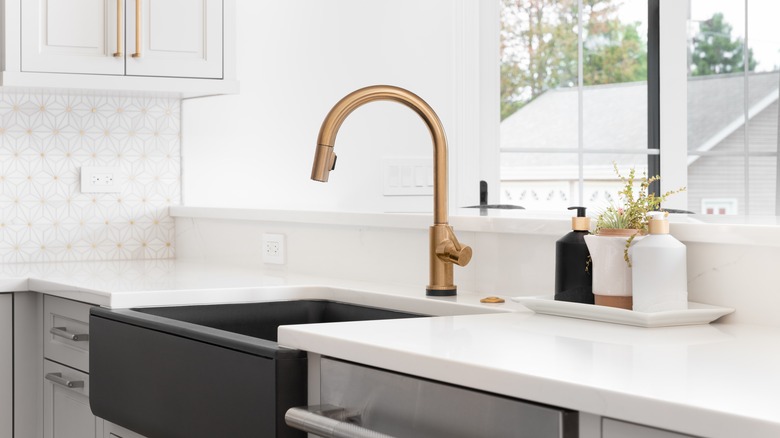 Hendrickson Photography/Shutterstock
Out of 612 respondents, 27.29% (167 people) chose the farmhouse sink as what they would love to install in their kitchen, according to our survey. A farmhouse sink is deep, and the front is completely exposed, according to Sinkology. This style is popular in the U.S. today but was originally created in Europe during the 17th century. Homeowners also love this sink option as it can harmonize with almost any design aesthetic, such as modern, traditional, and Victorian, per Gambrick. Annie and Oak says farmhouse sinks also come in a variety of popular finishes, such as stainless steel, fireclay, marble, granite, slate, and copper. Although they can be pricey, they are also durable and can increase the value of your home.
The following are the other options from most to least votes: undermount with 64 votes (10.46%), single basin with 59 votes (9.64%), top-mount with 24 votes (3.92%), and drainboard with 22 votes (3.59%).