The Perfect Way To Add A Pop Of Color To Any Room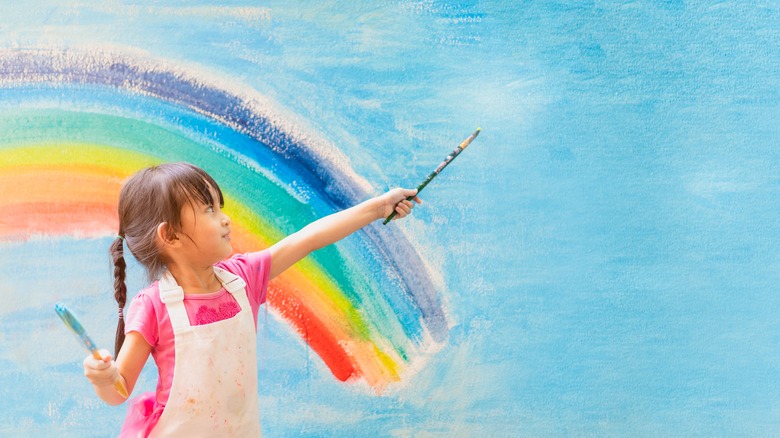 Sukjai Photo/Shutterstock
We all love our neutral décor, but adding a pop of color here and there can beautifully transform our spaces. There are different ways color is used, such as creating a certain mood, adding interest, or creating harmony all throughout your home, according to Susan Currie Design. It also may be possible for certain colors to offer health benefits, per Full Moon Loom. Green can be used to create a calming area for someone who is anxious, orange can help give you a confidence boost, and red can make you feel warmhearted.
Seem interesting? We'll show you a few techniques to add a pop of color to any room in your residence. Adding color can be a daunting task, as you don't want to ruin the current color scheme of any room. The pigments you choose should be complementary or the perfect shade to add some contrast. Don't worry, this is just a pop of color, so it won't be anything too overwhelming.
Interior doors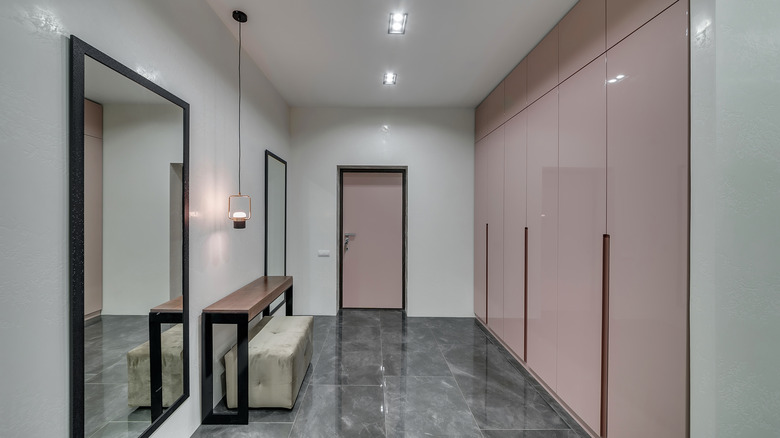 flywish/Shutterstock
An adorable trend is to paint your interior doors with a fun color, according to The Turquoise Home. You don't have to paint all of your doors, but we recommend painting most of them, so your home has a harmonious, cohesive design. Other decisions also must be made, such as if you want your ceiling and floor trim to match your door. Either choice will look great, however, also painting the trim will bring much more color to the space. So you will have to decide how to balance your neutral hues and bright pigments. 
Although your color choice depends on the hues already present in the space, there are plenty of colors to choose from. Some recommended colors are light blue, bright yellow, dusty pink, or even bright green if you really want to go all out. This tactic can either be a bold choice or a subtle way to elevate your property.
Light fixtures
Colorful light fixtures are also a great choice to introduce pigment into any room of your home. Lighting is already a mandatory part of interior design, so using it to add a pop of color is a great way to kill two birds with one stone. You can purchase new light fixtures or choose colorful light bulbs instead, according to ArtNews. There are bulbs that come in almost every color.
If you want new light fixtures, you can introduce a pink floor lamp in the living room, blue pendants over the kitchen island, or even red sconces along the upstairs hallway. For example, the Sculptural Glass Geo Sconce from West Elm can be used to add an elegant touch of yellow. Due to its cool undertones, it can be easily complemented by gray and white furniture or soft pinks and light beige. It also has a unique shape, truly giving it the ability to add interest to any space.