Home Depot Or Lowe's: Which Has Better Deals On Screen Doors?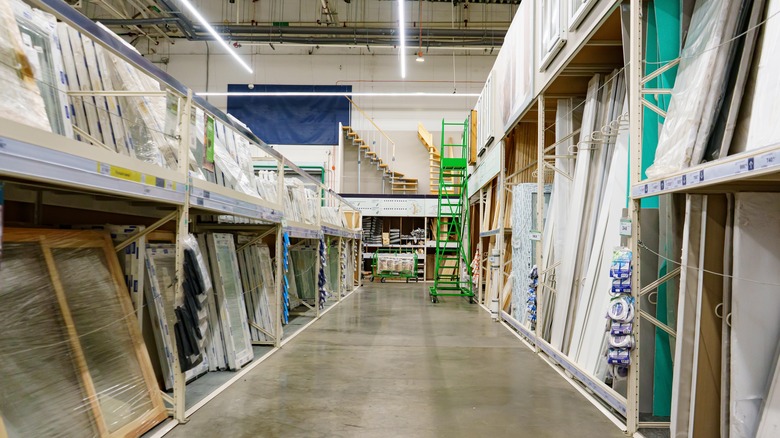 Andrey Sayfutdinov/Shutterstock
Screen doors are a type of storm door made of a mesh screen and a wood, vinyl, or metal frame. They are installed on the front of your existing exterior doors for a variety of reasons, including allowing fresh air to flow in and out without bugs coming in or pets running off, as well as protecting your door from harsh rain, hail, ice, snow, etc. (via Rustica).
While it is not a necessary home upgrade, having a screen door installed on your front and back exterior doors can help your home feel more protected against the elements. Not only that, but they can add to the overall energy efficiency in your home, as well as increase your home value, notes United Glass Service. Screen doors can be purchased at most home improvement stores, including Home Depot and Lowe's. When comparing the two superstores, though, which one offers better deals?
Home Depot screen doors
There are a variety of screen doors, but the most popular three styles are sliding, retractable, and hinged. Sliding screen doors are most typically installed alongside sliding glass patio doors and slide open and closed. Retractable screen doors can be pulled out as needed, and hinged screen doors behave like any other hinged door.
Starting with sliding doors, Home Depot's best-selling and most affordable product is from American Craftsman and costs just $66. The frame is made of white aluminum, and it has a 3.9-star rating with a 66% recommendation rate. Moving onto hinged screen doors, the most popular option is from Kimberly Bay. It's a little more expensive than other models, starting at $298, but it has much better reviews than other products, coming in at a 4.2-star rating with a 71% recommendation rate. It has a wooden frame that comes in two colors — unfinished, which is a more authentic wood tone, and finished, which is white. Last are the retractable screen doors. The best-selling and most affordable of Home Depot's catalog is from Andersen and costs $189. It has a 4.1-star rating with a 67% recommendation rate and a white aluminum frame.
Lowe's screen doors
Starting with sliding screen doors again, the most affordable and popular option at Lowe's is from ReliaBilt, costing $88. It also has white aluminum trim, with a comparable 3.9-star rating and a 74% recommendation rate. It is roughly the same size as the Home Depot model, but it has more standard dimensions.
As for hinged screen doors, Lowe's has a lot more well-rated and affordable options than Home Depot. One of those models is from Screen Tight, costing just $196. The frame is also made of wood, and the design is less intricate and more universal. It has a 3.8-star rating with a 67% recommendation rate. Last again are the retractable screen doors. Lowe's has a more limited catalog in this department and significantly higher prices. The most affordable and well-rated option comes from LARSON, and the cheapest model costs $315. It comes in four trim colors — white, black, brown, and sandstone. It has a steady 4-star rating and a 78% recommendation rate.
When comparing the screen doors sold at Home Depot and Lowe's, the better deal really depends on what you're looking for. Home Depot takes the lead for sliding screen doors, though Lowe's has slightly better reviews. As for hinged doors, Lowe's has a significantly more diverse catalog with lower prices. Home Depot pulls through again with retractable screen doors. Generally, Home Depot has better deals on screen doors, but not always.