Which Kitchen Appliance Could People Not Live Without? - Exclusive Survey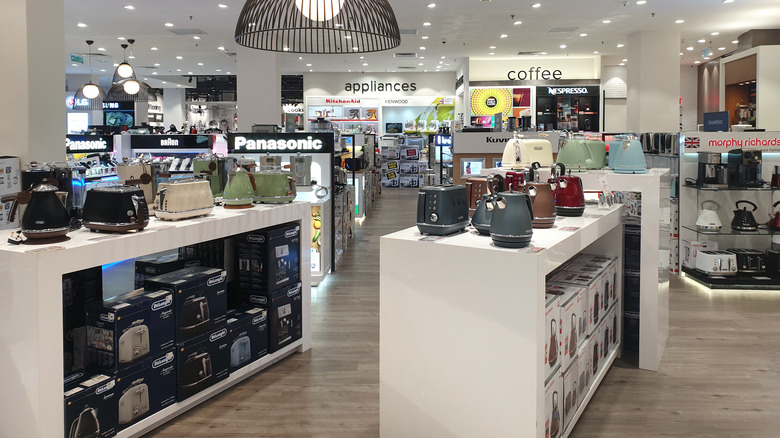 TY Lim/Shutterstock
Our daily kitchen activities are dependent on the type of appliances we have. If you're going to the gym every day, you'll need a blender for your protein shakes. Sick of paying $5 for coffee every morning? Start making your drinks at home with a coffee maker. We all have our favorite kitchen appliance, and recently House Digest asked participants in a survey which one they couldn't live without. We gave them six options: toaster, coffee maker, microwave, blender, stand mixer, and instant pot.
There are a plethora of factors homeowners have to consider when purchasing kitchen appliances, such as size, style, price, and brand, per AFK Flooring and Kitchens. Thinking about energy efficiency is also important, as you don't want an appliance to drive up your electricity bill.
It can sometimes be difficult to decide whether you need something or just want it for the aesthetic. So, we'll reveal the appliances with the top votes and why we believe people can't live without them.
A leftover lifesaver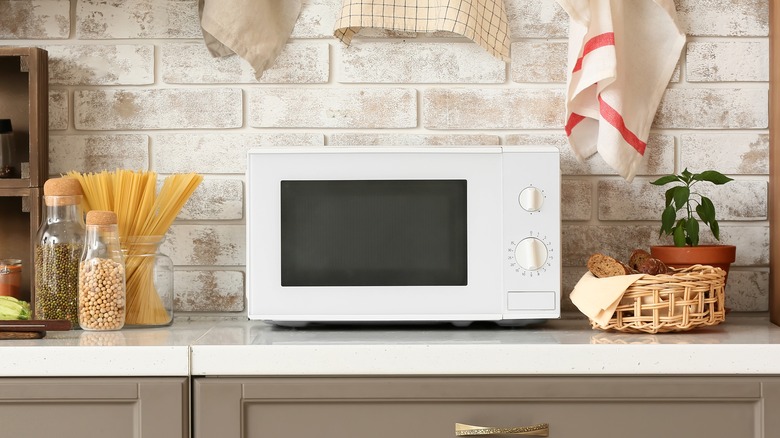 Pixel-Shot/Shutterstock
Out of 612 respondents, our survey revealed that an overwhelming 56.70% (347 people) chose the microwave as the kitchen appliance they cannot live without. In fact, homeowners love microwaves so much that there's even a day to celebrate the innovative appliance (December 6), according to The Daily Californian. Countertop microwaves were invented in 1967, and some of them now can save up to 80% more energy than a conventional oven, per National Day.
Their popularity comes as no surprise, as microwaves have repeatedly helped bring our leftovers back to life by quickly heating them up. We have all sat in front of our microwave and watched as it slowly warmed up our delicious Chinese food we purchased the day before. Having a microwave also has other conveniences, such as avoiding the use of pots and pans and minimizing clean-up. You also have more control over the temperature options, so it's easier to heat your food exactly how you want it.
A morning necessity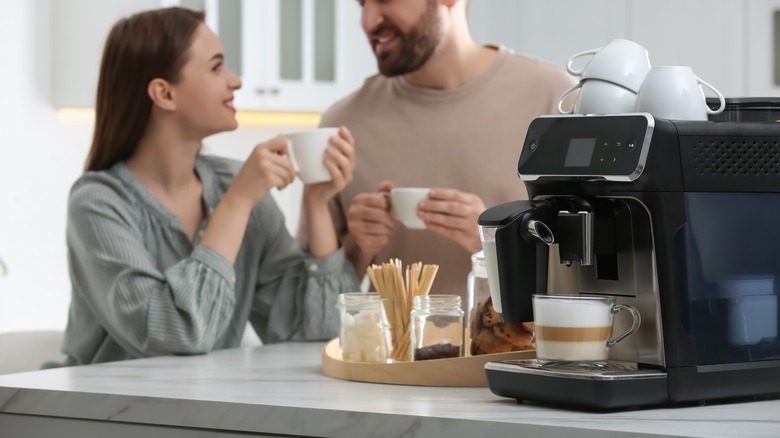 New Africa/Shutterstock
Out of 612 respondents, 25.49% (156 votes) chose the coffee maker as the kitchen appliance they cannot live without, according to our survey. As we said before, buying a cup of coffee every morning can be expensive. You're paying not only for the coffee but also for the gas used to drive you to the coffee shop, per YourStory. The advantage of having a coffee maker at home is that it provides a larger variety of drinks at your disposal. Whether you want black coffee, a latte, or a cappuccino, it's all available right at home.
There is a vast assortment of coffee makers to choose from, such as coffee brewers or drip coffee makers. These options can produce multiple cups of coffee in one sitting, are affordable, and you can use whatever coffee brand you'd like. There's also the French press, a traditional coffee maker that runs on no electricity and requires you to make your coffee by hand. It may take a bit more time, but you will save on electricity costs.
The following are the other choices listed from the most to least number of votes: toaster with 36 votes (5.88%), blender with 30 votes (4.90%), instant pot with 24 votes (3.92%), and stand mixer with 19 votes (3.10%)