Target Or IKEA: Which Has Better Deals On Shelves?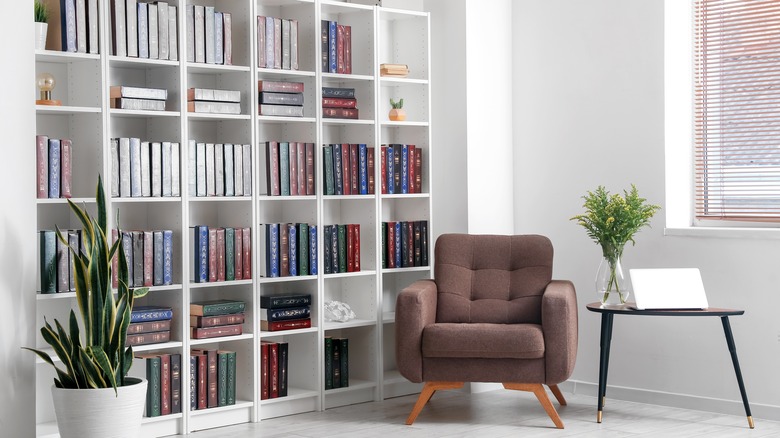 Pixel-Shot/Shutterstock
The best part of decorating your home is being able to put out your favorite pieces of artwork and sentimental décor that reflect your personality. One of the best ways to add more display space to your home décor is through shelves. Best Pick Reports notes that shelves add tons of extra storage space in your home because they make use of vertical wall space. Finally, stand-alone shelving units can have multiple uses, including television stands, bars, etc.
There are many shelving options — standing metal shelves, bookshelves, cube storage, wall shelves, floating shelves, and more. They aren't the most expensive piece of furniture on the market, but they aren't the cheapest. If you're looking for a good deal on shelves, no matter how they come, two of the best bargains can be found at Target and IKEA. Keep reading to learn which of the two retailers has the best deals on shelves for your home.
Target shelving options
Target has a variety of very low prices for an assortment of shelving, including cube organizers and wall shelves. Starting with cube organizers, the Room Essentials brand offers multiple sizes, but the best deal is their 11-inch, 6-cube organizer, costing only $35. It has a 4-star rating, with 79% of customers recommending the product, voting highly on value but not so much on quality. The shelf is made of particle board and finished with paper laminate, both of which are cheap and flimsy materials.
Another high-rated budget option is a picture ledge shelf from Threshold, sold for only $15. It has a 4.1-star rating, with 77% of customers recommending the shelf, rated highly in value, design, and ease of installation, less so on quality. This shelf is made of medium-density fiberboard (MDF), which, although more durable than particleboard, is still a cheap material.
IKEA shelving options
IKEA also has a very vast catalog of shelving options. Looking at their cube shelves first, they have a whole series dedicated to this style of shelving — the KALLAX series. They offer options from as small as two cubbies to complete, wall-installed workplaces. IKEA's most affordable and highly rated option is a 4-cube shelf for $45, coming in six colors. It has a 4.7-star rating, with customers voting it most highly in terms of ease of assembly, value, quality, and appearance. It is also made of particleboard. As for wall shelves, they offer an almost identical picture ledge shelf. The MOSSLANDA shelf starts at $14 and has six total options. The product has a 4.8-star review, with customers rating it most highly for ease of installation, value, and quality. It's also made from particleboard.
When comparing the shelves sold at Target versus IKEA, they both have different pros and cons. Target has less variety and lower ratings overall for cube shelves, but it is significantly cheaper. However, IKEA takes an obvious lead with wall shelves, higher ratings, lower prices, and more color varieties. This gives IKEA a slight edge over Target in terms of which store has better deals on shelving.