Heather Blumberg's Tips On Cultivating Alternative Interior Aesthetics - Exclusive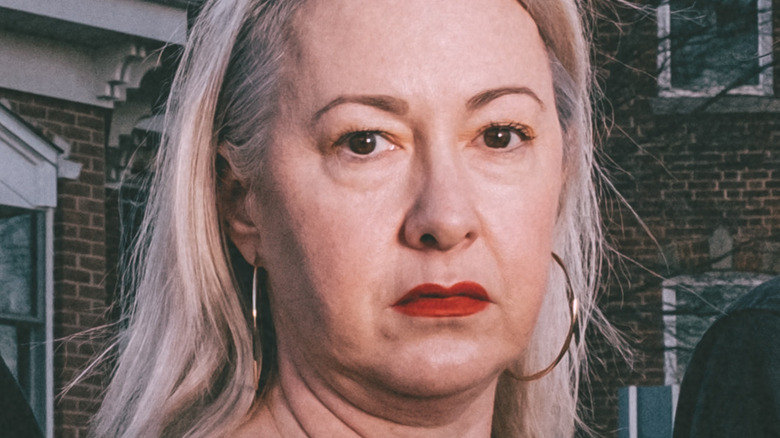 discovery+
Heather Blumberg of the new discovery+ show "We Bought a Funeral Home" is no stranger to crafting unforgettable interiors with a glam-goth flair. While her eclectic stylistic inspirations are hard to pigeonhole — she professed an affinity for both Brutalism and French Empire aesthetics in her exclusive interview with House Digest — her lavish funeral home renovations showcase her penchant for mixing the practical with the sublime. 
In a world where few mainstream designers pay homage to the gothic-inspired aesthetics that have informed so many influential countercultures from around the globe, Blumberg's designs are like a mesmerizing black opal against a backdrop of white.
Before one can style interiors like Blumberg, however, they'll want to know how she scores such tantalizingly strange furniture and decor. As one might expect, you likely won't find pieces like that in your local furniture showroom. "A lot of my more interesting and unique items come from online auctions, buying pieces from TV [and] movie sets as they close down, flea markets, and more than once from the side of the road," Blumberg explained, noting her husband's trademark enthusiasm for her roadside finds. "Arryn has learned to dread my "Stop!" scream as we drive down country roads."
Despite her reliance on alternative avenues for decor, however, Blumberg recognizes that big box stores have their place when renovating your home. "Don't ignore the mainstream stores. They often have fantastic pieces that you can use to balance the room," Blumberg said. "Not everything can be a crazy, intense piece. You need balance and practicality too."
Sourcing inspiration for an alt renovation
Sourcing décor for a distinctive home renovation is one thing, but coming up with the inspiration for a full-fledged design project is a completely different matter, especially when you're bucking tried-and-true trends. Thankfully, according to Blumberg, the first bit of vital schematics for a successful home reno project can be sourced from within. "We are great believers in practical design, even if it may not look like it at first glance," Blumberg explained. "...think about how you want the room to feel. What emotions do you want to drive?"
Once you've got an idea of the practical role a room will play within the scope of your renovation project, it's time to get inspired. However, be sure to draw inspiration from sources that are meaningful to you instead of well-tread avenues that are defined by mass appeal. "Then do your research. And don't just look at design magazines, shows, [and] books. Get inspiration from music, movies, fashion, off the street — wherever it may be," Blumberg said.
Arryn Blumberg, Heather's husband and "We Bought a Funeral Home" co-star, echoed his wife's sentiment: "It's your home — make it yours rather than a copy of what people expect. If you love metal, embrace your inner Ozz[y] and go from there."
You can catch Heather and the rest of her family on the premiere season of "We Bought a Funeral Home" on discovery+, streaming now.