Is Wicker Furniture Going Out Of Style?
The golden age of wicker in the U.S. occurred over a century ago. According to American Rattan, the era saw settees, accent tables, dining suites, lamps, baby carriages, tea carts, and more made from wicker. It was wicker lollapalooza, and it's not surprising given the period's preference for ostentation. The scrolling and delicate silhouettes played to the Victorian sensibility.
Yet, wicker has been used as a furniture material since 4000 B.C. and was found in locations throughout the globe; there are examples of Sumerian, Roman, and Egyptian pieces. Thought to be of Swedish origin meaning either bend or willow, the term now represents the technique and any number of malleable building materials, such as reed, bamboo, willow, and rattan (via Wicker Works).
Wicker's American history had placed it firmly in the camp of the old-fashioned — as a grandmother's outdoor porch set or an elderly neighbor's plant stand. More recently, per Vox, retailers like Anthropologie, Ikea, and Joybird have catalyzed wicker furniture's contemporary popularity, incorporating it into the global and down-to-earth bohemian trend. The look is a world away from stuffy Victorian.
Concurrently, the idyl of the farmhouse style is symbolized by rustic woven baskets and end-of-bed blanket chests, while the cyclical return of maximal home decor makes space for traditional wicker again. Not to mention the arrival of granny chic, which Cubicoon explains is all about a mix of vintage and modern with a nostalgic cozy vibe. While it doesn't sound like wicker is going out of style anytime soon, let's take a closer look at what the experts are saying.
Timeless style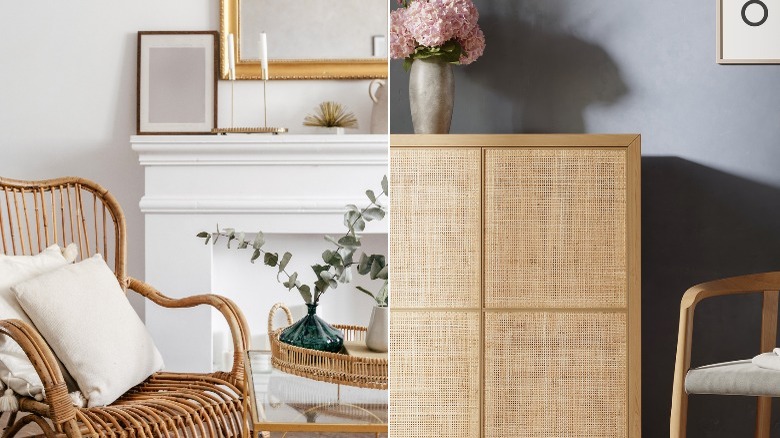 mihalis_a + brizmaker/iStock
According to design blog Style by Emily Henderson, wicker's appeal is based on versatility. From lighting and sculpture to headboards and dressers, the material is ever-adaptable to various permutations, and as the blog notes, those are getting fresher and more inventive by the day. Modern applications include whimsical animal heads, wall paneling, and shaping that mimics other materials, like a stool with ruffled skirting featured by Room for Tuesday.  
Further, because of its breadth of history and uses around the globe, wicker is not easily boxed into a specific time or trend, allowing it to live harmoniously and classically across disparate styles. Designer Kaitlin Madden believes cane and rattan will have a strong presence this year because of their uncanny ability to appear modern, bohemian, and traditional simultaneously.
And designer Roxy Owens told Forbes, "Rattan, wicker, and grasscloth will always remain a classic. These natural materials, which bring a calm, warm and casual vibe to design, work in all types of spaces, from New York City to the English countryside to the coast." Spare and open-work rattan chairs, a trick of economy-made chic (via American Rattan), a woven floor lamp, and a cane-door buffet each contribute a different element to a timeless aesthetic.
A natural classic
The evident natural substance of wicker imparts an organic quality to a space that tends to soothe and ground us. For that reason, wicker is a perfect complement to centering biophilic design, which celebrates nature and aims to create cohesion between indoor and outdoor spaces. Interior designer Jane Thompson shared with the Daily Mail, "My clients are all so much more aware of how their environment affects their moods, mental health and even their relationships." She predicted that natural textures will be an important element in home decor. Further, the materials are gorgeous with earthy colors like green, ocher, clay, and neutrals — such as those seen in the 2023 Sherwin Williams Terra Collection.
What's more, per Urban Oasis, the desire for beautiful and functional exterior home spaces is escalating as is the demand for outdoor furniture. A seamless flow between interiors and outdoor areas and comfortable seating are top considerations satisfied by wicker sofas, chairs, ottomans, or tables. HGTV notes that warm climates are amenable to wicker for outdoor furniture, while American Rattan explains that authentic wicker is not appropriate for outdoor use, although it concedes there are many synthetic look-alikes on the market. To that end, in cooler regions, a sunporch settee or breakfast room banquette would be an ideal location for true wicker.
HGTV suggests that wicker pieces are generally affordable — and along with the material's versatility and classic appeal, we'd guess wicker's not going anywhere. Except perhaps into more homes and onto more patios.