This Simple Hack Will Elevate Your Kitchen Backsplash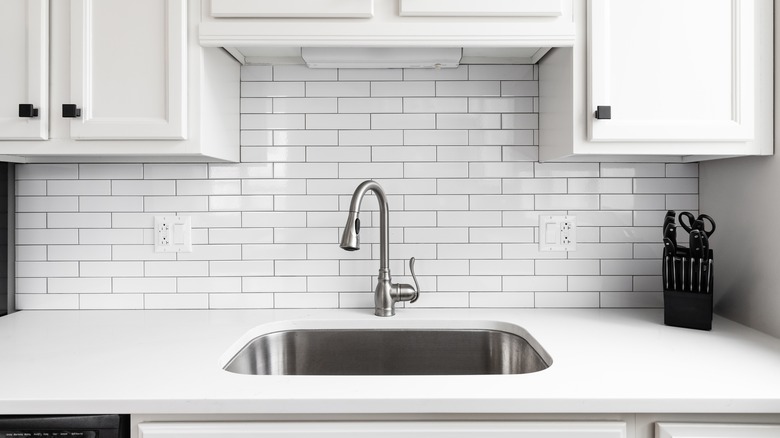 Hendrickson Photography/Shutterstock
Choosing your backsplash is for some the most exciting part of a kitchen renovation. It's your chance to either introduce a touch of color, add a bit of your personality, or create harmony between all of your other design elements in the space. There are also so many different types of tiles to choose from, such as ceramic, glass, marble, stone, and even wood if you want to go with the shiplap route, according to Norfolk Kitchen & Bath.
However, after a few years, sometimes your kitchen backsplash needs an extra boost of style. But nobody wants to have to go through the process of removing and replacing your current tile. Luckily, we've found a few options to elevate its overall appearance without breaking the bank. We'll show you that giving your backsplash an update doesn't have to be expensive, and is a project hack you can do on your own.
1. Give it a new coat of paint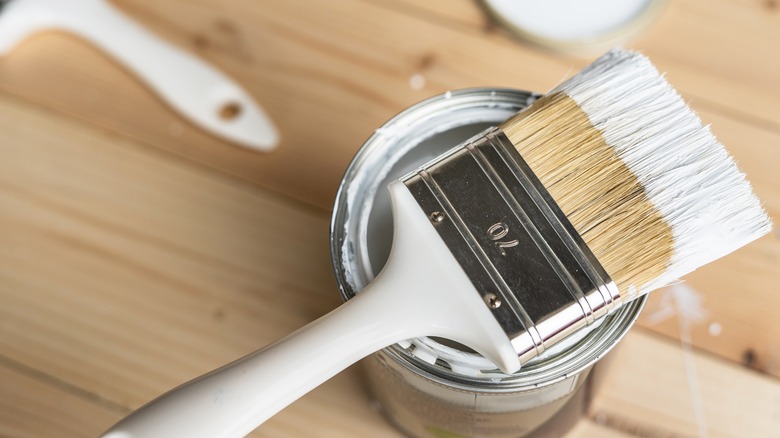 Miljan Zivkovic/Shutterstock
If the current color of your ceramic tile is outdated, don't worry, because a simple paint job will give it the brand-spanking new look you desire, per Sustain My Craft Habit. It's an affordable option for those with a tight budget, and it offers a few other benefits, too. First, painting your backsplash won't cause as much of a mess if you were to chip away and remove your tile completely, and second, it'll save you a lot of time!
For this backsplash hack, you'll start by cleaning the tile with a degreaser and cloth. Make sure to clean both the tile and grout lines, and then leave the backsplash to dry for at least 24 hours. You'll then use a small roller to apply primer to the tile and a paintbrush for the grout (the tile may need two coats depending on how dark the color is). After the primer has dried, use the same technique to then apply your paint color. Do this as many times as you need until you achieve your desired look. It's advised to use a high-gloss paint as it's typically easier to clean and, according to Forbes Home, is a more durable option for the kitchen.
2. Add some sparkle with glitter grout
Everyone needs a bit of sparkle in their life, and you can achieve this by introducing glitter grout to your kitchen backsplash. Glitter grout can be used on a variety of tiles, such as ceramic, glass, and stone, according to Tile Outlets. It also comes in a number of colors, meaning you can choose something that will complement your current design scheme, while also giving it an updated look.
Note that for this kitchen backsplash hack, when you're using glitter grout to fill in the lines between your tiles, you'll have to move more quickly. Once you have followed the mixing instructions, you must use the product within an hour before it starts to harden. You should work on one small portion of your backsplash at a time, and use a soft, white nylon scrub pad to unbind the grout. Once you're done, clean the area with a grout sponge and water. If you have a larger area to cover, it's advised to have assistance from a partner.