These Household Staples Will Age Your Artwork For A More Vintage Look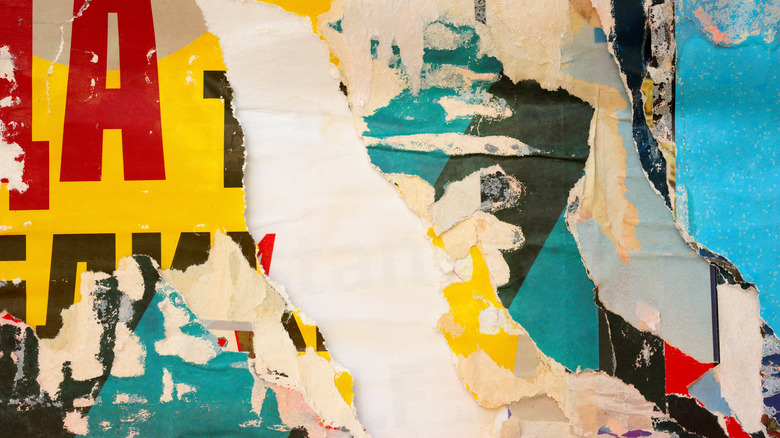 Cafe Racer/Shutterstock
Are you a fan of all things vintage? Would you like to age your artwork for a more weathered and worn look? Forget about going to an art supplies store and depleting your bank account. Instead, raid your spice rack, empty the condiments pantry, and reach into the hardware cabinet and humidor for the household staples that can change your new art into something old. You might even be able to, ahem, forge a DIY masterpiece.
Feeling Nifty suggests using a 5-minute tea or coffee staining technique to simulate an artwork's aging. There are also several ways to make paint crackle and look old. Red-colored spices such as cinnamon, paprika, sugar, and salt can all be used to make the artwork look distressed. Throw in sandpaper, petroleum jelly, wood glue, steel wool, bleach, and shoe polish, and you have a complete palette to work with. Experiment and test different procedures; the possibilities are endless to discolor, stain, crack, and wrinkle your artwork. Paintings, frames, scrapbook items, computer prints, wood, and fabrics are just a few of the things that can be antiqued. Over The Big Moon also describes transforming new glass jars into chic retro ones using sandpaper.
Tea and coffee to age artwork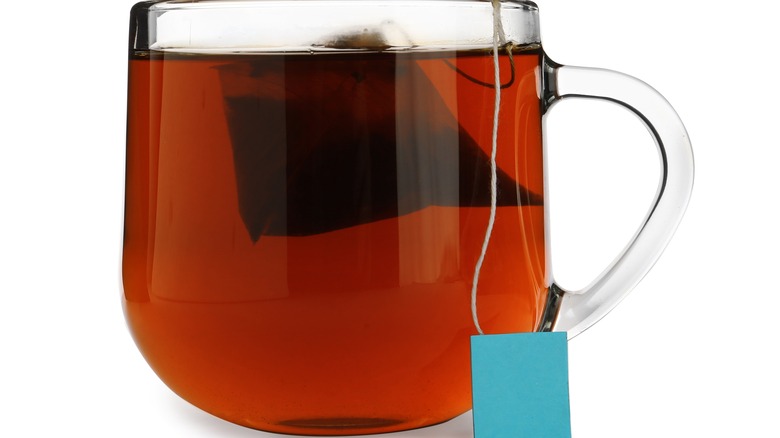 New Africa/Shutterstock
Curbly suggests an image printed on laser paper is a good candidate for aging using hot black coffee or tea, along with some grounds or leaves. Crumple, then smooth the paper and spread on a baking sheet. Pour the liquid, add a few solid bits, and bake on low for 5 minutes or until dry (ensure it does not catch on fire or become too brittle). Before baking, sprinkling salt over the wet paper will form white spots, adding to the weathered effect. You will end up with an irregularly sepia-toned paper that looks like vintage art or can be used for matting a photo.
EHow advises soaking 3 to 4 black tea bags in hot water for 15 minutes to achieve a similar effect. After cooling, dip in chosen paper and place on wax paper. As it dries, the tea stains will darken and creep toward the paper's edges. Adding a coat of color with a watercolor brush will enhance the discoloration. Igniting, then extinguishing the edges emphasizes the aged appearance. The ash can then be smeared in tea-colored areas using a cotton ball or Q-Tip. Tea flakes can add to the dirty, vintage appearance. A soaked teabag is a valuable tool for adding blotches. Note: Green or red tea does not stain as deeply as the black variety. Einat Kessler warns that their tannins or acid might rev the paper's degradation.
A household grab bag for antiquing your artwork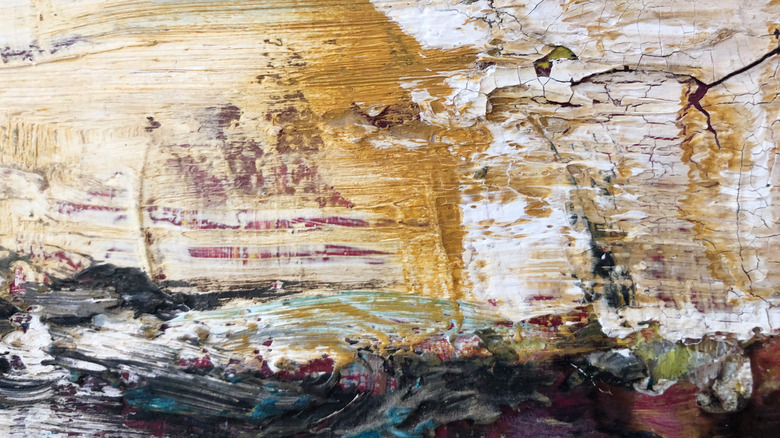 Moolkum/Shutterstock
Making vintage artwork is limited only to one's imagination. Using coarse-grit sandpaper, a frame can be aged, and exposing a painting to tobacco smoke will darken and make it look older. Wetcanvas advises using sugar water between primer and a topcoat to create weathered-looking cracks. It even mentions applying thin dabs of jerk sauce and baking the artwork at a low temperature, and the sugary liquid will bubble and crack on the painting's surface. Soy sauce is another possibility.
Applying wood glue between layers of latex paint will cause the topcoat to crack and look vintage. According to Sarah Joy, this technique works exceptionally well on unfinished wood, and a sandpaper follow-up will add to the vintage appearance. For a cracked, old surface, The Graphics Fairy recommends brushing acrylic paint over a tacky layer of glue. Cracks will appear as it dries; the thicker the glue, the bigger the cracks. Splashing water on it will make those spots look even more faded and worn. Paint will not adhere well over Vaseline, lending an antique look if you choose to use it.
As quoted in BBC Science Focus, Art forger Tony Tetro offers some unconventional tips for aging a canvas. Applying diluted household bleach to the back of it will make it feel brittle. A mixture of brown umber paint and liquid derived from cigarette butts will simulate aging and add to the bogus weathered appearance when mixed with liquids that crack.