Home Sale Prices In New York City Have Gone Up Drastically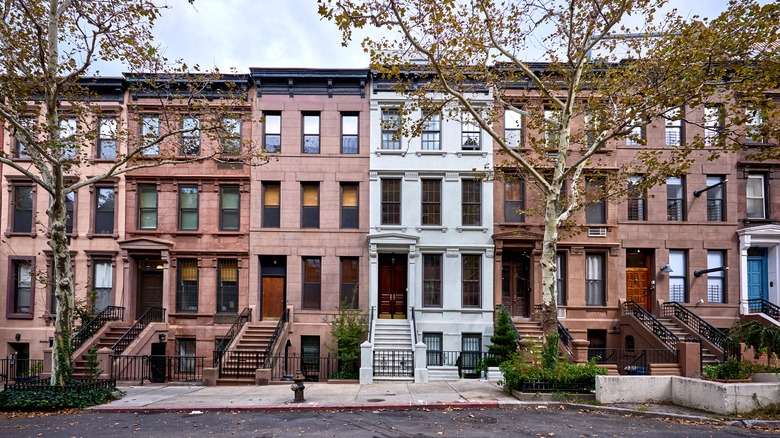 Brian Goodman/Shutterstock
According to home sale data collected from Redfin exclusively by House Digest, the median sale price of homes in New York City has gone up drastically since 2018. From January 2018 to August 2022, median home sale prices rose from $532,000 to $659,000, aided by bottom-barrel interest rates due to the pandemic and a steady demand for real estate in the city. The most prominent period of increase occurred between May and August 2021, during the height of the pandemic, when median home sale prices rose from $638,500 to $702,000 in rapid succession, followed by a brief correction.
However, New York City home sale prices are following the trend seen in other metro areas, such as Las Vegas, and have decreased significantly in recent months. In fact, in August alone (the last month in which there's data available), median home sale prices dropped from $710,000 to $659,000. While this may seem like a promising development for New Yorkers who are seeking to save on a home, it's important to set realistic expectations about the real estate market in New York City where demand and interest rates are still a force to reckon with.
NYC rents increasing as home prices go down
Unfortunately for prospective New York City homeowners, home prices have not been the only housing metric to rise over the past few years. According to Morningstar, rent increases have outpaced wage growth in the city by a wide margin that has not been seen since the 2008 financial crisis. As such, those seeking to save some money renting in the city until interest rates go back down or home prices lower significantly will find that proposition easier said than done.
While home prices in New York City are still considerably more expensive compared to five years ago, there's certainly reason to suspect that prices will continue to diminish in modest increments. According to the New York Times, both buyers and sellers continue to adjust to increased interest rates that have many would-be participants sitting on the sidelines of a cooling housing market. That being said, as with other heavily-populated cities where new listings remain few and far between and demand stays high, there's little chance that home prices in New York City will fall to 2008 levels anytime soon.