The Best Paint Colors For Your Staircase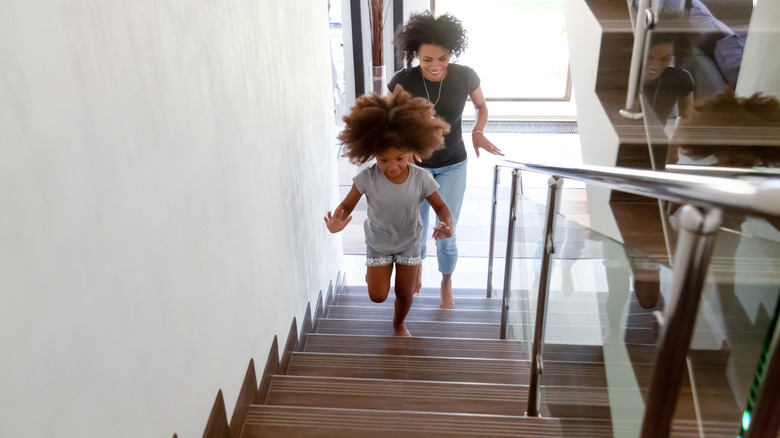 fizkes/Shutterstock
Nowadays, a popular design trend for homeowners is painting their staircase, per Sharper Impressions Painting Co. There are many different ways paint is used to create a stunning visual; those with older-looking homes sometimes paint the risers and stain the treads, while some only paint the railing to create a splendid pop of color. This trend is often seen in homes that have recently been updated or have a modern aesthetic. If you're hoping to give your home a new look while on a budget, then painting your staircase is also an affordable option to do so, according to Williams Professional Painting. It's advised to pair whatever color you choose with a fabulous runner to create a slip-free area.
If you're hoping to try out this look at home, we've found some of the most perfect paint colors to do so. From light to dark, each paint color will have a purpose of either contrasting, harmonizing, or balancing your current space.
White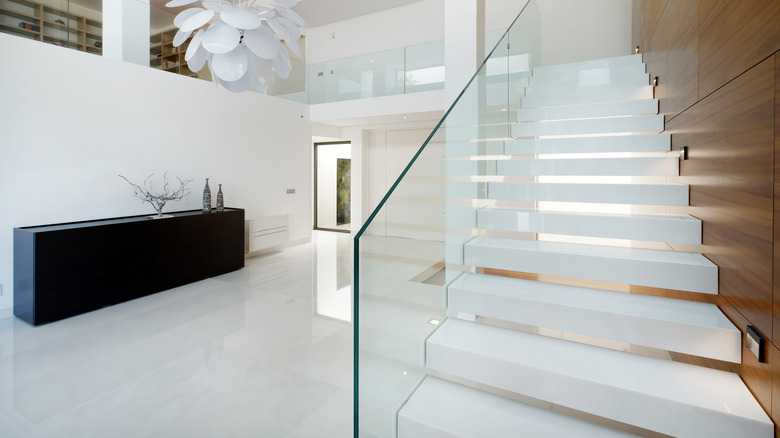 Policas/Shutterstock
Painting your staircase white can fit a variety of design aesthetics, such as contemporary, modern, minimalist, or even farmhouse if paired with a traditional runner. It can create a bright and airy feeling and can be easily contrasted with surrounding decor.
Gray and white
If you need additional contrast in your home, then paint your stairs using two colors. This cool gray-and-white combo not only brightens up the living area but also complements the gray wall paint and decor.
Warm gray
If you like gray, but want the vibe of your home to remain warm and cozy, then opt for a warm tone for your staircase. This will still complement other gray-hued decor while creating the aesthetic you desire.
Black
Using black paint to color the handrail and newel is a simple and sophisticated way to create contrast with your steps. Whether your stairs are painted white or have white carpeting, turning your handrail and newel black will add much-needed interest.
Dark brown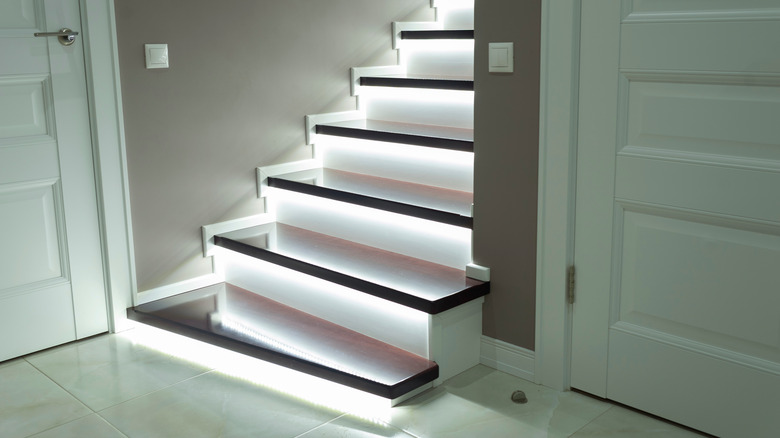 Catherine.Things/Shutterstock
If you're looking for something warmer, then choosing a dark brown paint color for your steps is a great choice. It will add contrast to any light colors, but also be the added touch of warmth your space needs.
Neutral pink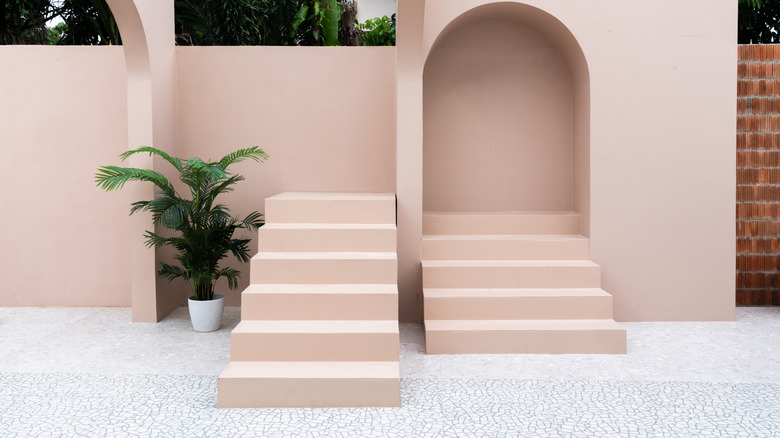 NMC2S/Shutterstock
A light, neutral pink is perfect for creating a fun and inviting home. The more neutral the pink is, the more likely it will harmonize with your other home decor.
Dark green
Dark green is such a rich and sophisticated color, so when you use it to paint your stairs, that will transfer into the decor of your home. This color will be beautiful if paired with white or other light, complementary shades.
Light green
If dark green is too much contrast for you, a lighter option will also work. Light green is also not very intense, so you can paint your whole staircase this color and it won't feel too intense. 
Orange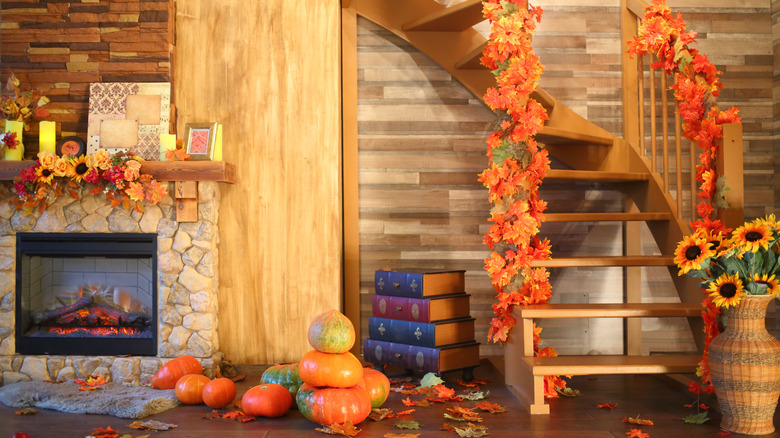 Pavel L Photo and Video/Shutterstock
Orange is such a great color to paint your stairs, as its tones are similar to those of natural wood. Obviously, the brighter the orange, the more it will stand out. But if you choose a light, neutral orange, it will easily harmonize with the rest of your decor, while also providing a simple pop of color.
Dark blue
As you step into this space, it feels as though you're getting a fresh breath of air thanks to the dark blue and white staircase combination. This is a classic color combo and is sure to create a timeless look.