The Best Cooling Weighted Blanket For A Deeper Sleep Without Overheating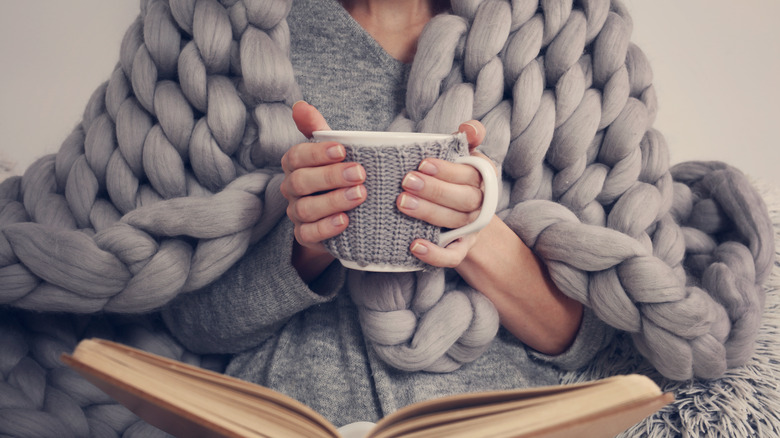 Albina Gavrilovic/Shutterstock
Having a weighted blanket, while aesthetically pleasing and modern, can also bring many health benefits that may help you sleep better. According to Sleep Foundation, these blankets use a technique called deep pressure stimulation, which uses gentle, yet firm pressure to help calm the person using the blanket in several different ways. One way this method works is by providing a sense of comfort and security. Similar to swaddling a baby, it can help you feel snug and cozy, so you fall asleep more quickly.
In addition, whenever you do fall asleep, a weighted blanket can help improve the quality of your sleep. The method helps release serotonin throughout your body to boost your mood while also increasing melatonin levels and decreasing cortisol to reduce stress. Lastly, these blankets can calm the nervous system in a variety of ways. An overactive nervous system may cause several conditions, including a rapid heart rate, shortness of breath, and even hyperactivity — all of which can impact and disrupt sleep. However, using a weighted blanket can decrease all these health problems as it distributes an even amount of weight over the body.
Of course, as one may have expected, there are many types of weighted blankets available. As per Magic Weighted Blanket, there are specific designs for both kids and adults, with each available in many colors, sizes, and blanket weights. However, some styles and types can be more beneficial than others with features like cooling.
The best weighted blanket money can buy
According to HGTV, the best cooling weighted blanket for a deeper sleep without overheating is made by a brand called Baloo. This brand has four types available, each at a different size, weight, and price. A throw blanket that weighs 12 pounds is available for $179 at 42 inches by 72 inches and is considered to be the brand's best-seller. You can also choose to monogram this item for $12 more. There are two full/queen-size blankets available, each measuring 60 inches by 80 inches and costing just less than $200. However, one is lighter at 15 pounds, while the other is made heavier at 20 pounds.
Lastly, there is a much larger type available for a king-size bed that is 80 inches by 87 inches and weighs 25 pounds for close to $250. All four blankets are sized to fit the top of the bed with no overlay and are available in the color white. The throw blanket is also available in a silver sage color.
Baloo's weighted blankets are made with all-natural materials and are 100% free of all chemicals, as well as abstaining from plastic. Washing these is easy as you can just throw them in the washing machine since they contain both a cotton interior and exterior. Each blanket is formed into a tight and quilted unique design to hold the weight in place and prevent any bunching. In addition, the company backs it with its 100% quality control guarantee.
An alternative and expensive option
While Baloo's blankets come with many options, HGTV also recommends a blanket made by Bearaby for those wanting to splurge a little. Available as part of their Tree Napper collection, this knitted cooling blanket is available in three sizes. The 15-pound blanket costs $269 and is 40 inches by 72 inches in size. A 20-pound blanket is available at 45 inches by 72 inches and costs $279, while the 25-pound blanket is $299 and is 48 inches by 72 inches. However, since each blanket is hand-knitted, Bearaby warns that size and weight can vary slightly.
Each style comes in several different colors, including magnolia, almond, mahogany, cocoa, and willow. Free shipping is available, as well as an afterpay option where you can split the cost into four separate payments. Made from natural materials, including eucalyptus fibers, these blankets also contain TENCEL, allowing a more silky, soft, and cooling feel. Without using any chemicals, these blankets are also biodegradable and moisture-resistant.
Bearaby recommends washing these items separately from other laundry in cool water on a delicate cycle. You should also use eco-friendly or mild detergents and avoid using any heavy chemicals such as bleach or fabric softeners. While you can tumble dry these blankets, you may need more than one cycle for these to fully dry. You must also avoid top-loading washing machines and dryers and refrain from hanging these blankets to dry as it can stretch out the loops.