Designer Emily Henderson On How To Keep Your Fridge In Tip-Top Shape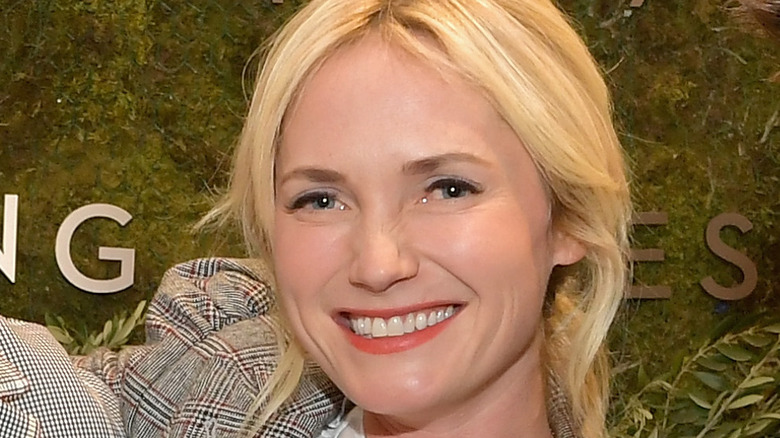 Amy Sussman/Getty Images
When you think about organizing your kitchen, the pantry is probably the first thing that comes to mind. Perhaps made popular by celebrity and influencer 'pantry tours,' this area of the kitchen is now in the spotlight. However, the pantry is not the only place that needs to be organized — keeping your refrigerator in tip-top shape is also crucial. Besides aesthetics and giving you that put-together feeling, keeping your refrigerator in order could help you save money and waste less food.
To keep your fridge looking its best, you may first want to improve the exterior. While many don't consider how the outside of their fridge looks, this appliance could be taking away from the aesthetic of the rest of your kitchen. Next, you'll need some tips on keeping the food inside your fridge well-organized. Luckily, interior designer Emily Henderson has some tips on how to improve your fridge's appearance both inside and out.
How to improve the exterior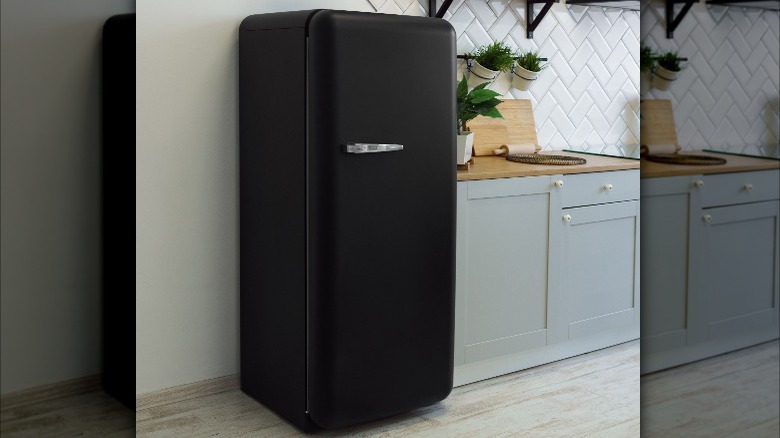 Ayman alakhras/Shutterstock
First, let's focus on the exterior; a custom design can really tie your space together, and improving what you have is almost always cheaper than buying a new appliance. According to Style By Emily Henderson, there are two ways to improve the outer look of your fridge: replacing the handles and covering the exterior.
Replacing the handles is simpler than it may seem. Restoration House Blog says that most refrigerator handles have a small hole on the side. Using an Allen wrench, you can pop the handle off. Then, measure the distance between the holes and find a replacement that fits the size. They even recommend getting creative with a towel rack, which could save you money. Once you've found a replacement, all you'll need to do is install it.
If you want to make more significant changes, you can cover the exterior of your fridge by painting it or applying a vinyl wrap. Emily Henderson says black stainless steel looks timeless (via The Orange County Register). If you have an outdated white fridge, you could cover it in a wrap that looks like dark stainless steel. In another Style By Emily Henderson article, Henderson notes that she also loves the look of built-in appliances. To DIY this look yourself, you could choose a wrap or paint color that matches your cabinets.
How to organize the interior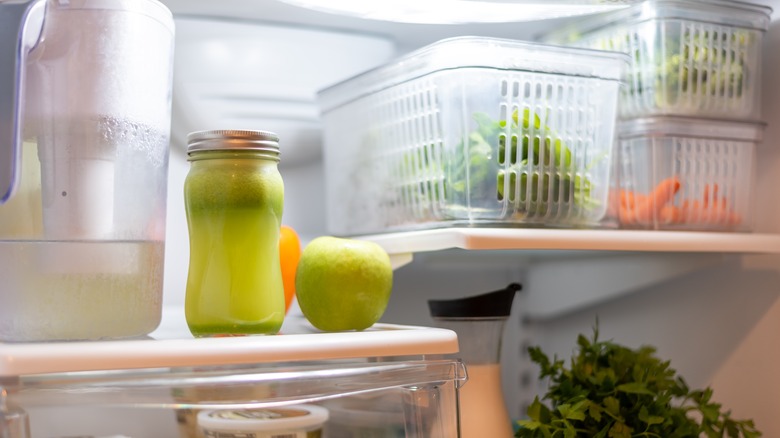 Kristen Prahl/Shutterstock
On to the fun part: organizing the inside. According to Style By Emily Henderson, it's all about extra drawers and bins when it comes to an orderly fridge. You can choose between models that attach to the bottom of your shelves or those that sit on top. If you have lots of condiments, the site notes that a lazy Susan could come in handy for easy access to things that can get lost in the back. Those who love soft drinks may benefit from purchasing a soda can bin to keep all of their drinks together. Add an egg tray or a berry basket to add some aesthetic value. In the freezer, ice trays and bins are useful.
According to The Organized Home, Henderson uses bins to keep her food in order, both inside her fridge and in the pantry. In her weekend home, which fans call the 'Mountain House,' she added additional refrigerated drawers throughout the kitchen. She also used stackable containers to maximize the vertical space in her kitchen.